Korea-based org Gen.G has advanced to the LCK Spring 2022 Playoffs final after a thrilling 3-2 semifinals win against DWG KIA.
In game five, Gen.G found themselves trailing by 10,000 gold. Against all odds, they came back after a won team fight at Baron to seal their spot in the final.
In a post-match press conference, Peanut, Jeong "Chovy" Ji-hoon, and head coach Go "Score" Dong-bin talked about the comeback win and how they encouraged each other when they found themselves at a disadvantage in game five.
---
---
Gen.G players thought they could win game five of semifinals after defending top inhibitor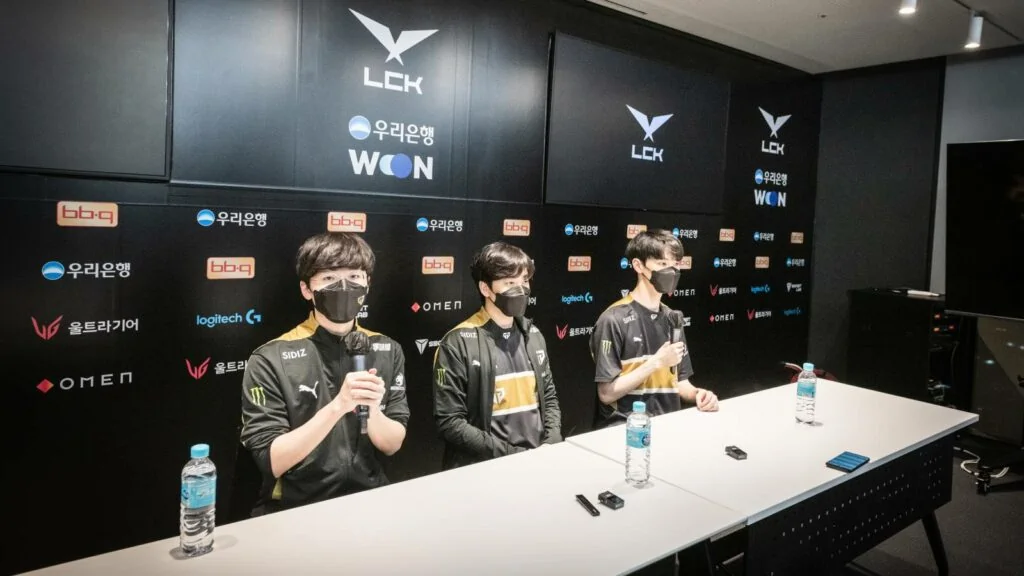 Peanut's Hecarim struggled in game five, for he got invaded multiple times in the early game by Kim "Canyon" Geon-bu's Nidalee, who used his team's established lane priority to his advantage. Yoon "Hoya" Yong-ho's Renekton was a lane bully to Choi "Doran" Hyeon-joon's Ornn, while Heo "ShowMaker" Su's Jayce placed a lot of pressure on Jeong "Chovy" Ji-hoon's Ahri.
On the backfoot, Gen.G found themselves at a 10,000 gold disadvantage just 20 minutes in, with far less turrets and champion kills than DWG KIA.
However, an opportunity arose when DWG KIA decided to push into top lane's inhibitor with the Baron buff at the 25-minute mark. As DWG KIA approached the inhibitor, Gen.G found a chance to engage with Yuumi's Final Chapter.
Picking off Seo "deokdam" Dae-gil's Ziggs and ShowMaker's Jayce, Gen.G succeeded in halting the push to save their inhibitor.
Even though the game was still in DWG KIA's favor, the momentum had clearly shifted. At 32 minutes, Gen.G's late game champions in Xayah and Ornn had scaled up, which gave them enough confidence to take DWG KIA at Baron.
Choi "Doran" Hyeon-joon initiated with Ornn's Call of the Forge God ultimate, which caused DWG KIA players to flash out. This gave room for Chovy to dash in with Spirit Rush and land a Charm on Canyon, killing him.
Eliminating two more targets, Chovy nailed a triple kill while his team finished off the Baron. With the buff, they marched into the base to end the game.
Even though the team was behind, the players did not give up and encouraged each other. "We had a scaling team composition, so when I was essentially getting bullied, my teammates kept telling me, 'It's okay'," said Peanut.
"It felt like they were really worried about me, so I told them that I was okay as well."
You can read the full press conference on Inven Global here.
---
Gen.G will take on T1 in the LCK Spring 2022 final on April 2 at 3:30 p.m. GMT +8 | 12:30 a.m. PDT | 7:30 p.m. GMT. Catch the match live on the LCK Twitch channel.
READ MORE: LCK will allow COVID-19 positive players to compete remotely for playoffs