The pride of the Vietnam Championship Series (VCS), GAM Esports, struggled in their first match against Top Esports during the Worlds 2022 Group Stage.
The Vietnamese representatives showed aggression during the early game and walked all over Top Esports' bottom lane jungle. But what started as a simple extended warding ended in a four-man slaughter, with TES taking down almost all of GAM Esports' members.
Things quickly snowballed against GAM, and the VCS squad was handed their first loss at Worlds 2022.
The game was important, especially for the VCS community, since it marked GAM's return to the international stage after a two-year absence. However, top laner GAM Kiaya is undeterred by this setback and remains optimistic about the remainder of the competition.
---
---
GAM Kiaya believes their loss against Top Esports doesn't represent GAM Esports' true strength
Trần "Kiaya" Duy Sang shared his thoughts after the match in an interview with ONE Esports.
"We've played against TES a few times," he said. "Today, TES played completely different than we did in practice. They're more focused and they're choosing the right [champions]. When it comes to scrims, TES mostly just experiments with new roles and fighting styles to avoid revealing their cards."
During the pick and ban phase, the live audience at Hulu Theater in Madison Square Garden, New York City were audibly excited when they saw the final pick for GAM. Initially, Yasuo was picked for Kiaya, but the team ended up locking in Jax for him instead.
During this time, support Trần "Bie" Đức Hiếu was caught on camera blinking in surprise.
"Jax is really the champion that we've trained for," Kiaya explained. "He has good results against Gnar on the other side."
---
---
However, this is also Kiaya's first time in the United States, and the team has had to grapple with challenges outside of the game as well.
"The biggest difficulty is probably the journey and the jet lag problem," he said. "It took the team quite a while to get used to the new time zone. There was also the pressure of playing our first match, which is why we made a few mistakes."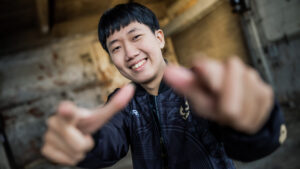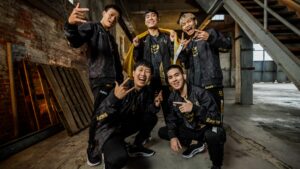 Fortunately, the team has help adapting to the new environment. Đỗ "Levi" Duy Khánh lived in the US for a year when he was playing for League of Legends Championship Series (LCS) team 100 Thieves. Levi is the leader of GAM both in-game and outside of it, actively giving valuable instruction and advice to his younger teammates in a foreign land.
---
---
"Mr. Khanh has the experience here, so he showed us what is good to eat and how to limit jet lag," Kiaya said.
As one of the faces of the VCS, Levi's story also inspires the younger players to work harder than ever.
"Indeed, the dream of playing abroad like Khanh is something that every gamer wants," he said. "However, it will take a lot of preparation both in terms of skills and language. Rising players like me need to work harder every day."
Defeat is not easy to accept, but the young player believes that starting against an opponent as strong as TES did not affect the overall morale of the team.
Kiaya also thanked fans for their love and support for GAM. The team's performance will improve in the upcoming matches, he said, because "the first match doesn't say anything!"
Watch GAM Esports at the Worlds 2022 Group Stage, broadcasting live on Riot Games' official channels on Twitch and YouTube.
READ MORE: DRX players exchange won for Philippine pesos by accident before flying to Mexico for Worlds 2022