A second League of Legends player from Chinese esports organization LGD Gaming has received a lifetime ban for match-fixing, less than two weeks after mid laner Chen "Jay" Bo was banned for life.
Li "DT99" Xing-Jia, formerly LGD Gaming Young Team's jungler, has been banned from participating in any Riot events for match-fixing and illegal gambling. He is also prohibited from live streaming League of Legends on any platform.
DT99 left the organization on April 15, after the allegations surfaced on April 9.
The jungler is among five players that the LPL sanctioned on April 18. Yang "Ylaht" Da and Wen "Novice" Jia-Hao, both from Top Esports Challenger in the LDL, were also handed permanent bans for similar offenses, while Liu "lilac" Yi-Chen and Zhang "ch1rry" Shi-Jie were separately punished for match-fixing in 2021.
---
---
LGD.Y jungler DT99 banned for life for match-fixing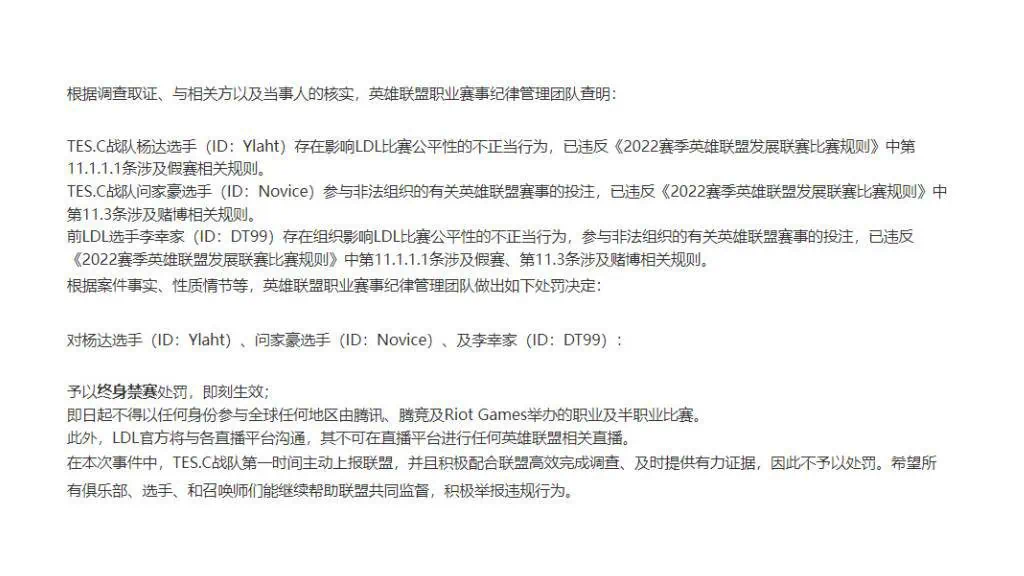 A report by Tuwan eSports on Weibo said that the League of Legends professional event discipline management team opened an investigation on April 9 after receiving reports of suspected match-fixing in the LDL.
Following investigations, the players were found to have committed the following offenses:
DT99: Match-fixing, illegal gambling activities
Ylaht: Match-fixing
Novice: Illegal gambling activities
No punishment was imposed on Top Esports Challenger as it actively cooperated with the authorities to complete the investigation. There was no mention of whether LGD would face any repercussions this time.
LGD Gaming Young Team finished 11th out of 12 teams in Group B of the LDL Spring 2022 season with a 4-18 series record. Out of the 36 games they played, DT99 only participated in three games, winning once and losing twice.
Two former LDL players, Liu "lilac" Yi-Chen and Zhang "ch1rry" Shi-Jie, were also sanctioned on April 18. Both of them played on Sheng Jie Gaming in the LDL last year, until it was disqualified amid match-fixing investigations.
READ MORE: Faker says he can't focus on League of Legends due to his packed schedule