Bilibili Gaming started their LPL Spring 2023 playoffs run in round two, and have fought their way to round four where the double elimination bracket begins.
They defeated Royal Never Give Up 3-1 before sweeping Weibo Gaming 3-0, knocking out two heavyweights consecutively.
Waiting for them in round four was first-place regular season finisher JD Gaming, favorites to win the championship and represent the region at MSI 2023.
Bilibili Gaming almost pulled an upset by going up 2-1 in the series before JD Gaming clawed their way back to a 3-2 win. It was however, the first time that they looked this shaky, and it's all because BLG was drafting team compositions that not only brought out the best in their individual players, but also gave their opponents a run for the money.
---
---
Double AOE team compositions are working wonders for Bilibili Gaming — will it get them to the finals?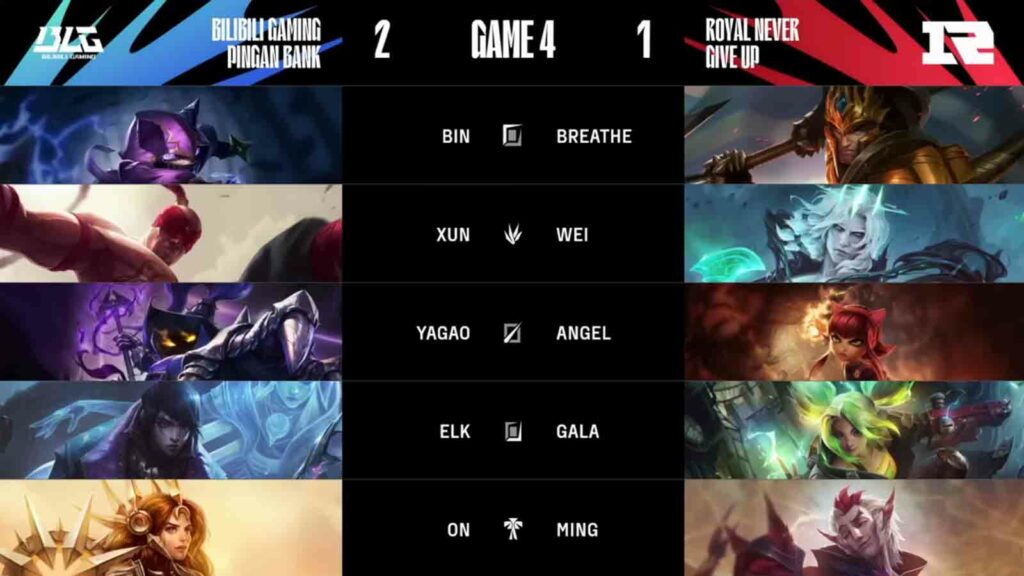 BLG is led by head coach Wong "Tabe" Pak Kan, who was previously on RNG. In their first playoffs series against his former organization, they lost the first game, then bounced back in game two without drafting a tank.
On the backs of a double AP team composition comprising Veigar and Kennen, complemented by Rakan, they controlled team fights with big AOE spells.
Game four told the same story –Chen "Bin" Ze-Bin was on Kennen, while Zeng "Yagao" Qi played Veigar, a champion that analyst and content creator Nick "LS" De Cesare thinks is a sleeper and currently underutilized.
In the LPL Spring 2023 regular season, Veigar was picked eight times in mid. Out of those eight times, two were victoriously won by Yagao with a whopping 12.0 KDA. In the playoffs, Veigar has been picked six times, with five by Yagao.
---
---
In the next round against Weibo Gaming, BLG once again relied on their tried and tested solution of Kennen-Veigar to secure a series victory. WBG drafted AOEs on their side too, packing an Annie and Varus root-stun combo, but it's unfortunately not as reliable as two large circles overlapping on the ground.
The moment BLG lost the first game to JDG in round four, they rerolled the dice and put Bin on Kennen again, while Yagao fulfilled his Galio duties. Besides these two offensive AOE combos, they slipped in Kindred for Peng "Xun" Li-Xun, whose ultimate provided a much-needed safety net to even out the series.
Yagao then continued on Veigar for the next two games. By now, BLG's winning formula was obvious, but JDG chose not to ban any of these champions. They perpetually banned Gnar and Gwen, and took Rakan off the table.
---
---
With plenty of options, BLG went with the classic Camille-Galio combo in the deciding game five, and even got their hands on Kindred which JDG left open. Together with Nautilus, they formed a solid frontline for Zhao "Elk" Jia-Hao's Aphelios to dish out damage from the back.
On a comfort team composition, things also went well for BLG because their opponents drafted a single-target burst team composition comprising Renekton and Syndra, supported by two AOE ultimates from Wukong and Leona.
Unable to team fight as effectively at objectives, JDG ended up trailing in gold all game, giving BLG all four dragons for Cloud Soul.
---
---
At a late game 31-minute Baron, however, a single counterattack was all it took for BLG's pack of cards to crumble. JDG started Baron and got it down to a quarter HP before BLG scrambled around the pit. Forced to contest, or risk giving away a free Baron, three BLG members engaged first — the moment where it all fell down.
Galio's ultimate was still on cooldown for about 10 more seconds, so Yagao could not combo with Bin's Camille. Their carries were also still on the way from mid lane, and before anything could happen, JDG killed off Camille who went into the pit alone.
Winning the team fight and securing Baron, JDG ran down mid lane for the close 3-2 series win to advance to the upper bracket semifinals, sending BLG down to the lower bracket.
Watch the LPL live on its official Twitch and YouTube channels.
Follow ONE Esports on Facebook and Twitter for more LoL news, guides, and highlights.
READ MORE: Dream of becoming a millionaire? Uzi warns pro players to avoid this at all costs