The Genshin Impact Version 2.5 Special Program announced the arrival of Yae Miko, the Inazuman character who wields Electro talents. She is the latest 5-star character addition to the game, which will soon showcase her Story Quest called the Divina Vulpes Chapter.
Here's all you need to know about Genshin Impact's upcoming character, Yae Miko, including details on her release date, voice actors, and abilities.
---
Who is Yae Miko?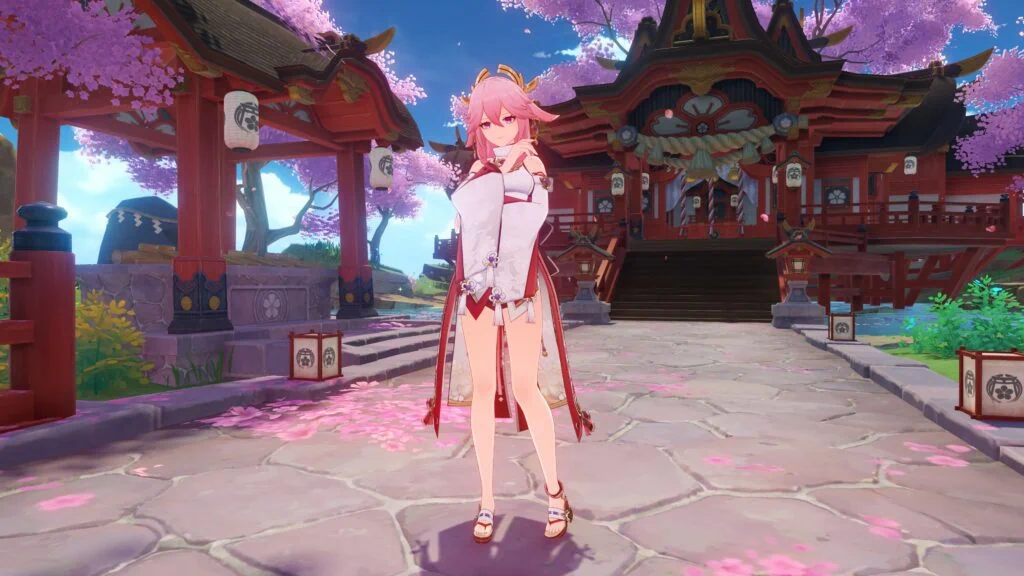 Yae Miko is the head shrine maiden of the Grand Narukami Shrine and the owner of the Yae Publishing House. She was first introduced as a non-playable character (NPC) during the Version 2.0 update and has appeared in Archon Quests Act I: The Immovable God and the Eternal Euthymia and Act III: Omnipresence Over Mortals.
She is a close friend of the Raiden Shogun and has greatly helped the Traveler in dealing with matters related to the Electro Archon.
---
---
Yae Miko abilities and talents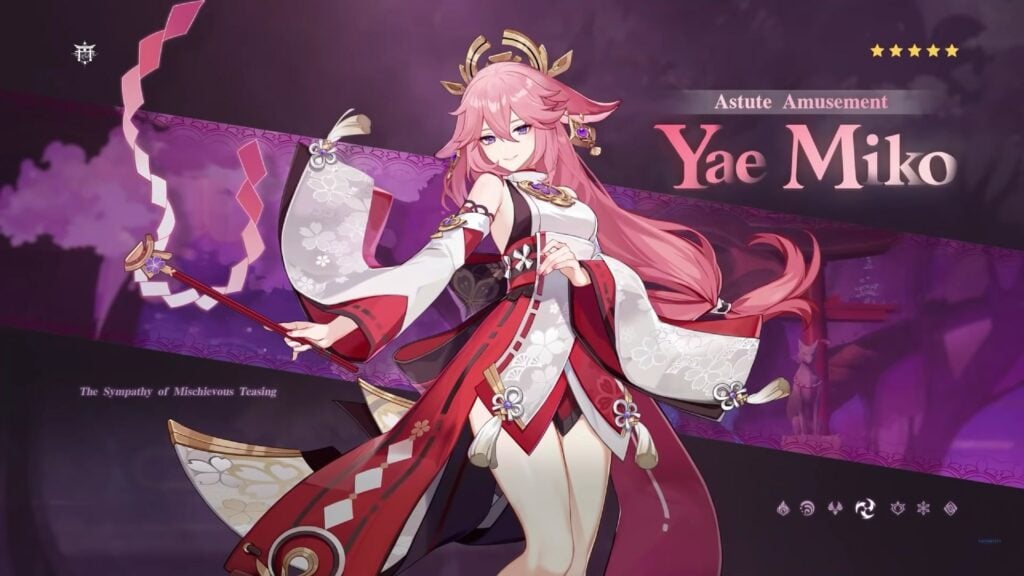 This priestess is a catalyst user who provides constant damage when she's off the field as well as high burst damage when she's on the field. Here are her abilities and talents:
NAME
TYPE
DESCRIPTION
Spiritfox Sin-Eater
Normal
Normal Attack
Performs up to 3 lightning attacks that deal Electro DMG.

Charged Attack
Consumes a certain amount of Stamina to deal Electro DMG after a short casting time.

Plunging Attack
Gathering the might of Electro, she plunges towards the ground from mid-air, damaging all opponents in her path and deals AoE Electro DMG upon impact with the ground.
Yakan Evocation: Sesshou Sakura
Elemental Skill
Moves swiftly and leaving a Sesshou Sakura behind that can periodically send down lightning, dealing Electro DMG to opponents.
Great Secret Art: Tenko Kenshin
Elemental Burst
Unseals nearby Sesshou Sakuras, destroying their outer forms and turning them into Tenko Thunderbolts that decends from the sky, dealing Electro DMG.
Meditations of a Yako
Utility Passive
When she crafts Character Talent Material she has a set chance to create an extra Talent Material from the same region of a random type. The rarity of this material will be the same materials consumed during crafting.
Enlightened Blessing
Passive
Her Elemental Mastery will increase the DMG dealt by the Sesshou Sakura.
The Shrine's Sacred Shade
Passive
When she uses her Elemental Burst, each Sesshou Sakura destroyed resets the cooldown for one charge of her Elemental Skill.
Players can view her gameplay during the Version 2.5 Special Program.
---
Yae Miko voice actors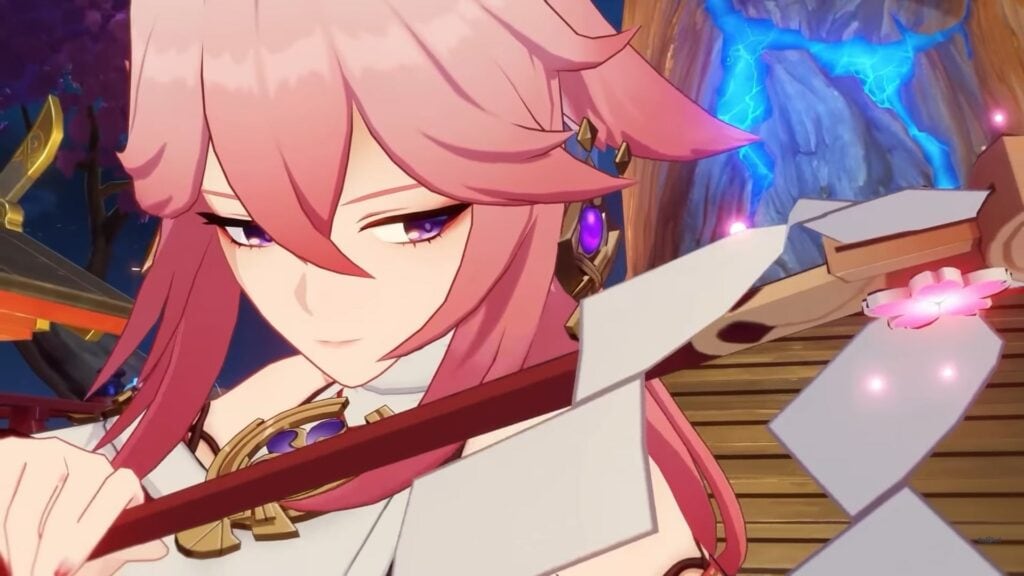 ---
Yae Miko is voiced by by multi-talented Ratana Therakulsathit, a voice actor based in Los Angeles, California. She has given life to Fire Emblem Heroes' Leonie and Ishtar, Marvel Super War's Wave, and Smite's Chibi Inu Amaterasu.
Yae Miko's Japanese voice actress is none other than Ayane Sakura. Nicknamed Ayaneru by her fans, she has voiced various anime characters such as My Hero Academia's Ochaco Uraraka, Charlotte's Nao Tomori, and Nisekoi's Haru Onodera. Additionally, Ayane Sakura also voices Yae Sakura in Honkai Impact 3rd, another miHoYo game.
| | |
| --- | --- |
| LANGUAGES | VOICE ACTORS |
| English | Ratana Therakulsathit |
| Chinese | Mingya Du |
| Japanese | Ayane Sakura |
| Korean | Moon Yoo-jeong |
---
How to get Yae Miko: Release date and banner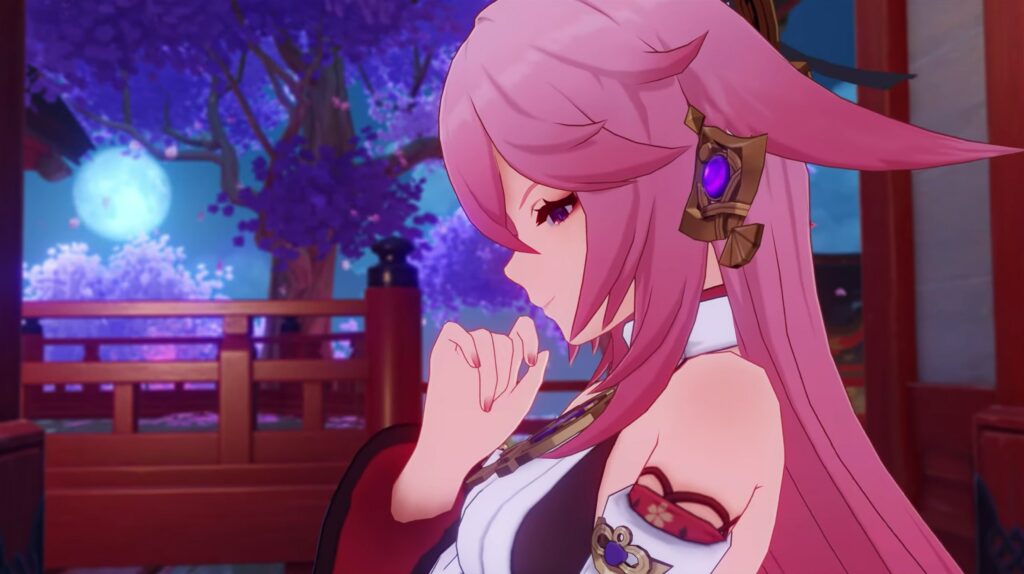 Yae Miko will be released in Phase 1 of the Version 2.5 update. Her banner will be called the Everbloom Violet and will go live on February 16 until March 8.
Her banner also includes 4-star characters Fischl, Diona, and Thoma.
---
Follow ONE Esports on Facebook for more gaming, esports, and culture news.
READ MORE: 5 hidden Genshin Impact Easter eggs you probably didn't know about