miHoYo's open-world RPG game Genshin Impact continues to amaze fans with its limited-time events, constant version updates, and colorful characters. We also that the Chinese game developer has found time to delight fans with hidden references and easter eggs for players to find.
We scouted all of Teyvat, searched every nook and cranny of Mondstadt and Liyue, and even toyed around with Paimon to find these five amazing Genshin Impact easter eggs in-game:
---
5. miHoYo logo
If you love roaming around Teyvat during nighttime, you might have already spotted this little easter egg.
Some of the buildings and houses in Genshin Impact have been branded with the miHoYo logo on its walls. They are most visible from 0:00 to 6:00, and you can even find the miHoYo logo on some houses in Springvale and near Dawn Winery, which a few players spotted.
---
4. Paimon achievement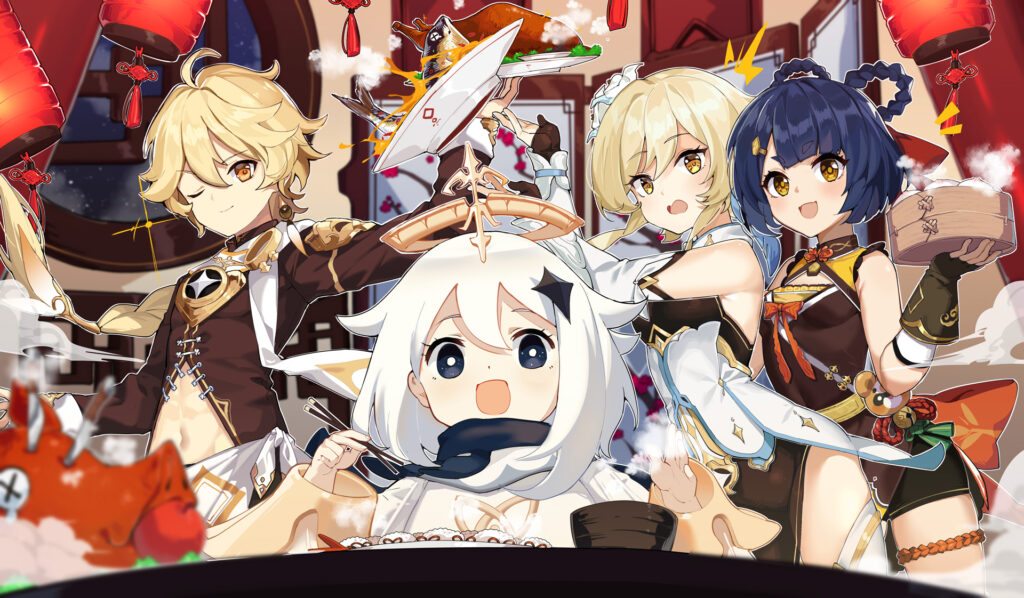 Did you know that a new, hidden achievement was added during the Version 1.4 update?
"…You could hear Paimon all along, couldn't you?" presents a fun and weird task to players. Simply go to Settings, select Audio, and continuously adjust the Dialogue Volume. You will hear Paimon talking as you increase and decrease the volume.
After completing the achievement, Paimon will say "Hey, are you just messing with Paimon?" This hidden achievement will leave Paimon annoyed and in turn, you'll get five Primogems!
---
3. Genshin Impact's naming conventions
The Cryo Sword character Qiqi has a really interesting name, especially when translated into Japanese and English. Her default Chinese name, Qiqi, means seven-sevens while her Japanese name, Nana, translates to seven in English.
Other characters from Liyue also adopt this naming method. Beidou is known as Hokuto in the Japanese version, both of which mean "big dipper", while Xingqiu's Japanese name is Yukuaki, meaning "progression of autumn."
---
---
2. Honkai Impact in Genshin Impact
Another easter egg that only miHoYo fans could have discovered is this Honkai Impact reference in Genshin Impact. Honkai Impact is another well-loved mobile game from the same company, and is considered as miHoYo's flagship title.
If you take a closer look at the Unusual Hilichurl during combat, one of the things that he'll start throwing is a yellow stuffed toy from his suitcase. This is actually Homu, a state-of-the-art mascot in Honkai Impact.
Even the Unusual Hilichurl has "Homu, homu, mimi domu!" as his voice line, subtly mentioning the mascot. This translates to "Homu, Homu, we dance!"
This yellow Homu is the most common out of all six characters in Honkai Impact.
---
1. Unusual Hilichurl
Speaking of the Unusual Hilichurl, did you know that his name is actually Wei, while his design pays homage to miHoYo's CEO?
Hilichurl Wei was based on the co-founder of miHoYo, Forrest Wei Liu. This Hilichurl stands out from the rest of the pack because of its formal appearance, sporting a suit and tie, and carries a briefcase. The character on his mask "伟" is the Mandarin word for "Wei."
Unlike other Hilichurls who will attack you after being alerted, the Unusual Hilichurl is more chill. He's either taking a nap or pulling off his signature I'm-looking-for-something pose when you approach him.
In fact, Hilichurl Wei is harmless until you engage him in combat, where he will throw Primogems, cabbages, and Homu plushies at you.
Aside from Genshin Impact, Wei Liu has also appeared in Honkai Impact with almost the same character design. In Honkai, he's known in-game as "Da Wei."
READ MORE: Every working Genshin Impact code for free Primogems! (updated with even more new codes)