HoYoverse has a special treat for all travelers during this torrid season, featuring the cute and cold Genshin Impact 5-star character, Qiqi.
In collaboration with Chinese dairy company Mengniu, the video game company has announced a new line of ice cream products starring the Cryo character. This Qiqi ice cream is the third Genshin Impact-themed snack the company has released, after Paimon and Arataki Itto ice creams.
This time around, Mengniu is releasing not one, but four different ice cream flavors for all travelers to enjoy.
HoYoverse and Mengniu team up to release refreshingly sweet Qiqi ice cream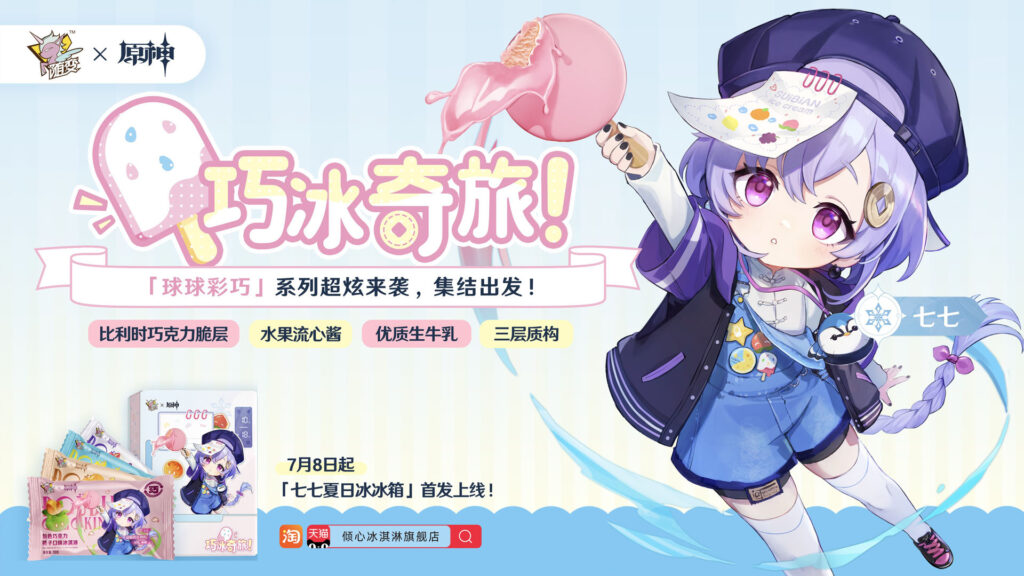 The collaboration will bring four fruity ice cream flavors — orange, peach, lemon, and grape — packaged in a gift box if you plan on taking home all variants. Similar to the company's previous Genshin-themed ice creams, these frozen treats will come in popsicles inspired by the playable character.
One of the wrappers is labeled "Pink Chocolate Peach", which is the same flavor that Qiqi is holding in the box's official art.
---
---
The new Genshin Impact illustration shows the zombie character in a modern version of her default Liyue getup. In this version, Qiqi is wearing a white tang suit (Chinese traditional clothing), blue denim short overalls, a purple varsity jacket, and an adjustable baseball cap with a note that says "Sui Bian ice cream".
Genshin Impact and Mengniu's new Qiqi ice cream line will be available on July 8 in mainland China.
The 5-star Cryo zombie is often the center of memes when it comes to the game's gacha, where players often receive Qiqi when they lose the 50/50 pity system.
This system guarantees players 5-star characters for every 90 wishes, known as pity. When you hit pity, there is a 50% chance you will either get the 5-star event character banner, or a regular permanent 5-star character. If the latter happens, you are guaranteed the featured character in the event banner the next time you hit pity at 180 wishes.
---
Follow ONE Esports on Facebook for more Genshin news, guides, and highlights.
READ MORE: Actor Alden Richards outed as a Genshin whale, spent estimated ₱1.2M