Genshin Impact players have long yearned for the arrival of official esports tournaments, and their wishes have finally been granted with the introduction of the highly anticipated Astra Carnival: The Prince Cup.
This tournament series centers on the Genshin trading card game (TCG) mode, Genius Invokation TCG, which made its debut in the game client towards the end of last year.
Building upon the version 3.7 update, developer HoYoverse has announced its grandest TCG tournament yet.
---
---
HoYoverse announces Genshin Impact TCG tournament series Astra Carnival: The Prince Cup
The highly anticipated Astra Carnival sets itself apart as a grander iteration of the Cat's Tail Gathering, a popular series of community tournaments hosted on the official Genshin Discord channel.
Marking Genshin Impact's inaugural international tournament series, Astra Carnival is set to kick off in the latter half of the year, encompassing six regional championships alongside a series of cross-regional invitational tournaments. The lion's share of US$270,000 awaits the victor, making the stakes higher than ever before.
In each regional, top candidates from the "Cat's Tail Gathering" community tournaments and
wildcard competitions will compete for the championship, and players who advance to the quarterfinals will compete on-site.
Tournaments will be broadcasted live on the official AstraCarnival Twitter, YouTube, Twitch, and TikTok channels starting June 11, the finals of the Korean regional championship.
If you're as passionate as the 5-star Cyno when it comes to Genius Invokation, here's how you can join Astra Carnival 2023.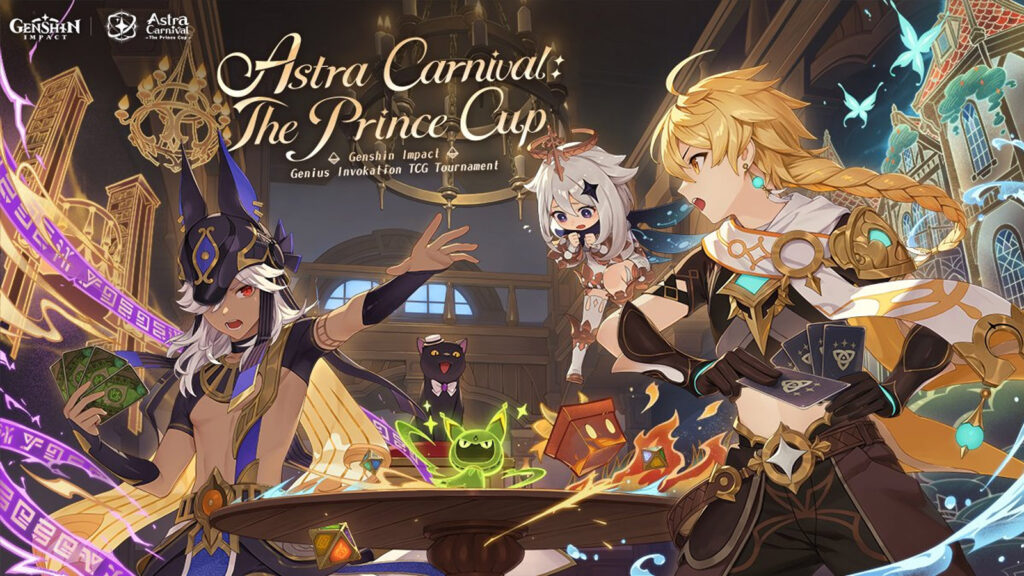 Introduced as part of a significant update in version 3.3, Genius Invokation TCG made its debut in December 2022. This captivating game mode boasts its own set of rules, a dedicated venue, and an intricate leveling system that gives it the feel of a standalone title.
HoYoverse recently unleashed an extensive TCG update as part of version 3.7. This major update incorporates character cards featuring the first four archons introduced in the Genshin storyline, accompanied by an array of dynamic action and support cards, enriching the gameplay and strategy for participants.
If you're new to the game mode, here's our beginner's guide to playing Genius Invokation TCG.
Follow ONE Esports on Facebook and Twitter for more Genshin news, guides, and stories.
READ MORE: Genshin Impact's Ad astra abyssosque meaning explained