With more than 600 million players globally, Riot Games, the game developer of international hit titles like League of Legends, Valorant, and Wild Rift, is expanding in the Asia Pacific region.
At the moment, they have a publishing and studio office in Singapore, as well as an operations office in Japan. With the goal of being "the most player-focused game company in the world", Riot will be setting up new offices in Southeast Asia and South Asia.
They plan to focus on "hyperlocal publishing", and have also internally reorganized their company structure.
---
---
Riot Games will set up new offices in SEA boasting more job openings
Publishing game titles, whether it be under Riot Games or Riot Forge–a separate publishing label under their belt–will remain its core business, alongside game development, entertainment, esports, and enterprise.
Identifying itself as a "lifestyle brand", part of Riot Games' hyper-localization plans includes setting up new offices in India, the Philippines, Indonesia, Malaysia, and Thailand.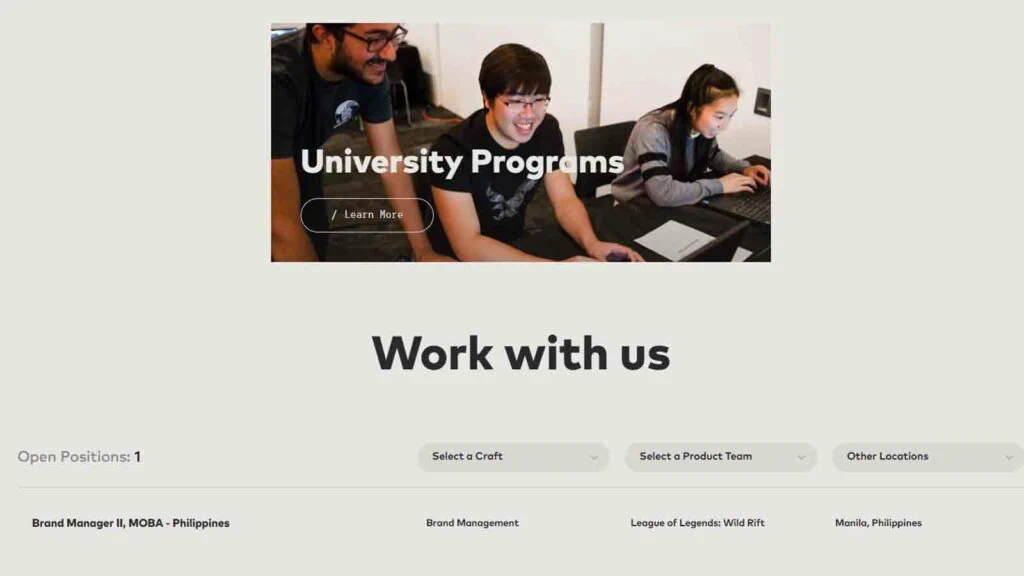 Alex Kraynov will be leading publishing in APAC, and is actively looking for a new country manager in Thailand and India, and a Head of Regional Tech.
They are currently looking for a Brand Manager for MOBA in Manila, the Philippines. Its Singapore studio and publishing arm are also mass hiring.
These are some of the notable job openings in Singapore publishing:
Brand Manager
Director, Talent Acquisition
Marketing and Communications Manager
Player Support Partner Manager
Senior Manager, Localization Operations
There are even more job openings listed under Singapore studio:
Software Engineer (Frontend)
Concept Art Lead for League of Legends
Concept Art Lead for Valorant
Concept Art Lead for Legends of Runeterra
Environment Art Lead for Project L, Riot's unpublished fighting game
VFX Art Lead for Project L
Illustration Art lead for Legends of Runeterra
QA Lead
QA Engineer
Senior Production Manager for League of Legends
Senior Software Engineer for Teamfight Tactics
Apply directly to Riot Games on their website here.
READ MORE: Riot Games is testing a zero-tolerance Valorant report system