Chinese esports organization Vici Gaming has announced that it has parted ways with Thai carry player Nuengnara "23savage" Teeramahanon.
23savage previously joined VG during the Chinese Dota 2 roster shuffle period while the DPC season was on hiatus. This was also when VG's star players, Zhang "Eurus" Chengjun and Zhou "Yang" Haiyang decided to jump ship and sign with Elephant.
However, due to the travel restrictions caused by COVID-19, 23savage never got a chance to play for VG in any of the online leagues the team competed in last year.
Instead, 23savage played with notable SEA star players like Abed "Abed" Yusop under the Among Us stack that finished in third place during the BTS Pro Series Season 3: SEA.
He also played as a stand-in for Thai esports organization Motivate.Trust Gaming during the following BTS Pro Series Season 4: SEA and Moon Studio Carnival Cup.
---
---
With that, VG decided to go with 23savage's stand-in replacement, Yang "Erica" Shaohan, as the team's official carry player for the upcoming 2021 DPC Regional League. Erica has played with VG in five Chinese Dota 2 online leagues and helped the organization win the OGA Dota PIT S3: China after they defeated PSG.LGD in the grand final.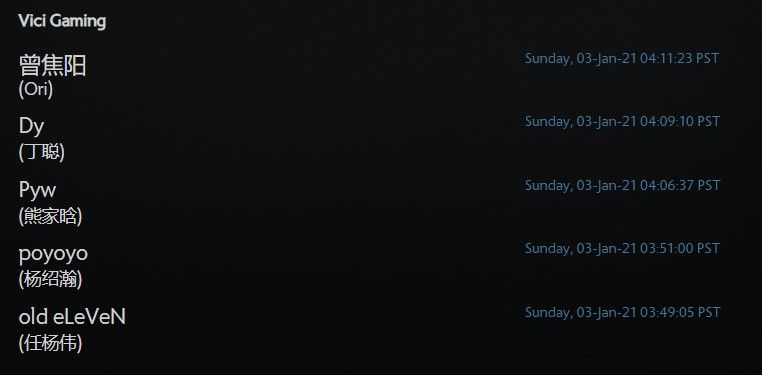 Vici Gaming's Dota 2 roster:
(1) Yang "Erica/poyoyo" Shaohan
(2) Zeng "Ori" Jiaoyang
(3) Ren "old eLeVeN" Yangwei
(4) Xiong "Pyw" Jiahan
(5) Ding "Dy" Cong (captain)
Vici Gaming is one of the four teams that received a direct invite to Season 1 of the newly revamped DPC Regional League. They will compete alongside eight other Chinese squads in the China Upper Division on January 18.
READ MORE: JJ Lin's Team SMG is entering Dota with new squad led by Mushi and ninjaboogie