To end 2021 on a high, Valve bestowed upon Aghanim's Labyrinth Battle Pass owners the power to choose which community-made Workshops sets will be making their way into the upcoming Collector's Cache Battle Pass Treasure.
With over one hundred sets to choose from and only one chest, here are the five coolest hats we think will definitely make it into this year's Treasure!
---
What is the Collector's Cache Battle Pass Treasure?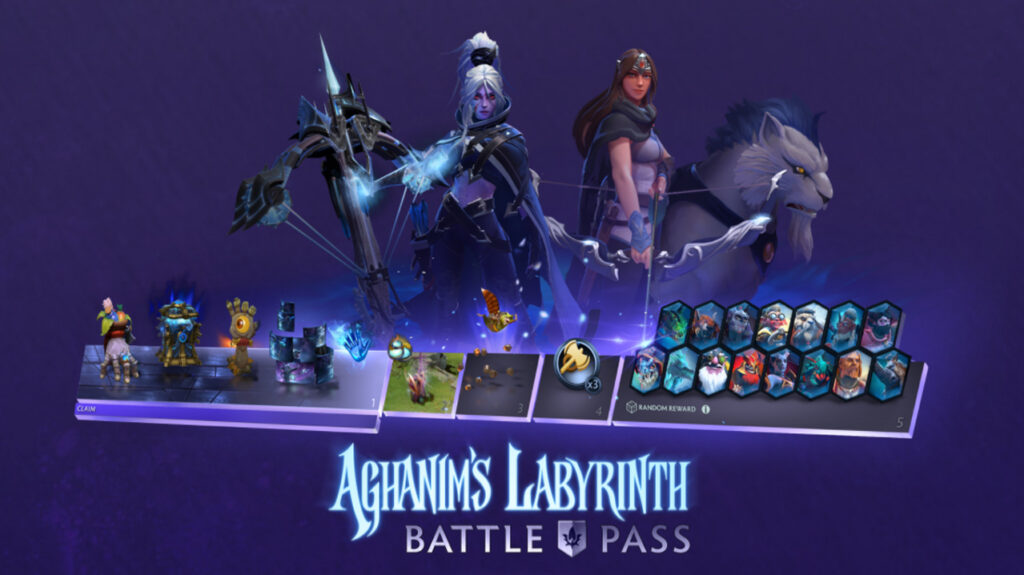 The Collector's Cache is a cosmetic loot box containing sets created by the community that players can purchase.
Workshop artists submitted their custom-made cosmetic sets to be voted into the Treasure. Out of 116 unique entries, only the top voted hats will make it into Dota 2.
Top 5 submitted Collector's Cache Battle Pass Treasure sets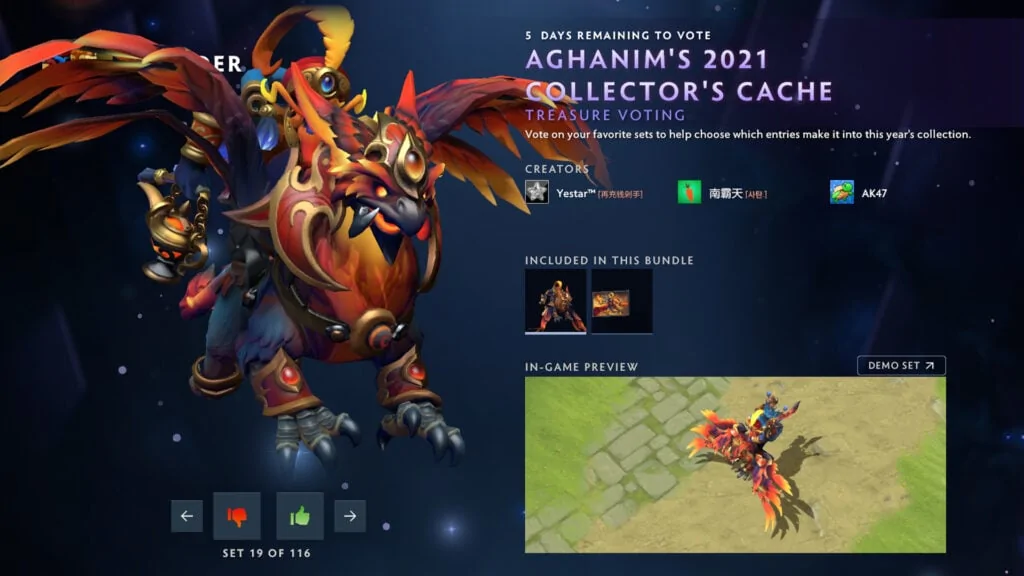 5. Batrider – Sacred Fire
Batrider has ridden a giant snow owl, a magical flying manta, and even a spooky ghost thus far. None of those mounts can hold a candle to the colorful Sacred Fire Batrider Workshop set, however, which includes a stunning red and black griffin.
Easily the coolest Batrider cosmetics to see the light of day, this hat's design appears to be heavily inspired by the Middle Eastern mythical creature, the genie. Sacred Fire turns Batrider into a menacing looking blue genie, clutching his cursed lamp whilst atop a terrifying — but cool looking — griffin.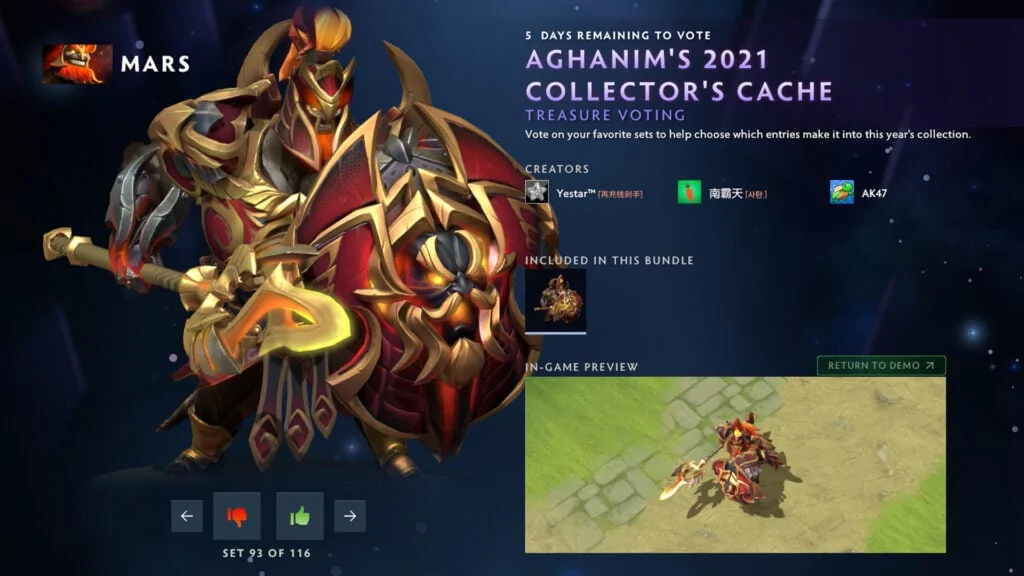 4. Mars – Fury of War God
Armor can be both practical and fashionable, and Mars fans will totally lose it if the Fury of War God Workshop set doesn't make it into the Collector's Cache Battle Pass Treasure. Just look at the shield!
The creators did a fantastic job in crafting a cosmetic that both stands out in-game and stays in line with Mar's overall theme. With only two sets and a handful of cosmetics available for the hero, it would be a big disappointment for this set not to make it into the Collector's Cache Battle Pass Treasure.
---
---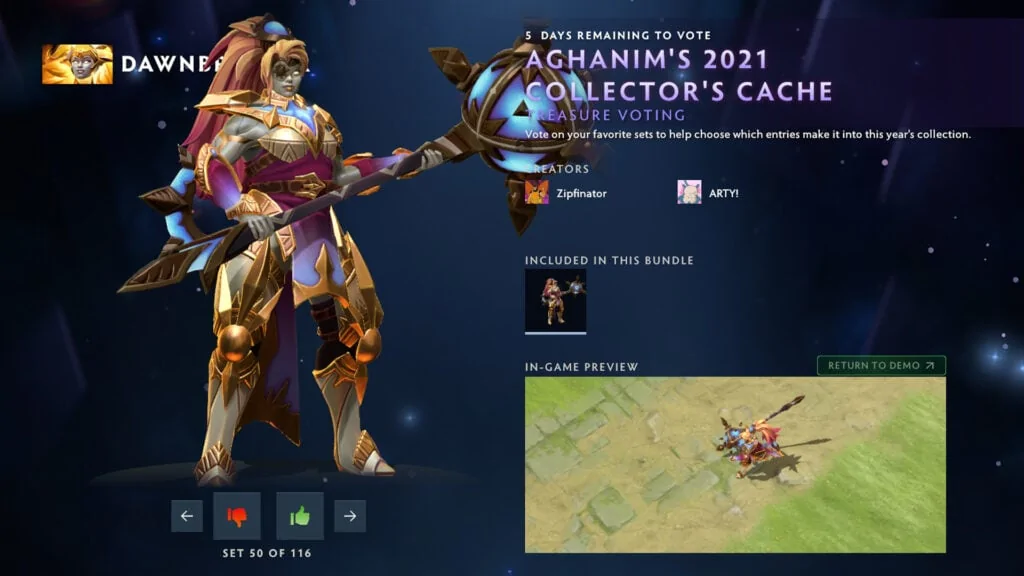 3. Dawnbreaker – First Light
With no cosmetic options available for one of Dota 2's newest heroes, workshop artists Zipfinator and ARTY! came to the rescue with their Collector's Cache submission, the First Light Dawnbreaker set.
The pair spiced Dawnbreaker up with a blue and magenta outfit, a completely new hairdo, and a huge mace to replace her standard hammer. The added pops of color and revamped features alone already look so good, imagine the possibility of mixing in future Dawnbreaker Immortals!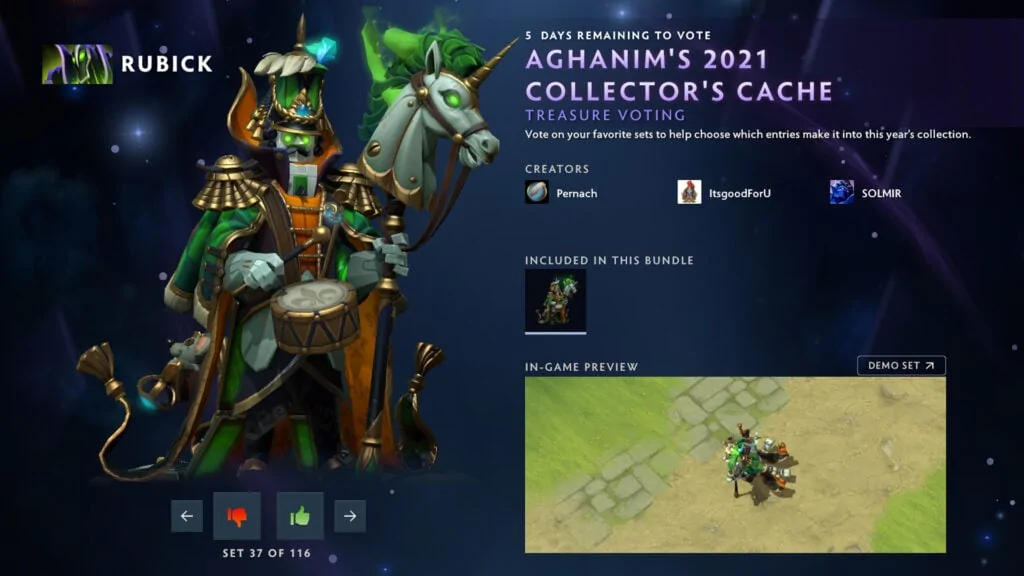 2. Rubick – Nutcracker
Different can be good, and the Nutcracker Rubick set certainly pushes past Dota 2's usual design boundaries.
A Dota-fied version of a nutcracker doll, the workshop artists put a lot of thought into the overall design of this Rubick set. The coolest parts include the wind up key attached to Rubick's cape, and the hobby horse staff which looks almost like a mount when walking in-game — and will go well with his riding taunt.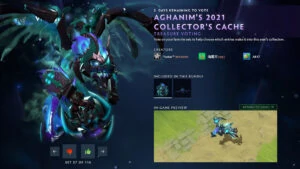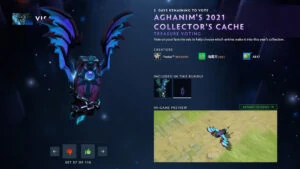 1. Visage – Boundary Marker of Death Realm
The best looking Workshop set out of all 116 entries is the gothic themed Boundary Marker of Death Realm Visage set. Yep, even his familiars got a complete makeover!
Where do we start with this masterpiece? The Boundary Marker of Death Realm cosmetic turns Visage into a giant bat-like gargoyle. His forearms are redesigned into coffins, and now flies upon webbed ghostly wings. The artists spared no effort, turning Visage's familiars into tiny flying coffins for a ghastly match.
READ MORE: How Somnus' Lina miraculously saved RNG with a game-winning rampage