The T1 Dota 2 team is moving to the Phillipines, according to its CEO Joe Marsh.
Following an unfortunate incident where midlaner Karl "Karl" Matthew Baldovino was unable to play in the fourth game of the DPC SEA Winter Regional Finals due to internet issues, Marsh is making some drastic changes.
He announced on Twitter that T1 Dota 2 will move to the Philippines—three members of its current roster are Filipino—and get "business internet."
"When the guys play in the same area, they are a different beast," Marsh wrote. "Next DPC should have a different outcome."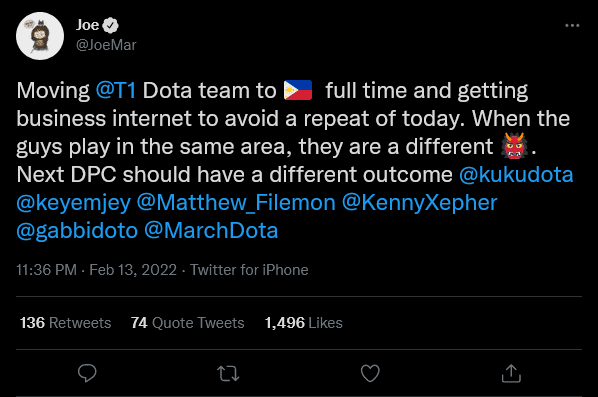 ---
---
T1 Dota 2 roster penalized for multiple stand-ins
Karl's connection issues meant that, T1, down 2-1, had to scramble for Polaris Esports' Mc Nicholson "Lelouch-" Villanueva to be a last-minute substitute. The team was unable to turn it around, leading BOOM Esports to be crowned champions.
Since T1 had already employed Kim "Gabbi" Villafuerte Santos as a stand-in, the organization received two separate 40 percent DPC points deductions. T1 earned just 46.8 DPC points for its second place in the Regional Finals, out of the initial 130 on offer.
---
Is T1 Gabbi confirmed?
Marsh tagged Gabbi in the tweet, seemingly confirming that the T1 team is moving on with the 23-year-old as its new carry.
After the first tour of the DPC 2021/2022 SEA Regional League concluded, rumors abounded that T1 was looking to replace their carry, Nuengnara "23savage" Teeramahanon, with former OG carry and two-time The International winner Anathan "ana" Pham.
But it seems like Gabbi has proved his worth—and constant availability—to T1, thus dashing the dreams of fans hoping for an ana comeback.
T1 and its new roster will be playing in the Beyond the Summit Pro Series 10, running from February 14 to March 6. Fresh off a tournament loss with unpredictable circumstances, T1 will be looking to add another title to their belt, and this time hopefully without any internet issues to get in their way.
T1 roster for BTS Pro Series 10
(1) Kim "Gabbi" Villafuerte
(2) Karl "Karl" Matthew Baldovino
(3) Carlo "Kuku" Palad
(4) Kenny "Xepher" Deo
(5) Matthew "Whitemon" Filemon
(coach) Park "March" Tae-won
READ MORE: The most contested heroes of Dota Pro Circuit SEA 2021/2022 Division I Tour 1