PSG.LGD has announced three new players who will fill in the roster spots left by Wang "Ame" Chunyu, Zhang "Faith_bian" Ruida, and Zhao "XinQ" Zixing for the next DPC season.
The Chinese esports organization has signed carry player Guo "shiro" Xuanang, offlaner Li "项羽" Longwu, and roaming support Lin "planet" Hao.
The trio will join Cheng "NothingToSay" Jin Xiang and Zhang "y`" Yiping, the two remaining players from the original roster.
Shiro has big shoes to fill. He will be replacing Ame, one of the most accomplished carry players in Dota 2. The organization said that Ame had decided to take a break from competitive Dota 2 following The International 2022.
Meanwhile, 项羽 will take over the offlane role from TI6 champion Faith_bian, and planet will step into the position 4 role previously played by XinQ.
---
---
PSG.LGD welcomes a new trio joining NothingToSay and y`
According to the team's announcement on Weibo, shiro and planet are joining the team after being loaned to PSG.LGD by EHOME. Meanwhile, 项羽 was transferred to PSG.LGD from CDEC.
The team's new trio is a relatively unproven group in international events, having spent most of their professional Dota 2 careers competing in various Chinese tournaments.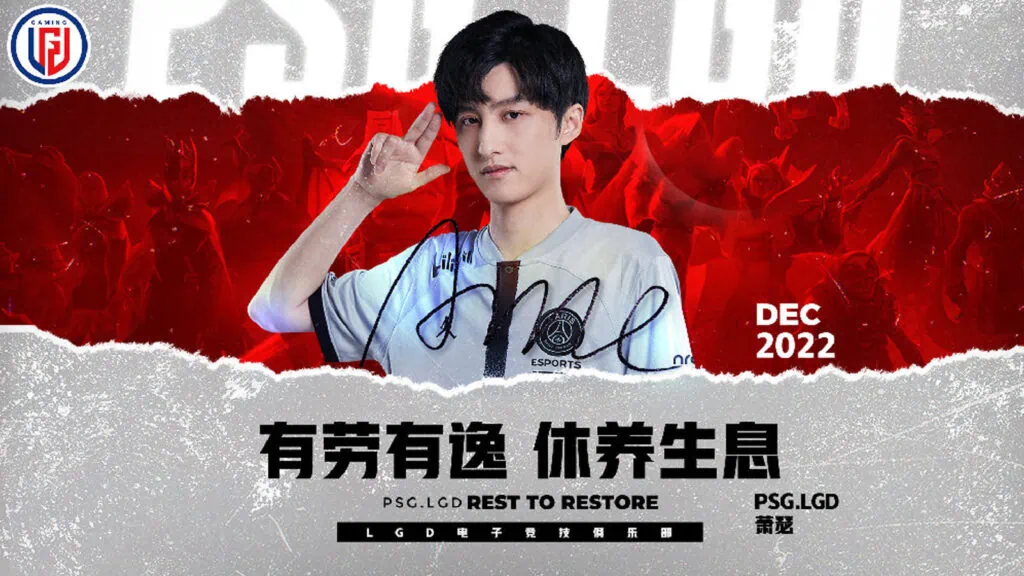 The team's new additions will have a lot to live up to. Ame, in particular, leaves behind an impressive legacy. The 25-year-old has spent most of his professional Dota 2 career with LGD, winning multiple international championships for the organization.
The three-time Dota 2 Major champion won the EPICENTER XL and MDL Changsha Major in 2018 and the WePlay AniMajor in 2021. The only trophy that has constantly eluded his grasp remains The International's Aegis of Champions.
When The International rolled around this year, LGD was a favorite to win the Dota 2 world championship. Ame himself had come close many times, coming in fourth at TI7 and third in TI9, and then placing second at TI8 and TI10.
The Chinese squad pushed OG to their limit but lost 3-2 in the grand final of TI8. History then repeated itself when PSG.LGD lost to Team Spirit 3-2 in the grand final of TI10.
At The International 2022, PSG.LGD finished in 5th-6th place, falling to fellow Chinese squad Team Aster 2-0 in the lower bracket's quarterfinals.
PSG.LGD's Dota 2 roster
(1) Guo "shiro" Xuanang
(2) Cheng "NothingToSay" Jin Xiang
(3) Li "项羽" Longwu
(4) Lin "planet" Hao
(5) Zhang "y`" Yiping
Zhang "xiao8" Ning (coach)
PSG.LGD will play in China's DPC Division I regional league next year.
READ MORE: Team Spirit breaks up TI10 winning roster, parts ways with TORONTOTOKYO