Fnatic is the last Southeast Asian squad standing at ESL One Stockholm Major, after seven days of non-stop Dota 2 action.
The DPC SEA 2021-2022 Tour 2 Division 1 champions defeated rival squad T1 2-1 in the lower bracket of the playoffs, eliminating them from the tournament.
The deadlock between the two Southeast Asian teams was broken by Jaunuel "Jaunuel" Arcilla, who came up clutch for Fnatic in the most important teamfight of the series.
---
---
Jaunuel saves Raven and gives Fnatic an insurmountable lead against T1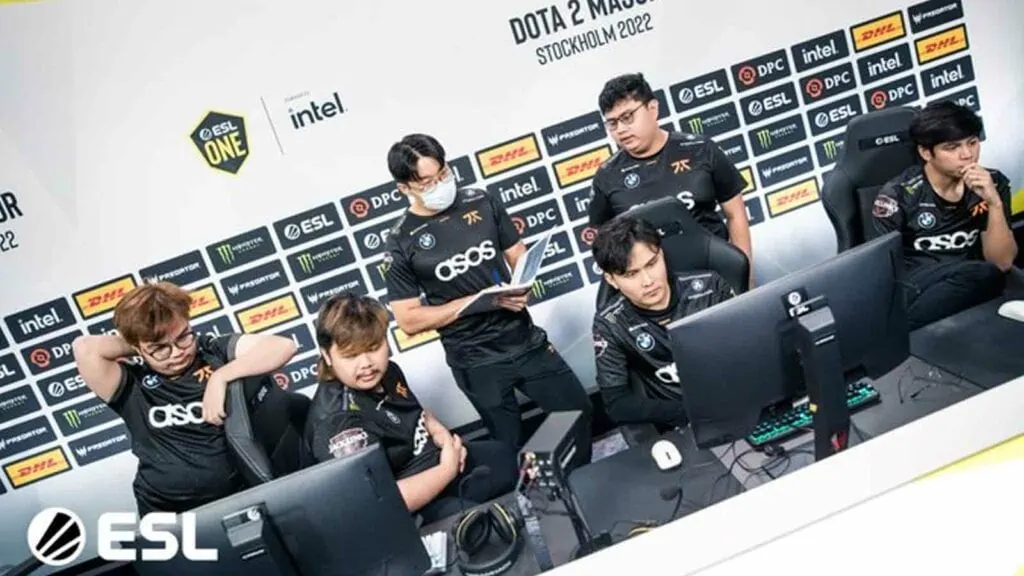 Both teams traded cut-and-dry wins, tying the series at 1-1. The two SEA squads effectively won a game each by out drafting one another.
However, in the final game of the match, they both selected an evenly matched hero lineup. Both teams were wary of committing to team fights, choosing instead to farm around the map and focus on their itemization instead.
The stalemate was broken when T1 contested Fnatic, who were looking to pick up the Aegis of the Immortal for their carry player Marc Polo Luis "Raven" Fausto.
T1 quickly dispatched three of their opponents, which left Raven to go up against three T1 players on his own. Raven was able to kill T1's hard carry Phantom Assassin, but was left with a sliver of health in the aftermath.
With such high stakes in the outcome of the teamfight, Jaunuel immediately bought back and teleported to his midlane tower to get back into the fight. The Filipino support player, who was playing Bane, then used Nightmare on Raven, which prevented T1 from landing the finishing blow on him.
---
---
However, Raven wasn't out of the woods yet as T1 continued to focus him down. With only 17HP remaining on Raven's Luna, Jaunuel pulled off another impeccable save by casting Shadow Amulet on his teammate.
Jaunuel turned Raven's Luna invisible for a brief moment, which prevented Kenny "Xepher" Deo's Winter Wyvern Splinter Blast from landing the finishing blow. Raven survived the entire ordeal, giving his team a substantial gold and experience lead that T1 was eventually unable to surmount.
Fnatic's 2-1 victory over T1 secures them at least a top-eight finish at the Major. The final remaining SEA squad will move on to face OG in another elimination match on May 20, 9:35 p.m. GMT+8 | 6:35 a.m. PT | 2:35 p.m. GMT.
Fans can watch the Stockholm Major's playoffs live on ESL ONE's official Twitch stream.
You can check out the previous group stage standings and results, along with more information about the Major here.
READ MORE: Beastcoast sends TI10 champions out of Stockholm Major in early exit