The DPC offseason migration continues in the Southeast Asian region.
Thai Dota 2 pro Anucha "Jabz" Jirawong officially joined Talon Esports in the upcoming 2023 DPC season after spending the last four years with Fnatic.
According to Fnatic's announcement on November 4, Jabz and coach Lee "SunBhie" Jeong-jae contracts ended after the team's TI11 run. A few hours later, Talon revealed that Jabz will be taking over the offlaner role for their Dota 2 team, replacing Damien "kpii" Sau-jing.
The move reunites Jabz with Talon's star carry Nuengnara "23savage" Teeramahanon. The two Thai players were part of Fnatic's powerhouse SEA roster in 2020 when they were considered one of the top teams in the region.
---
---
Talon Esports signed Jabz as their new offlaner after he was released by Fnatic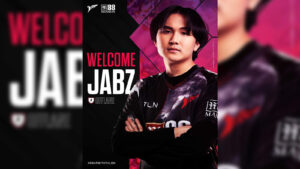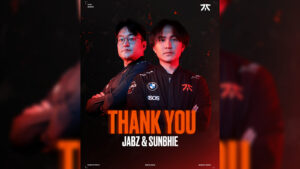 The 24-year-old first signed with Fnatic when the organization decided to stick with players from the Southeast Asian region after TI8. In his four years with the team, Jabz became an all-around player, fielding every role except the midlane position. He eventually took the team captain role, a position he will continue with Talon in the next DPC season.
Fnatic's Dota 2 team have gone through many play changes in the last four DPC season, but with Jabz on the team, they have managed to qualify for TI9, TI10, and TI11.
Fnatic and Talon Esports' possible DPC offseason moves
Fnatic is now on the lookout for an offlane player. The team could sign former T1 captain Carlo "Kuku" Palad to complete an all-Filipino roster. Kuku announced that he is looking for a new team after T1 was eliminated from the TI11 Last Chance qualifier.
As for Talon, they will need to find a new support player to replace Brizio "Hyde" Budiana. The top two candidates also happen to be two former T1 players in Kenny "Xepher" Deo and Matthew "Whitemon" Filemon. The two Indonesian free agents are some of the best support players in the Southeast Asian region.
Talon Esports' Dota 2 roster
Nuengnara "23savage" Teeramahanon
Rafli "Mikoto" Rahman
Anucha "Jabz" Jirawong
Worawit "Q" Mekchai
Fnatic's Dota 2 roster
Marc "Raven" Fausto
Armel "Armel" Tabios
Djardel "DJ" Mampusti
Jaunuel "Jaunuel" Arcilla
READ MORE: Beastcoast breaks up the longest-running roster in Dota 2 history after TI11