There is no bigger Dota 2 competition than The International, for these professional players have been chasing after The Aegis throughout their entire careers.
Evil Geniuses together with team captain Tal "Fly" Aizik, are one of the top contenders and favorites to win it all this year.
ONE Esports caught up with Evil Geniuses' Fly pre-TI for an exclusive interview where he shared more about which team he's most excited to play against at The International 10 and why.
Teams that Evil Geniuses' Fly wants to face at TI10
Fly didn't mince words, and revealed that he wanted to go up against the very best Dota 2 teams today.
He expressed his desire to get revenge on PSG.LGD, the Chinese team that swept them during the grand final of the WePlay! AniMajor.
"I would love to have a rematch with PSG.LGD, since last time they 3-0'd us," said Fly. "I think they're one of the toughest teams."
Fly also noted that Team Secret and Elephant have strong TI performances historically. These battle-tested teams have been through adversity, and has what it takes to make a deep TI run.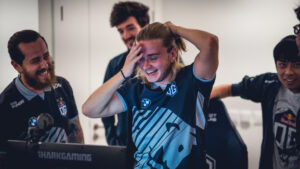 While he acknowledged that OG hasn't been in the spotlight throughout the 2021 DPC season, they should still be respected as true contenders. "They are the reigning defending champions, so I think they're a team to look out for," explained Fly.
Dota 2 team captains Fly and Johan "N0tail" Sundstein were the pillars of monkey Business, which eventually became OG. They went their separate ways before the start of TI8. Filling the open roster slots, n0tail led OG to two straight TI championships alongside Anathan "ana" Pham and Topias "Topson" Taavitsainen.
---
---
Fly feels most thankful for coach BuLba this DPC season
A match between Evil Geniuses and OG will always be the biggest draw in any Dota 2 tournament. The two squads are still at the top of their game, with a massive following behind them.
Evil Geniuses proved to fans that they're still one of the favorites to win TI10 this year. They finished runner-ups in the ONE Esports Singapore Major and the WePlay! AniMajor during the 2021 DPC season.
The roster is stacked with superstars in each position. With guidance from coach Kanishka "BuLba" Sosale, one of the most experienced coaches in Dota 2, Evil Geniuses will be a tough matchup.
"We put in a lot of work this year as a team," said Fly. He is especially grateful for BuLba, who made sure Evil Geniuses were at the top of their game throughout the 2021 DPC season.
Dota 2 fans will have to wait and see which teams will go up against each other when Valve releases the schedule for The International 10.
The tournament will take place in Bucharest, Romania from October 7 to 17. TI10 will host 18 of the best Dota 2 teams in the world that will be competing for US$40 million — the biggest tournament prize pool in esports history.
READ MORE: 32-year-old xiao8 leads PSG.LGD to Sapphire OGA Dota PIT Invitational final