Updated on August 21, 10:44 a.m. (GMT+8): Added a statement from Team Aster's co-founder.
This year's The International is quite different compared to the previous TIs. Aside from having a schedule that includes more breaks for pro players, the TI11 main stage will be held in two different venues for the first time.
With the TI11 Playoffs already in full swing, Dota 2 fans have seen the tournament's setup at Suntec Convention Centre, located at the heart of Singapore. The most noticeable change in the stage's layout is the absence of playing booths, an important feature that has been a part of the annual tournament since the first The International.
One of the players shared his experience playing on the first day of the TI11 main stage, and how the new setup may have influenced their game.
---
---
Gaimin Gladiators dyrachyo claims they can hear the casters during their TI11 Playoffs match
Gaimin Gladiators position one player Anton "dyrachyo" Shkredov revealed that their team heard everything that the casters said during their lower bracket match against Fnatic in TI11 Playoffs.
"Scary thing is that you hear absolutely everything — everything that the casters say. You hear every smoke, every rune," the Russian player said in a post-match interview with Russian community caster Aleksandr "Nix" Levin, as translated by Redditor u/burstes.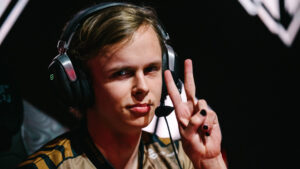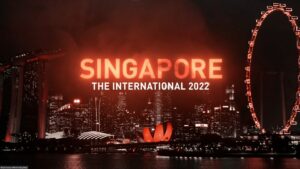 Dyrachyo further claimed that at one point, their position 5 player and team captain Melchior "Seleri" Hillenkamp knew that their opponent had the double damage rune after hearing the play-by-play commentary on-site.
"I remember that in Stockholm everything was distorted," dyrachyo said.
Stockholm Major 2022 also followed a no-booth setup, held from May 12 to May 22 at Hovet Arena in Stockholm, Sweden. Gaimin Gladiators was one of the participating teams of the Major, where they placed fourth and took home US$50,000 and 460 DPC points.
Nix speculated that back then, tournament organizers ESL One may have used "special headphones with noise reduction."
PSG.LGD's Zhao "XinQ" Zixing allegedly claimed that they could also hear, but could not understand the casters.
Team Aster co-founder Xu "BurNIng" Zhilei said during his livestream that he already reported the soundproof problem to PGL, but there has been no feedback so far from the organizers.
"Aster will need to play while listening intently, and memorize some key terms,'" BurNIng said, as translated by ONE Esports. "If they hear 'Roshan' and 'smoke,' should probably be understood instantly."
Valve has not yet released an official statement about the incident, but viewers already voiced their concerns on social media about the competitive integrity of the tournament.
---
Follow ONE Esports on Facebook and Twitter for more Dota 2 news, guides, and highlights.
READ MORE: Team Secret Puppey criticizes this year's DPC season, calls it a 'bugged system'