Gaimin Gladiators BOOM definitely knows what's cooking. The position two player showcased magnificent plays using one of his signature heroes, Storm Spirit, during The International 2022 (TI11) Playoffs day one.
With their tournament spot at stake, the Czech midlaner went all out against Southeast Asian representatives Fnatic in a best-of-one.
Gaimin Gladiators BOOM's Storm Spirit helps the European team secure TI11 Top 12
How do you turn around a 12,000 gold lead in Dota 2? Miroslav "BOOM" Bičan demonstrated the answer in their lower bracket playoffs game against Fnatic.
The SEA team started the game strong after Djardel "DJ" Mampusti's Clockwerk and Armel "Armel" Tabios' Sniper drew first blood by taking down his Storm Spirit in the midlane. The European team answered back by picking Fnatic members one by one during the early game.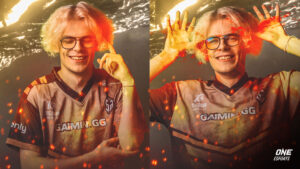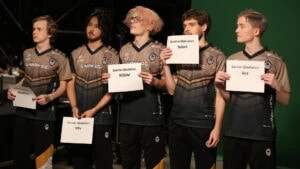 As soon as DJ finished building his Aghanim's Scepter, however, Fnatic gained a lot of map vision through Clockwerk's Overclocking. This gave the SEA team more room to navigate Gaimin Gladiators' jungle, take them down in a team fight, and claim the Aegis of the Immortal.
Fnatic then pushed all the way towards GG's barracks and looked to close out the series early. Just then, BOOM landed a massive four-man Electric Vortex, which prevented Fnatic from destroying their barracks and spawning super creeps.
---
---
---
Shortly after the clash, Fnatic attempted to destroy the European team's tier 3 tower on the top lane but experienced the wrath of Raijin Thunderkeg instead.
Zipping all the way from their base, BOOM once again delivered on his Electric Vortex, which caught all four remaining members of Fnatic. After the beautiful setup, Anton "DyrachYO" Shkredov's Morphing cleaned up the fight with a triple kill.
---
---
By the late game, Gaimin Gladiators were simply unstoppable and forced Fnatic to surrender at the 50-minute mark.
---
---
Gaimin Gladiators advance to Top 12 and will continue their lower bracket run on October 22, 10 a.m. GMT +8 | October 20, 7 p.m. PT | 2 a.m. GMT, where they will face off against the losing team from Tundra Esports and OG Esports' upper bracket quarterfinals series.
You can view the full TI11 Playoffs schedule here.
---
Follow ONE Esports on Facebook and Twitter for more Dota 2 news, guides, and highlights.
READ MORE: This is the story of the smallest big play in Dota history