On August 26, the esports world was rocked by the tragic demise of Aldrin Paulo "Dunoo" Pangan who passed away from COVID-19.
Dunoo, also known as Kuya D to his colleagues and his Filipino fans, was a passionate caster who will always be remembered for his unique voice lines, unwavering energy, and love for Dota 2.
The legendary Filipino caster was a pillar in the Dota 2 community who entertained fans with his one-of-a-kind commentary style. He and his fellow caster Marlon "Lon" Marcelo also gave fans the most iconic voice line in all of Dota 2, "Lakad Matatag, Normalin, Normalin."
Dunoo and Lon began casting games in Mineski Infinity cyber cafes in the Philippines. The two were very energetic and loud, often shouting to the fans as they cast live matches.
This made watching Dota 2 for Filipinos so much more enjoyable. As a result, the duo became the go-to broadcasters in the Philippines when esports was still in its early stages.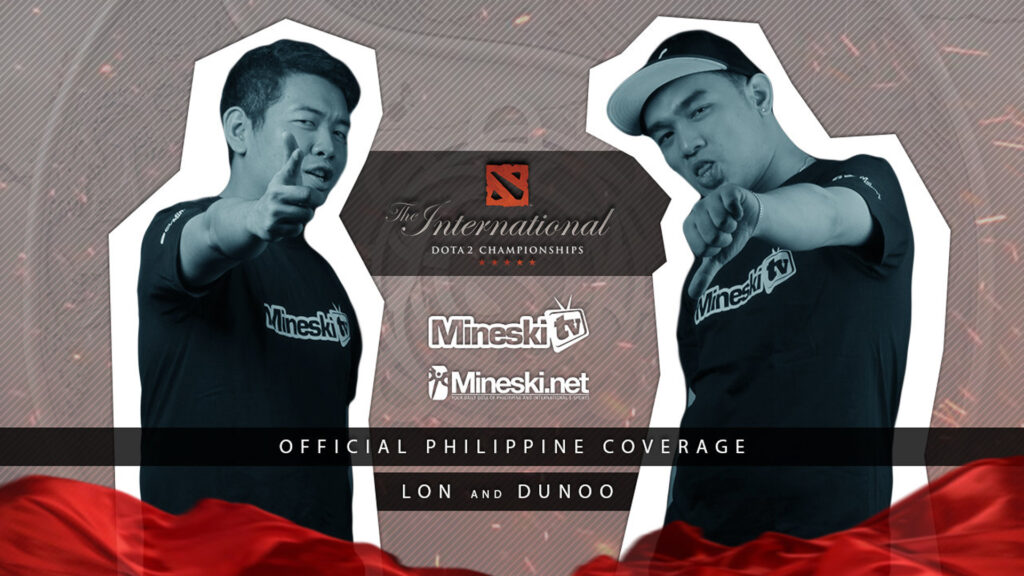 Dunoo and Lon got their big break when they were invited by Valve to cover The International 2016 as the official Philippine coverage for the US$20,770,000 tournament.
---
---
T1 pays tribute to Dunoo
T1 observed one minute of silence for Dunoo during their first match in the playoffs of ESL One Fall 2021 against Alliance.
T1 paused the game at the one-minute mark, where Carlo "Kuku" Palad, who had been good friends with the Filipino caster, explained what they were doing.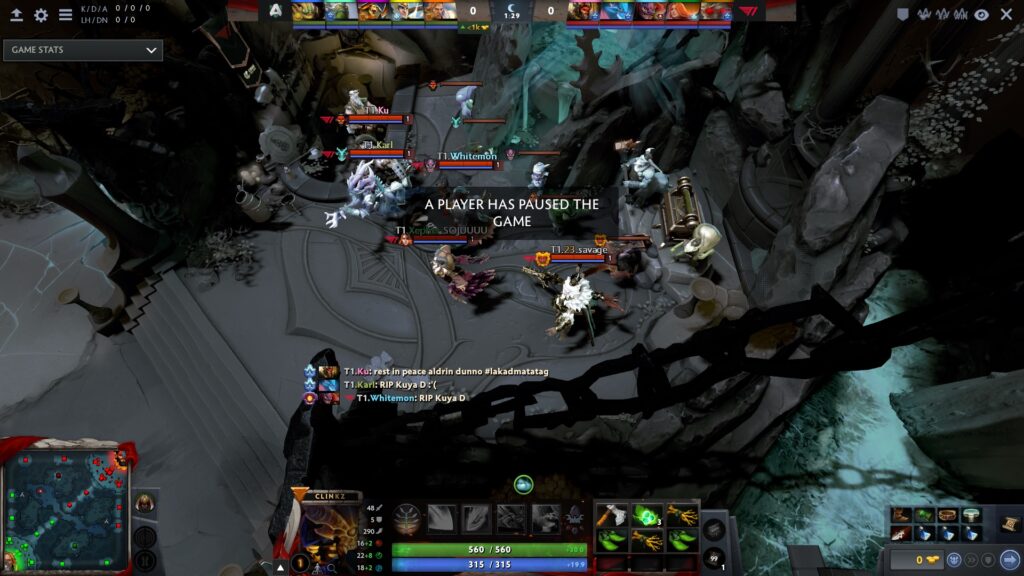 Matthew "Whitemon" Filemon, another member of T1, who was also good friends with Aldrin, had recently covered a song with him.
---
Teams, players, and Dota 2 talents all remember Dunoo
T1's sentiments were echoed across the esports scene, with many remembering their time alongside the casting icon.
Philippine esports organization TNC Predator and world-renowned squad Team Secret expressed their condolences to Aldrin and his family.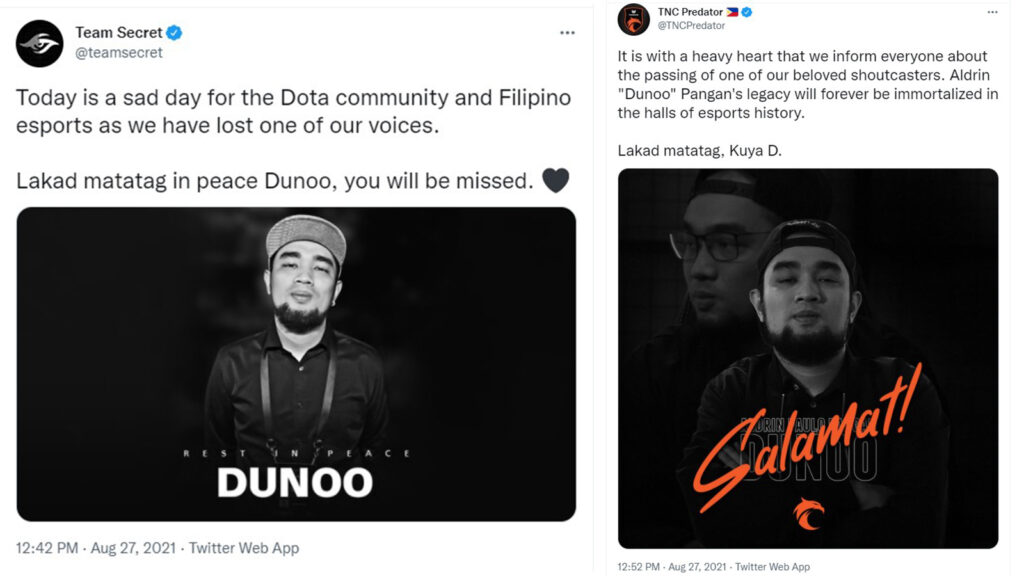 OG were the biggest users of voice lines during their run in TI8 and TI9. In fact, they used Dunoo and Lon's voice lines more than 1,000 times total. What a war cry.
BOOM Esports also thanked Aldrin for his contributions to the Dota 2 community all over the world.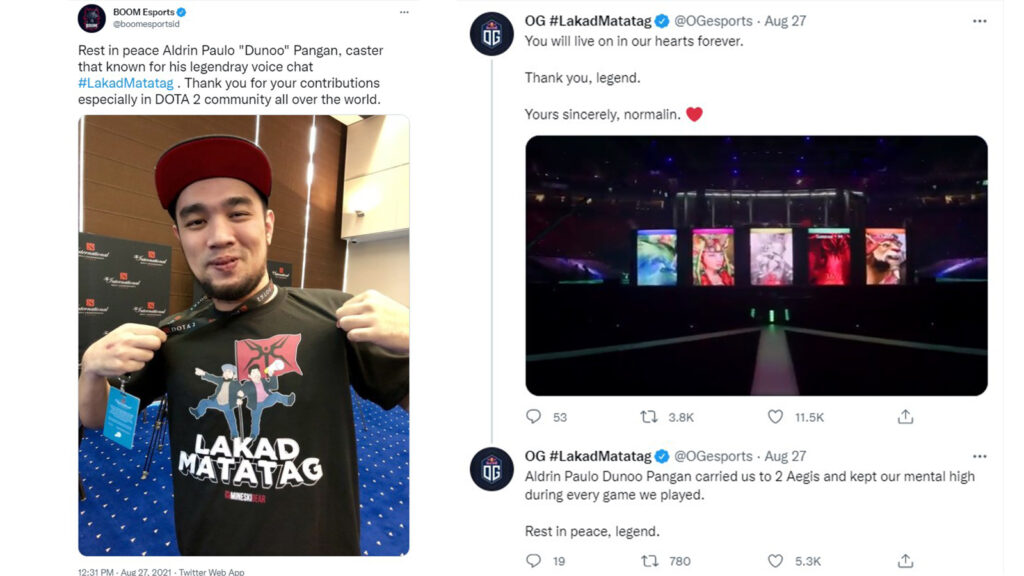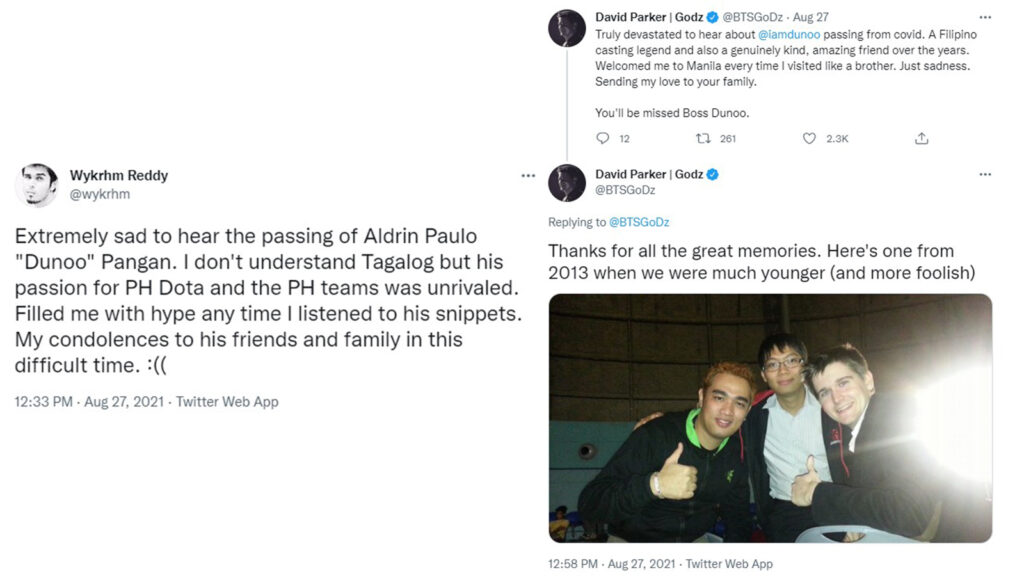 Dota 2 caster David "Godz" Parker and Valve spokesperson Wykrhm Reddy expressed their condolences to Dunoo's friends and family as well.
READ MORE: Neutral items are now more balanced than ever in Dota 2 patch 7.30