The reign of the KV Broadside may finally be ending with Warzone 2 Season 2's Reloaded update. The weapon has been one of the most powerful and admittedly frustrating since it was added with the Season 2 update.
Infinity Ward, the team behind the game, has stated that the Reloaded update "will include several global weapon balances, including damage reduction to the KV Broadside and Dragon's Breath rounds."
---
---
Both the KV Broadside and the Dragon's Breath rounds will see damage reduction in Warzone 2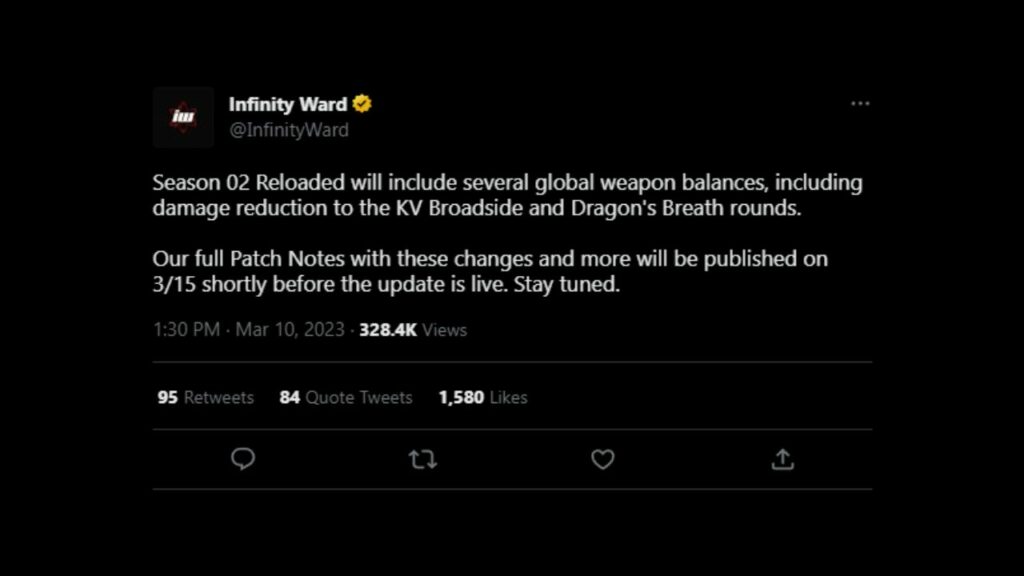 The shotgun has been wreaking havoc upon lobbies since it was introduced, but the combination of the power of the weapon alongside the Dragon's Breath fire rounds just took the weapon from insane to frustrating to be on the receiving end of.
The incendiary rounds just pushed the semi-automatic shotgun over the edge given its rate-of-fire, damage, range, and now the ticking fire damage even after they've gotten out of dodge.
This has of course led to Infinity Ward deciding changes are necessary.
The damage reduction will help to mitigate the potential the weapon has at range as well as towards the lower half of the body. More details will be coming on March 15 when the full patch notes are revealed, according to the tweet.
Players will have to wait and see if there's more to it and whether or not the changes are enough to make the shotgun viable while not being as much of a nuisance as it currently is.
READ MORE: Microsoft and Activision 'confident' Call of Duty can be optimized on Nintendo Switch