The KV Broadside shotgun added to both Modern Warfare 2 and Warzone 2 in Season 2 is insane. With the power it has, movement ability, as well as fire rate, this is a weapon wreaking havoc across games.
In terms of which loadout you should use with it, that's where we look toward Call of Duty guru Hero on YouTube. The expert recently released a video sharing gameplay footage alongside a build he recommends players use to make the most of the new weapon.
---
---
The KV Broadside may be exactly what you need in Modern Warfare 2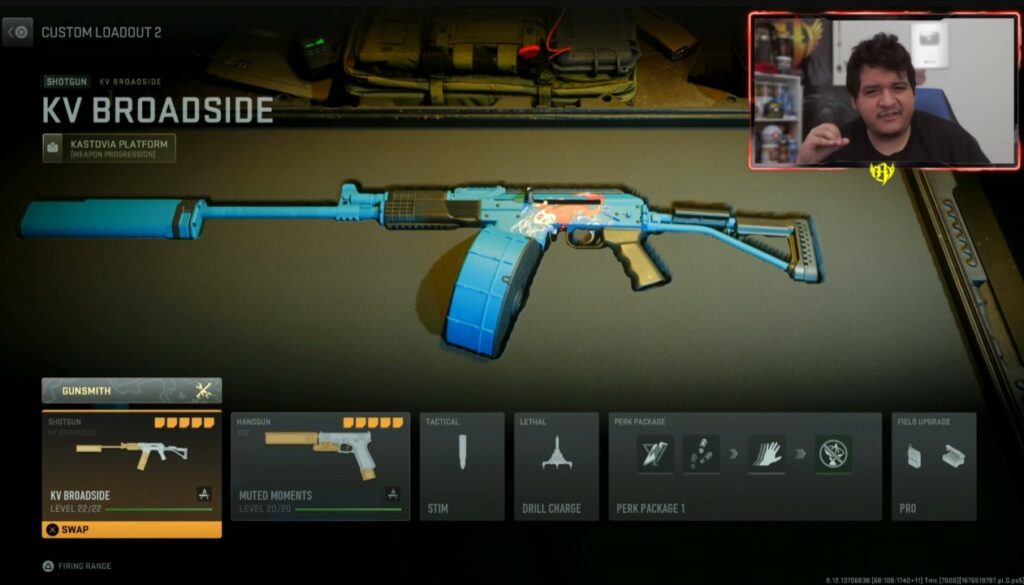 Hero starts things off by going over his decisions for the muzzle. He selected the SA MX-50 for this build due to his desire to not appear on the minimap which is key when utilizing a shotgun. This allows you to catch players unaware of your position more often than not.
Next up is the Range Twelve barrel thanks to the benefit of increased damage range, hip-fire accuracy, and bullet velocity. He claims this build focuses on firing from the hip and therefore this attachment is a massive piece of the puzzle.
Moving into the laser, Hero selected the Point-G3P 04 for his KV Broadside build. His logic behind this is the increased hip recoil control, hip-fire accuracy, and sprint-to-fire speed.
For the mag, it's no surprise he's selected the 25 Shell Drum. Allowing players to spray away with the gun and take down more opponents without the need to reload.
Finally, he selected the Dashbolt 60 which is a big boost to the firerate. When you pair this with the rest of the build, this one brings it all together.
| | | |
| --- | --- | --- |
| SLOT | ATTACHMENT | TUNING (vertical, horizontal) |
| Muzzle | SA MX-50 | -0.45, +0.77 |
| Barrel | Range Twelve | -0.16, +0.35 |
| Laser | Point-G3P 04 | -0.26, -6.58 |
| Mag | 25 Shell Drum | N/A |
| Bolt | Dashbolt 60 | N/A |
---
---
After supplying the build, Hero states he believes the KV Broadside will most likely be nerfed. While there's no knowing what the future holds, it may be worth enjoying it while you can!
READ MORE: ISO Hemlock banned from Ranked Play in Modern Warfare 2