Activision Blizzard has officially unveiled its Season 2 Battle Pass for Call of Duty Modern Warfare 2 and Warzone 2.
As Season 2 launches, so does the Battle Pass which introduces new rewards, content, and more. Player progress will be shared across both titles, so fans can easily play both and still progress.
Similar to the first season, the old linear system has been removed, allowing fans to be more choosy with which items they wish to unlock. The Battle Pass now takes the form of a map with different sectors, allowing players to select how they wish to progress through it and earn rewards.
---
---
Fans can choose how to progress their Season 2 Battle Pass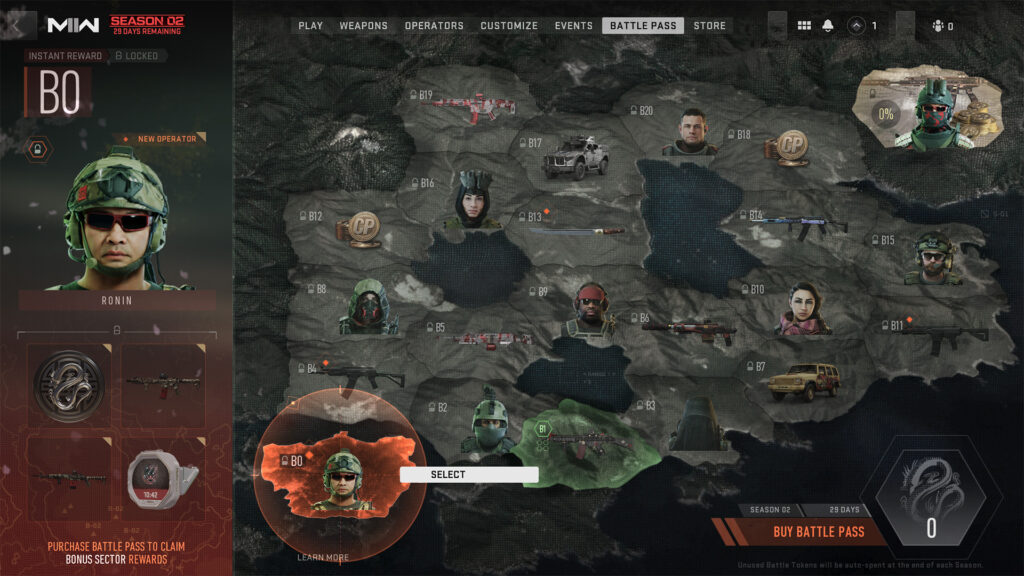 Players will have over 100 rewards to unlock through playing the game, including new weapons, operators, and cosmetics. Fans of the series can pick up the Season 2 Battle Pass for the same price it was during Season 1, 1,000 CoD points.
In terms of what's available, players will be able to unlock three new weapons:
| | |
| --- | --- |
| Item | Location |
| KV Broadside | Sector B2 |
| ISO Hemlock | Sector B11 |
| Dual Kodachis | Sector B13 |
Three brand new operator skins added
It's not just weapons though. Three new Operator skins are being made available and can be found below:
| | |
| --- | --- |
| Item | Location |
| Expedition Konig Operator Skin | Sector B3 |
| Gozen Kleo Operator Skin | Sector B8 |
| Sheathed Blade Roze Operator Skin | Sector B110 |
---
If players are able to complete all 20 sectors they will unlock the Victory Sector. The Victory Sector contains the following three items:
"The Peak" Ronin Operator skin
"Unchained Fury" Weapon Blueprint
300 CoD Points
The launch of Season 2 brings tons of content for Call of Duty fans to enjoy including six new game modes, Combat Records, and more.
---
READ MORE: Modern Warfare 2 multiplayer review: The good, the bad, and the ugly