If you thought the SA-B 50 was already the best sniper in Modern Warfare 2, well it just got even better.
Modern Warfare 2 Season 2 introduced some buffs across the board for snipers, but this one is now on another level according to FaZe Scope on YouTube.
Season 2 introduced the ability to tune the laser on your weapons, which is turning out to be huge.
---
---
The SA-B 50 is even faster in Season 2 thanks to the laser tuning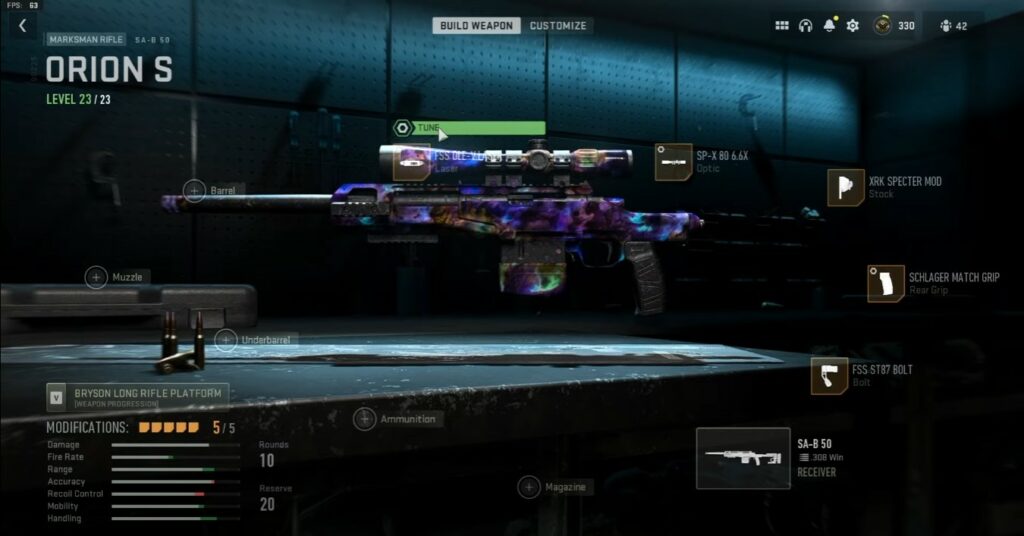 The ability to tune your laser gives players more control over their sprint-to-fire speed alongside their aim down-sight speed. Adjusting these into the negative will give players insane speed with the sniper, almost allowing the weapon to act as a shotgun at close range.
"If somebody's coming around the corner with a shotgun, if they're not pre-aiming you, you can probably get a shot off before them," he explained.
According to Scope, this sniper is the best one to use if you're looking for fast plays, quick scopes, and highlight reels. Utilizing the FSS OLE-V laser will allow you to tune it into a near-instant scope speed that will rival the ability of even the best close-range weapons.
Below you can find the attachments he uses for the weapon alongside the tuning for the FSS OLE-V. Given that was the main focus of the loadout, he doesn't explore the tuning on the other parts so we suggest testing out what works best for you.
| | | |
| --- | --- | --- |
| Slot | Attachment | Tuning (vertical, horizontal) |
| Laser | FSS OLE-V | -0.50, -51.00 |
| Optic | SP-X 80 6.6X | N/A |
| Stock | XRK Specter Mod | N/A |
| Rear Grip | Schlager Match | N/A |
| Bolt | FSS ST87 | N/A |
---
If you want to see the SA-B 50 in action, Scope provides a montage of insane snipers in the video discussing the changes. Who knows, you might even get the courage to try some of the crazy plays yourself.
If you're interested in seeing some of the most overpowered weapons currently in Warzone 2, then this is where you want to go next.
READ MORE: Warzone 2.0: The best M4 loadout to dominate Resurgence