FaZe Clan streamer Ean "Booya" Chase is bringing back a popular Modern Warfare assault rifle and it's perfect for Rebirth Island. The Kilo 141 is a well-rounded weapon with low recoil and very competitive damage at range, which is why some players constantly return to it.
FaZe Booya's best Kilo 141 class setup turns the weapon into a laser beam, and if you watch his latest gameplay video with the weapon, you'll be raring to try it out for yourself.
---
---
Best Kilo 141 class setup for Rebirth Island: Loadout, attachments, perks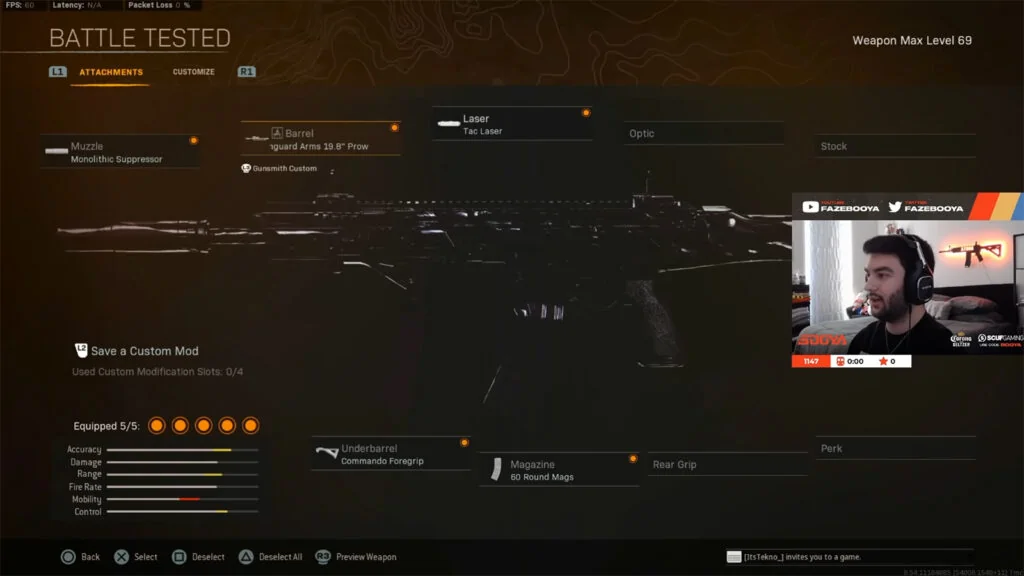 | | |
| --- | --- |
| SLOT | ATTACHMENT |
| Muzzle | Monolithic Suppressor |
| Barrel | Singuard Arms 19.8″ Prowler |
| Laser | Tac Laser |
| Underbarrel | Commando Foregrip |
| Ammunition | 60 Round Mags |
The unique thing about this loadout is the fact that it gets rid of the popular VLK 3.0x optic, which is traditionally equipped to maximize the gun's advantage in long-range battles.
However, because Rebirth Island is smaller than Caldera and usually involves more frequent close-quarter engagements, Booya decided to forgo an optic attachment in favor of the Tac Laser. The laser improves aiming stability and increases ADS speed, making the gun feel more accurate and responsive.
"It becomes an absolute beam, no recoil whatsoever and you can hit those easy headshots," explained Booya. "The Kilo 141 is still a solid weapon with good bullet velocity as well."
And since the Kilo 141 has a relatively clean iron sight, there is minimal downside to not having a dedicated optic.
Elsewhere, the Singuard Arms 19.8″ Prowler barrel increases damage range, bullet velocity, and further improves recoil control, helping you land your shots even more easily. Finally, the Commando Foregrip also goes toward recoil and aiming stability, so you can easily trace targets even as they're fleeing from you.
You can watch Booya's full gameplay video with this class setup below.
READ MORE: Call of Duty: Warzone is coming to mobile devices