The 90s hit anime Neon Genesis Evangelion is quite a unique show. The series is filled with biblical references, characters dealing with daddy issues, and thrilling mecha fights, but the part that really stole the hearts of EVA enthusiasts was the final episode.
Despite the doom and gloom of Evangelion's apocalyptic setting, the show ends on a sentimental note. The supporting characters appear out of nowhere to congratulate protagonist Shinji Ikari and ultimately, the fans, for their support of the show.
A diehard EVA fanboy, Thai-British YouTuber Garnt "Gigguk" Maneetapho decided to recreate the epic conclusion that celebrated life at his very own wedding.
YouTuber Gigguk made a timely Neon Genesis Evangelion meme at his wedding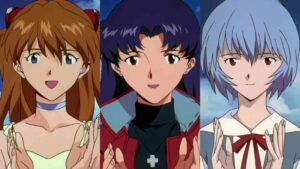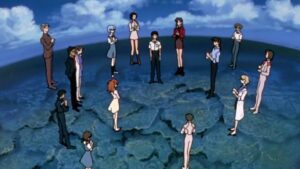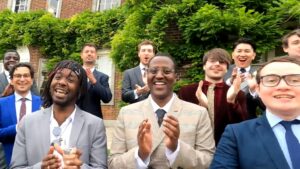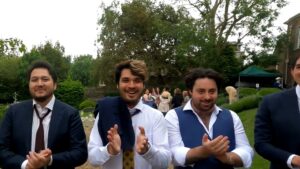 Gigguk posted the heartwarming reenactment on his Twitter account with the caption, "POV: You're Shinji at the end of Evangelion".
The YouTuber had a brilliant edit of the ending, replacing EVA's character montage with the guests at his wedding. The groom took a panning shot of the crowd as they applauded and congratulated him.
"I had a once in a lifetime opportunity and I knew I had to take it. I also didn't even touch my desert," said Gigguk in the Twitter thread.
---
---
Trash Taste co-host and fellow YouTuber Joey "The Anime Man" Bizinger was the one who suggested the recreation. A native Japanese speaker, The Anime Man can be heard congratulating the groom in Japanese, a nice reference to the subbed version of EVA.
The 25-second clip went viral in the anime Twittersphere, garnering over 15,600 retweets and 139,500 likes in just two days.
Gigguk wasn't the only one who shared his love for Evangelion during the special occasion. Bride Sydney "Sydsnap" Poniewaz gave out themed postcards that depicted her as Asuka Langley Soryu and Gigguk as Shinji. It truly was an anime wedding.
You can check out Gigguk's thoughts on the final Evangelion film down below:
---
---
Follow ONE Esports on Facebook and Twitter for more anime news and stories.
READ MORE: PewDiePie finally reunites with 'anime boyfriend', goes on a bro-date in Japan