The potential cast for Netflix's My Hero Academia live-action movie was recently leaked online, but it left fans with more questions than answers.
Details about the movie surfaced on June 1 when IMDb's website revealed the main cast. Before the post was taken down, anime enthusiast TOKANIM shared the information on Twitter.
At the time of writing, only three people are listed on IMDb's website for the MHA live-action movie, including director Shinsuke Sato and writers Joby Harold and Kohei Horikoshi.
Sato is best known for directing the popular TV series Alice in Borderland and the Bleach live-action movie that premiered in 2018.
---
---
IMDb leaks the cast of Netflix's My Hero Academia live-action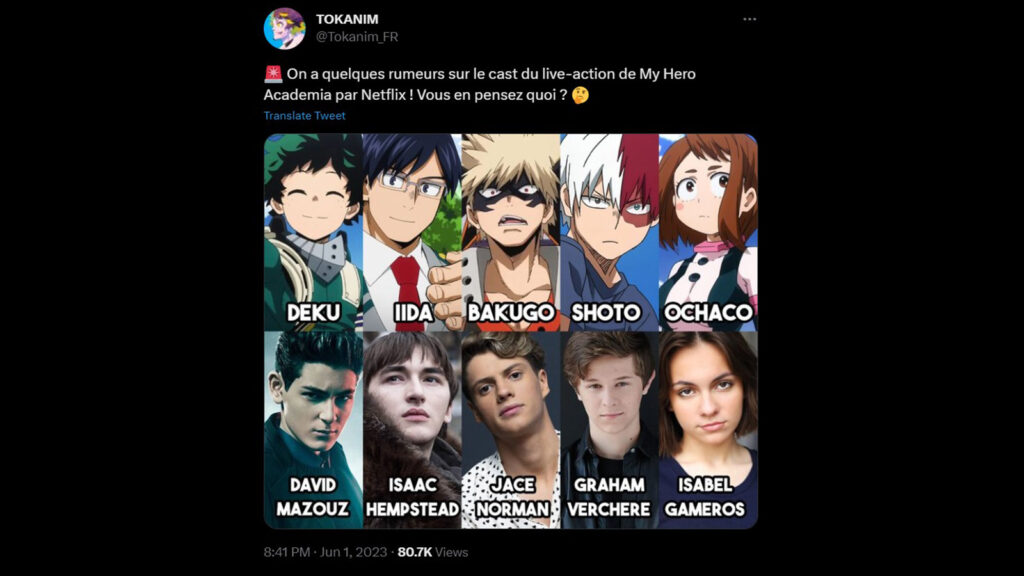 According to the leak, David Mazouz, who played a young Bruce Wayne in the Gotham TV series, was cast as Midoriya "Deku" Izuku.
Issac Hempstead, best known for playing Brandon Stark in the hit TV show Game of Thrones, was cast as Class-A's president Iida Tenya.
Jace Norman, star of Nickelodeon's Henry Danger comedy series, was cast as Bakugo Katsuki. Graham Verchere, known for his roles in Stargirl and The Good Doctor, is expected to play Shoto Todoroki.
Isabel Gameros, best known for the TV miniseries Florida Man, was cast as Ochako Uraraka.
Why most of the actors were removed from IMDb's website remains unclear. Rumors suggest that Netflix is looking to cast a new set of actors after some MHA fans questioned why non-Japanese actors were selected when nearly all of the characters in the series are Japanese.
MHA has been one of the most popular anime shows since its release in 2016. The franchise gained a bigger following after the series made its way into Netflix. So, it wasn't surprising when Netflix confirmed a live-action adaptation of MHA late last year.
However, since Netflix's first announcement, further details have yet to be officially released.
READ MORE: MHA's Laugh as if you are in Hell puts Todoroki in new light