Even at one-third of his actual size, the Black Swordsman still looks like an absolute beast.
Collectible manufacturer Prime 1 Studio will be releasing a new 1/3-scale figure of Guts from the popular seinen manga and anime, Berserk. The figure portrays the protagonist in the later chapters of the series, equipped with the Berserker armor and the legendary Dragon Slayer sword.
Officially named "Guts Berserker Armor Unleashed Edition," the figure stands at four feet tall (121cm) and weighs a hefty 62lbs (28kg).
---
---
Prime 1 Studio's Guts Berserk Statue stands on the bloody heads of monsters
Prime 1 Studio did an amazing job on the character details. From the heads of the monsters that Guts tramples on to his Berserker armor, the statue perfectly captures the brutal nature of the battle-hardened mercenary.
While the armor's obsidian coloring looks pristine, Guts' gauntlet and treads have noticeable blood stains. Clearly, he's used them to crack more than a few skulls open. The Dragon Slayer was handled in the same way, with the tip of the sword covered in much more blood.
The figure's platform displays the ominous Brand of Sacrifice, backlit by an LED light. The same symbol can also be seen on Guts' neck when you take off his fabric cape.
If you'd like to see Guts in other poses, the DX edition of the Unleashed statue includes two additional swappable heads and arms. Diehard fans can switch out the character's default scowl for a more lively grin. As for the arms, they allow Guts to place his sword by his side or planted on the platform.
Prime 1 Studio has already teased the Rage Edition of the statue, which adds another tint of blood to everything you see. In this edition, Guts will be equipped with the full Berserk armor and will have two swappable helmets: the original Skull Knight helm and his Beast of Darkness counterpart.
The Guts Berserker Armor Unleashed Edition statue is priced at US$1,450 and will be shipped between November 2023 and February 2024.
For more information, you can check out the official Prime 1 Studio page.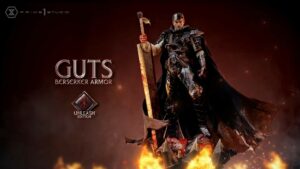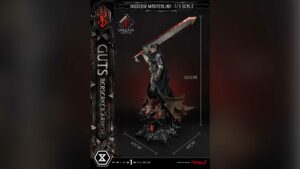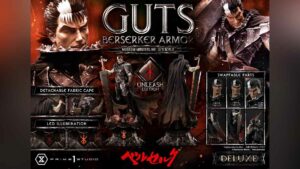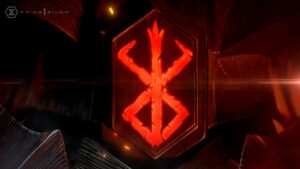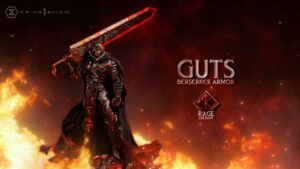 Follow ONE Esports on Facebook and Twitter for more anime news and stories.
READ MORE: Where to read the Berserk manga right now