Riot Games' VCT NA Last Chance Qualifier has been postponed for at least 12 days, and will now be held online, according to Version1's Director of Esports Strategy & GM, Jake Trobaugh.
The VCT NA Last Chance Qualifier first kicked off on October 13. The matches were played live on stage with tournament favorites 100 Thieves securing a spot in the upper bracket final, narrowly scoring 2-1 wins over Gen.G Esports and XSET.
Riot Games postpones VCT NA Last Chance Qualifiers due to conflicting COVID-19 test results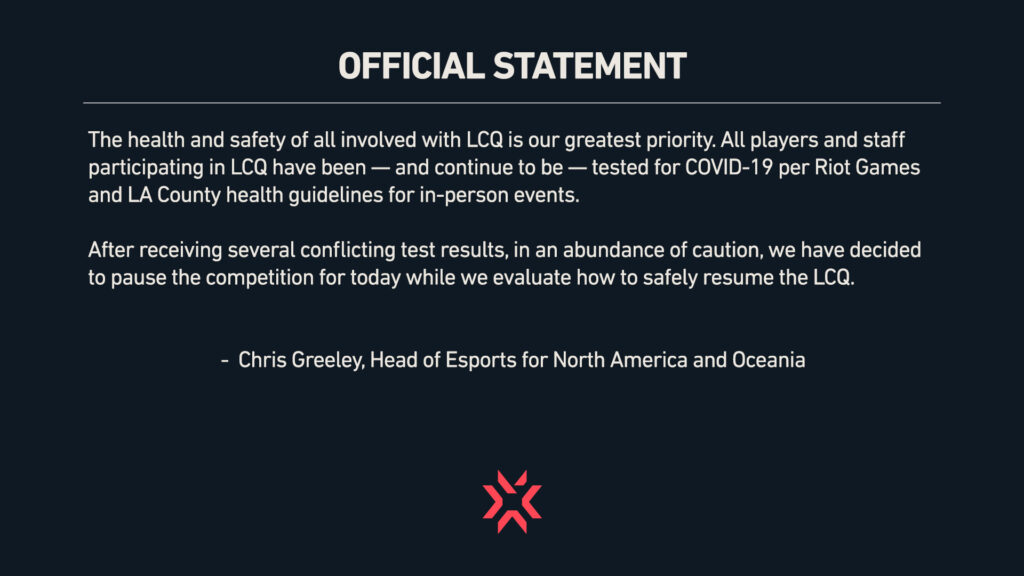 On the following day (October 14) of the VCT NA Last Chance Qualifier, there were several conflicting COVID-19 test results from two FaZe Clan members, Andrej "babybay" Francisty and Corey "Corey" Nigra.
As such, Head of Esports for North America and Oceania, Chris Greeley decided to pause the competition for a day.
According to Rise's team captain, Derrek "Derrek" Ha, Riot Games reportedly asked FaZe Clan to play their upper bracket quarterfinal match online, while opponents Rise were set to play on stage.
The tournament organizers ultimately decided to postpone the event until further notice.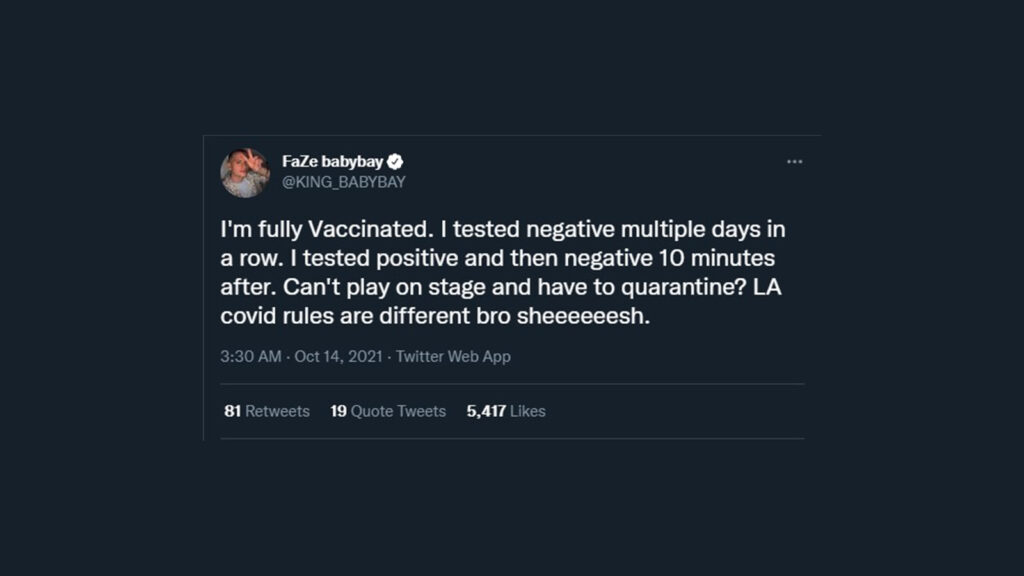 ---
---
"We share the community's disappointment and we are working diligently to transition LCQ to an online event, similar to VCT matches earlier this year, and resume play as soon as possible to send our final team to Valorant Champions," explained Riot Games.
After the event was postponed due to conflicting COVID-19 test results, Version1's Jake Trobaugh disclosed that the VCT NA LCQ will be pushed back at least 12 days, and will be played online instead.
Riot Games has yet to announce the new event dates for the VCT NA LCQ.
The VCT NA LCQ was originally set to take place in Los Angeles, California. Eight North American teams who've accumulated enough VCT circuit points will compete for the final slot in the Valorant Champions tournament.
READ MORE: Shroud's Valorant settings: Keybinds, crosshair, PC, monitor, mouse