Astra nerfed. Omen buffed. And Brimstone is now the GOAT.
After the seismic shift in Valorant patch 4.04, pro players are having a field day with the changes that nerfed the best controller in the game to the ground.
The galaxy-brain Ghaniain controller has been a mainstay in the pro meta and high-ranked games for months now, and players have been vocal about how her overpowering utility often slowed the pace of the game to a crawl.
She made Valorant feel less fun, according to them, because of the constant need to bait out her utility instead of executing faster, aggressive plays.
Unsurprisingly, they're now over the moon about the nerfs. Well, except for those who main her.
---
---
Valorant pros and streamers react to massive Astra nerfs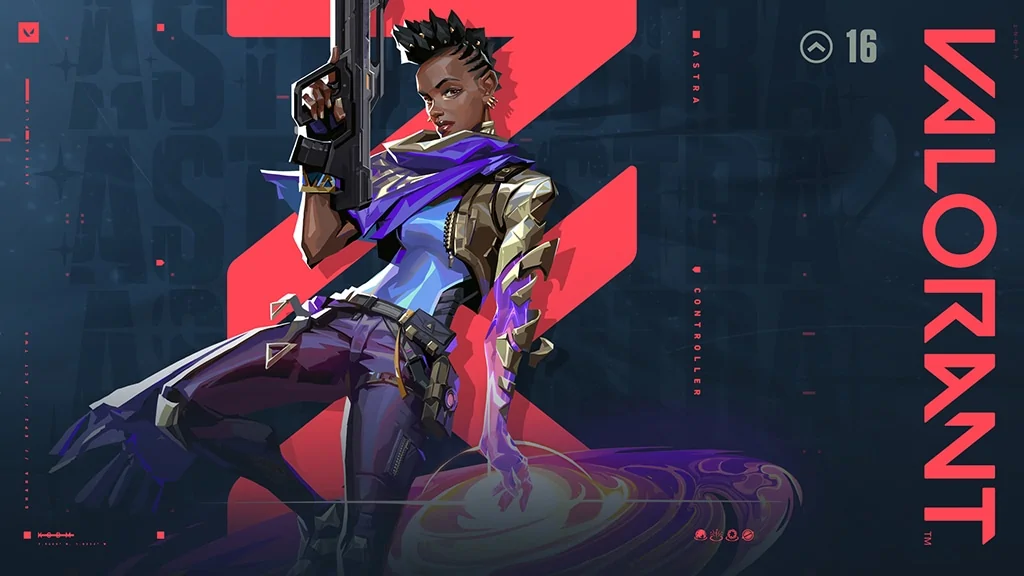 Valorant is fun again for Sentinels dapr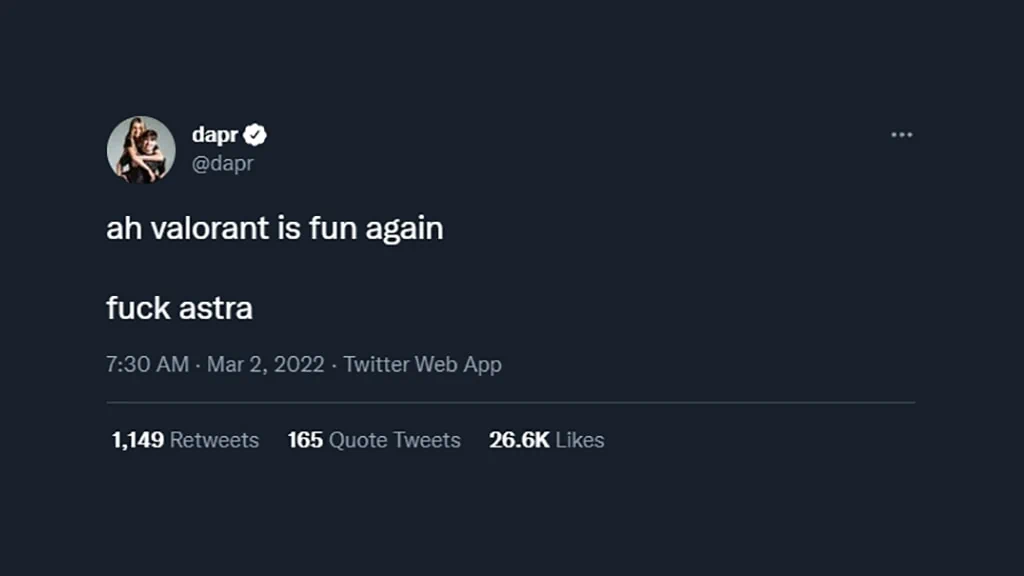 Michael "dapr" Gulino didn't mince his words. Clearly, he's not a fan of getting sucked off the spike in every single round.
His Sentinels teammate Shahzeb "ShahZaM" Khan also previously complained about how Astra made Valorant boring to play, because most of the early round is spent baiting out her utility.
---
Brimstone is better than Astra, jokes Cloud9 vanity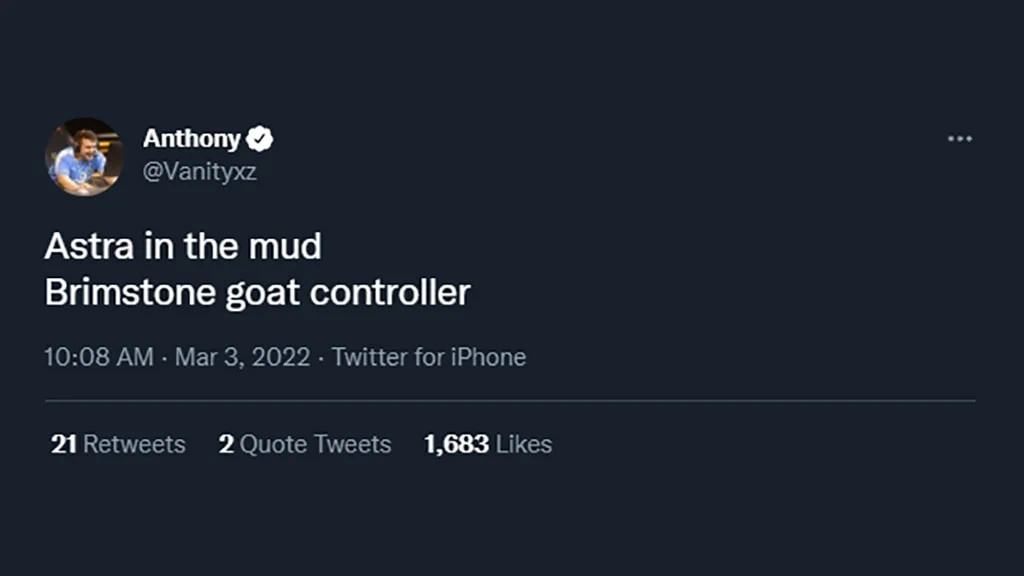 After a long stint as Cloud9's Astra main, Anthony "vanity" Malaspina is ready to move on. He also joked about taking on the duelist role and putting Erick "Xeppaa" Bach, the team's current initiator, on Brimstone.
Brimstone was one of the winners of Valorant patch 4.04, with faster Sky Smokes and a brand new speed boost on his Stim Beacon. In fact, his Stim Beacon has the potential to significantly speed up the pace of the game, with quicker rotations and faster pushes.
---
Version1 Zander might need a new job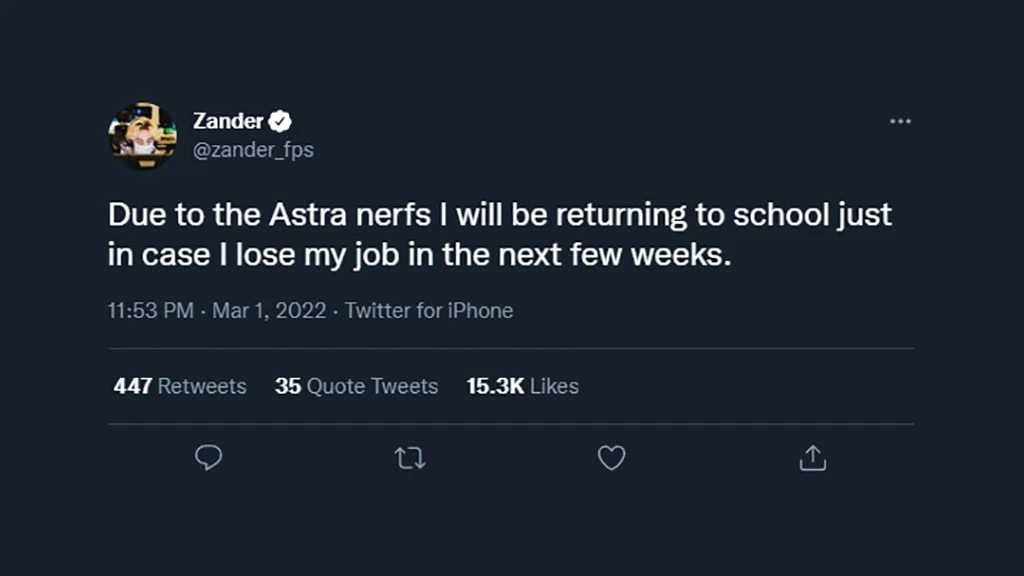 New Version1 in-game leader Alexander "Zander" Dituri has been a star addition for the North American team, but the Astra nerfs are so bad that he might need a backup plan.
Valorant patch 4.04 has not been kind to the 20-year-old. Viper, who is also his second most-played agent, received a huge nerf as well in the latest patch.
---
GUARD valyn got nerfed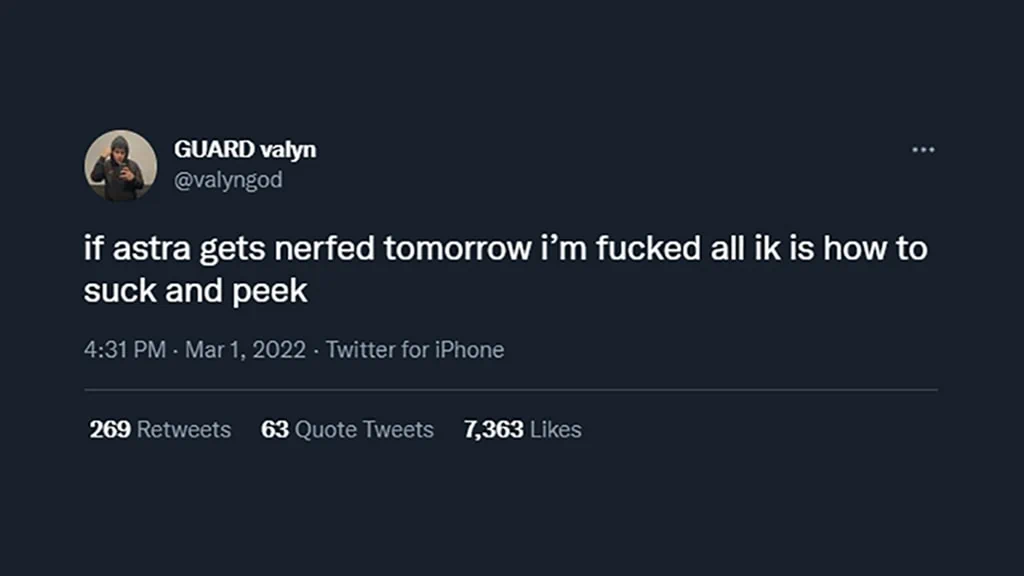 The Guard's valyn didn't even have to wait for the patch to drop. "All I know is how to suck and peek," he joked, referring to Astra's ability to give herself the advantage in fights with Gravity Well.
With 38 games played on Astra in the last 60 days, The Guard in-game leader will have to adapt quickly. As it turns out, he might be learning how to play Omen now.
---
NRG Flexinja loves the Astra nerfs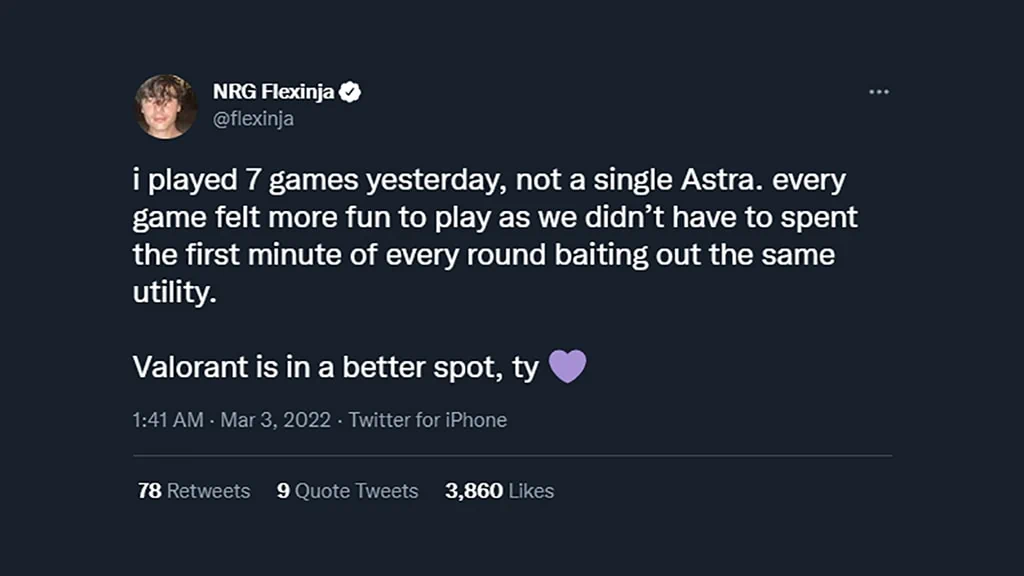 Omen god Chris "Flexinja" Irvine is absolutely loving this patch. Not only did Omen get buffed, but Astra's pick rate has also plummeted in his games.
"I see Astra and Viper mains complaining about the nerfs and I absolutely love it," he tweeted, shortly after the patch notes dropped.
For now at least, Valorant seems to be successfully encouraging a wider diversity of controllers with the Astra nerfs.
READ MORE: Why pro teams are putting their star Jett players on Chamber