Valorant has been one of 2020's most well-received games. But despite its early success, the tactical shooter still has some wrinkles that need to be ironed out every now and then, as the game's current patch 1.11 rollout woes can prove.
That may soon change because Riot Games has confirmed that a "pre-release environment" — similar to League of Legends' Public Beta Environment (PBE) is in the works. The developer hinted that Valorant's public test server is currently planned for the first half of 2021 in the latest "Ask Valorant" fan Q&A post.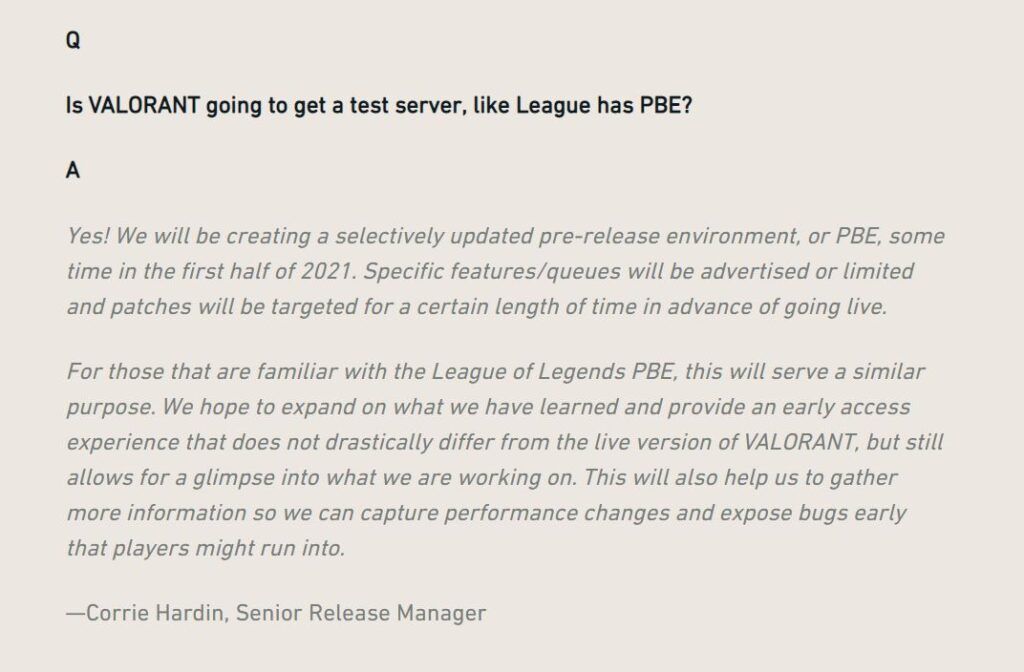 ---
---
With its own PBE, Riot will be able to allow Valorant players to try out specific features and updates in a limited environment before these tweaks go live in the game.
A PBE will also give the developers the chance to identify and resolve issues that can harm the in-game experience, much like what the patch 1.11 bugs are doing right now.
Valorant is barely five months old (not counting its closed beta stage), so the development team is bound to encounter some growing pains along the way — especially under the pressure of a rapidly growing fanbase.
Being clear about its plans to roll out a public test server should at least assure Valorant fans that Riot is taking steps in the right direction for the game's continued growth.
READ MORE: Riot is teasing the return of Valorant's closed beta Reaver skins