With Valorant's upcoming First Strike series in full swing, Riot has revealed details pertaining to the European side of competition. Similar to North America's First Strike event, Europe will also feature a $100,000 prize pool.
We've listed down everything you need to know about the European First Strike series.
---
Tournament format
The online open qualifiers will be split into four separate tournaments, with two competitions running each week. Teams can also register in different qualifiers even when they get knocked out from previous qualifiers.
The qualifiers will follow a single-elimination format, with the top eight teams advancing to the playoffs. There, teams will compete in best-of-three matches, with the top four teams making it into the First Strike EU main event.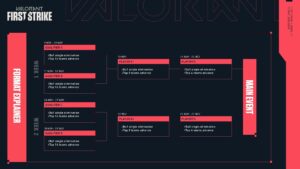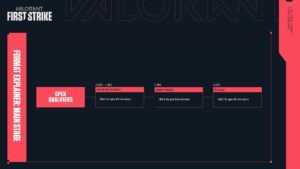 ---
How to register
Teams will need to sign up and register to be included in the competition on Riot's official page here. Registration will open on October 26 at 9:00 a.m. CET (October 26 at 4:00 p.m. GMT+8). For Week 1's open qualifiers, registration closes on November 5 at 2:00 p.m. CET. While Week 2's open qualifiers are only up until November 12 at 2:00 p.m. CET.
The rules also indicate that there must be three players from the European region on each team. Teams can view the full European country list from Riot's official announcement post.
---
---
Schedule
First Strike EU begins with the open qualifiers from November 9 and will continue until November 22. The tournament will then shift towards the main event, which will be held on December 3-6. 
The quarterfinals are scheduled to take place on December 3-4, followed by the semifinal on December 5. The final day of competition is on December 6, where Riot will crown their first-ever European First Strike champions.
---
Prize pool
The US$100,000 prize pool will be awarded to the top eight teams that make it into the main event. The distribution of prize amounts can be broken down as follows: 
1st place – $35,000 ($7,000 per player)
2nd place – $20,000 ($4,000 per player)
3rd place – $12,000 ($2,400 per player)
4th place – $12,000 ($2,400 per player)
5th place – $6,500 ($1,300 per player)
6th place – $6,500 ($1,300 per player)
7th place – $4,000 ($800 per player)
8th place – $4,000 ($800 per player)
---
How to watch
Valorant EU fans can catch all the action by watching the live broadcast of the qualifying week's playoffs on November 14-15 at 5:00 p.m. CET (12:00 p.m. GMT+8), as well as on November 21-22 at 5:00 p.m. CET (12:00 p.m. GMT+8).
The entire main event on December 3-6 will also be broadcast starting at 5:00 p.m. CET (12:00 p.m. GMT+8) for each day of the tournament.
Riot will release the official streaming channels for First Strike EU in the coming weeks.
READ MORE: David Beckham's Guild Esports announces Valorant roster