Top-notch Valorant was on full display during the VCT NA Stage 2 Challengers playoffs, with several teams battling to qualify for Masters Copenhagen.
XSET were crowned the new champions of North America after their triumphant 3-1 victory over Masters Reykjavik winner OpTic Gaming in the tournament's grand final, and they will head into Copenhagen as NA's first seed.
But before XSET and OpTic Gaming travel to Denmark for the second international Valorant LAN event of the year, here's a look back at the top five plays from the playoffs.
---
Watch the top 5 plays from the VCT NA Stage 2 Challengers playoffs
5. XSET's Cryocells isn't Mr. 4K anymore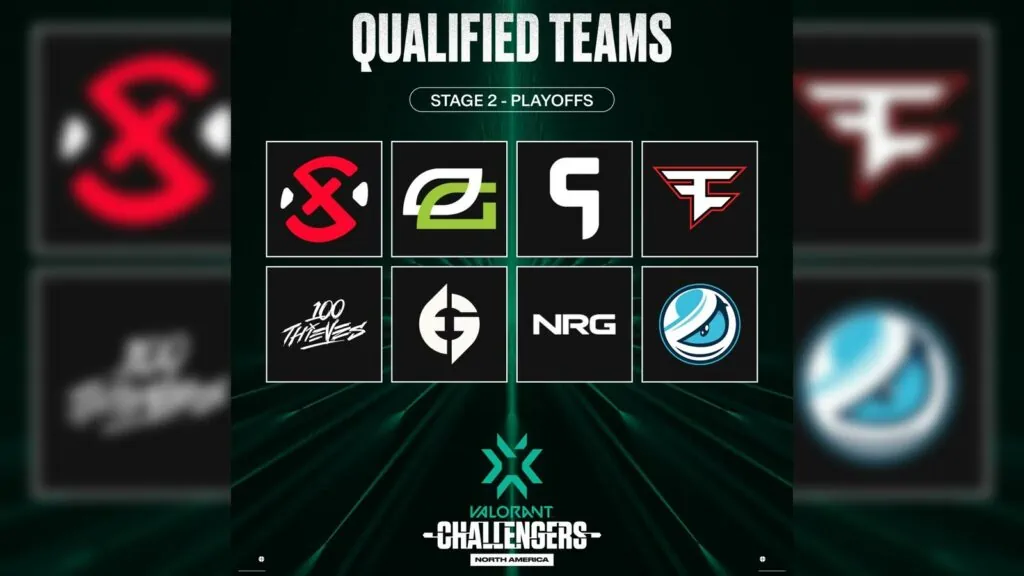 Matthew "Cryocells" Panganiban is known as "Mr. 4K" because of how often he gets four kills in most rounds, but always seems to fall short of the ace.
XSET's star fragger broke his curse and secured the elusive fifth kill in the lower bracket final against FaZe Clan.
The 19-year-old was able to isolate all his aim duels, single-handedly eliminating the entire enemy team on Breeze.
---
---
4. FaZe Clan's supamen read NRG like a book
Phat "supamen" Le pulled off an incredible 1v4 clutch in the lower bracket semifinals against NRG Esports.
After his teammates failed to take A Main on Ascent, supamen crept his way to B site's Boat House. The round looked lost as he was surrounded by NRG players from Defender Side Spawn and stairs on B site.
However, supamen stood his ground and killed two players pushing from Defender Side Spawn, taking an unexpectedly aggressive angle. He was then able to take 1v1 duels against the remaining two NRG players, finding their heads in an incredible display of crisp aim and clutch prowess.
---
---
---
3. FaZe Clan's flyuh has nerves of steel
Xavier "flyuh" Carlson made all the right decisions in a crucial round during the lower bracket semifinals against NRG.
NRG had narrowed the gap on Ascent, the third and deciding map, after winning four straight rounds on attack. In Round 20, flyuh and Quan "dicey" Tran were in a 2v3 retake on A site.
The first kill went flyuh's way with a wallbang kill with the Odin on NRG's Sage player, who was sitting in hell. Dicey then eliminated another NRG player holding by the switch of A site, but things began to look dangerous for FaZe as NRG's Daniel "eeiu" Vucenovic took down dicey with the spike ticking.
Flyuh had already managed to defuse the spike to its halfway point. He then faked a full defuse attempt, which forced eeiu to peek. That opportunity was all he needed — FaZe Clan's Sova main landed a nasty headshot on eeiu, who was looking to jiggle peek the spike to prevent the defuse.
---
---
2. NRG's tex hits an unbelievable Headhunter flick shot
Ian "tex" Botsch had everyone in awe in the lower bracket semifinal against FaZe Clan, winning an incredible 1v3 clutch.
FaZe Clan planted the spike on B site of Icebox and had retreated to play the post-plant. Tex was the last man standing for his team, after Sam "s0m" Oh was killed in his Omen smoke by Kevin "poised" Ngo.
With the spike close to exploding, tex decided to rush the remaining FaZe Clan players. He took down supamen, then quickly swapped to Chamber's Headhunter pistol and landed an insane flick shot on poised.
Tex finished the clutch in style with a crisp Headhunter headshot on Andrej "babybay" Francisty, who was forced to peek after tex tapped the spike.
---
---
1. OpTic Gaming's yay spends six bullets and hits five headshots
Jaccob "yay" Whiteaker has been dubbed "El Diablo" by his peers because facing him in game is akin to going up against an aim demon.
OpTic Gaming's Chamber main lived up to his moniker in the upper bracket final against XSET. Yay's crisp aim was on full display as he picked XSET players apart on Icebox. It was a showcase of absolute accuracy and the beauty of Chamber in the hands of the right player — he spent just six Headhunter bullets to wipe the entire team, five of which were headshots.
---
---
VCT Stage 2 Masters Copenhagen will run from July 10 to 24. The winner of the event will automatically qualify for Valorant Champions in September.
READ MORE: DRX wins 21 straight maps to complete perfect VCT Korea Stage 2 Challengers run