Valorant is bringing back one of its most popular skin bundles — and it will now be available for more weapons than ever.
The Reaver 2.0 skin bundle features the Phantom, Spectre, Odin, and Ghost, in addition to a stunning karambit knife that looks like it is imbued with the full force of primordial darkness.
The first Reaver collection was one of the very first skins developed by Riot Games, dating all the way back to 2018 when the team was still trying to figure out what skins in Valorant should look like.
When it was finally released to players in 2020, it quickly became one of the most beloved skin sets with its edgy animations and over-the-top finishers.
---
---
The Reaver 2.0 collection oozes pure darkness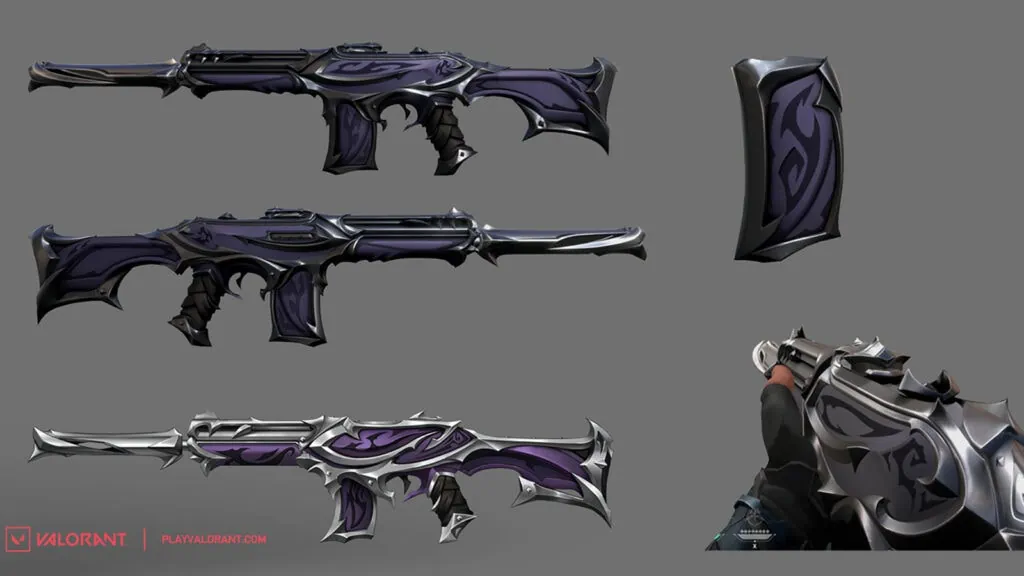 All the weapons are clad in the collection's signature purple hue, with glowing runes and sharp edges that look like they are drawn straight from medieval dark fantasy.
Riot has pulled out all the stops with this set, and it also comes with custom audio effects, unique firing animations in the form of smoke trailing from the gun barrel, and diabolic fiends come to drag your opponents to hell in the finisher.
There are four variants for each weapon, including a purple base and additional red, black, and white upgrades.
The real kicker is the karambit, with its wicked-looking blade and one-of-a-kind inspect animation. This blade has definitely been infused with a thousand screaming souls — smoke wafts from its edges and otherworldly trails follow the swoop of the blade every time you slash.
---
---
On top of that, the new bundle also features a player card, spray, and gun buddy.
Riot took a lot of care when bringing Reaver back for its second iteration. Above all, it wanted it to be more than just a rehash of its predecessor.
"There's a very careful balance here of capturing the true essence of what Reaver is while still making it feel like it's better than what we made before," said Riot in a blog post.
"Reaver should make you feel like a necromancer, a corrupted mage who summons dark magic and performs forbidden rituals in the shadows. Every equip, reload, and kill harnesses the power of its mysterious runes, fueling you with its dark energy."
The skin bundle is expected to cost 7,100 VP when it hits the store.
READ MORE: No more second chances: Who do Sentinels play next in VCT NA LCQ?