The Pacific region's top-ranked squad DRX pulled off an impressive 2-1 victory over Cloud9 on day five of VCT Lock In.
After a crushing 13-3 loss on Pearl, C9's opening map pick, the Korean squad answered back with a 13-7 win on the second map, Haven. On the final map of the match on Icebox, the Korean powerhouse squad surprised their North American opponents by picking Harbor.
The APAC squad destroyed C9, eliminating the NA hopefuls with a 13-2 score. The team's star players Kim "stax" Gu-taek on Harbor and Byung-chul "BuZz" Yu playing Jett combined for 33 kills.
After their strong showing, DRX explained why they believe Harbor could be one of the best agents on Valorant's frozen battleground.
---
---
DRX's Harbor pick on Icebox dominates Cloud9 at VCT Lock In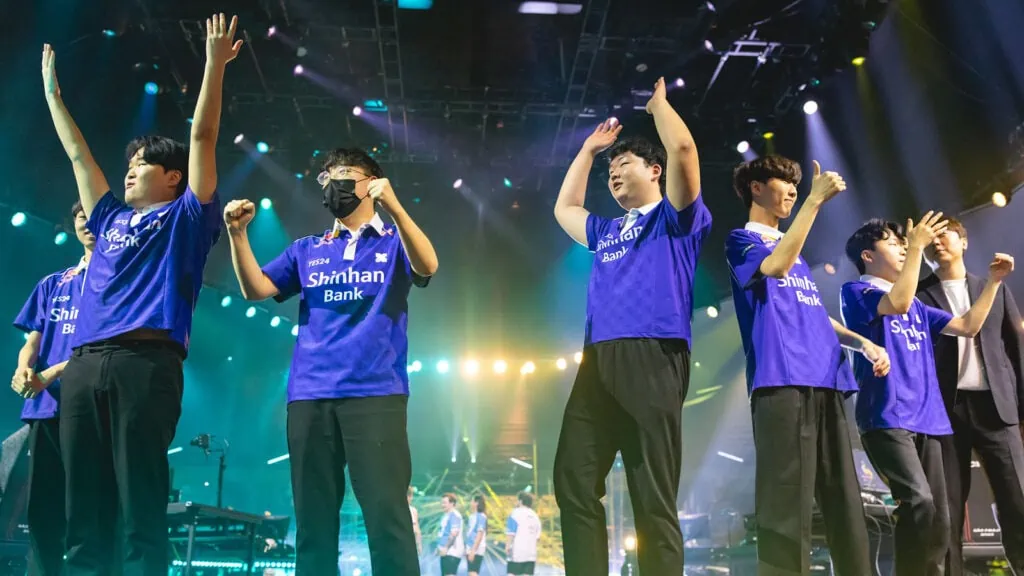 In the post-game press conference, stax explained why the team had him play Harbor instead of Sage on Icebox.
"We thought Sage would be a classic pick for Icebox," said stax. "However, coming into Brazil, we thought teams that relied on being more creative would have a huge edge over the other teams."
Sage has always been a strong agent on Icebox with the sentinel nearly having a 100 percent pick rate on the map at VCT Lock In. At the time of writing, Japanese squad DetonatioN FocusMe was the only team that didn't pick Sage on Icebox at the event.
The sentinel agent's Barrier Orb wall is a piece of utility most teams use on defense to block off entryways on Icebox. Sage's wall is also great for securing the spike plant on the B site. However, the Korean team's coach Seon-ho "termi" Pyeon believes that the Indian controller agent's abilities make him a viable substitute for Sage.
"In terms of the double controller meta, I don't really think Harbor is a controller," said termi in the post-game press conference. "We would like to think of him as more of a hybrid agent, and I think he offers a lot on Icebox."
The team's controller main Kim "MaKo" Myeong-kwan also explained in his post-match interview why they took a risk selecting Harbor, which led to the agent getting picked for the first time on Icebox on the international Valorant stage.
"We picked him because we've been struggling a lot on the map since Valorant Champions 2022 in Istanbul," said MaKo. "In order to make our Icebox stronger, we tried a lot of different comps, and Harbor worked well for us."
---
---
The Korean squad's sentinel-duelist flex player, Byung-chul "BuZz" Yu, also shared that the pairing of Jett and Harbor was one of their keys to success against C9.
"I definitely think Harbor made it tricker for the opponent," said BuZz. "That's why it boosted my performance on the Jett on Icebox. In terms of percentage, I would give him about 45% of all the credit for our win on Icebox."
---
---
In the final round of the match, DRX used Harbor and Viper's wall smokes to get favorable fights against Cloud9. This allowed BuZz to get quick pickoffs while defending the A site.
Coach termi also said that their future opponents would most likely try to emulate their strategies or try to anti-strat them in the coming matches. However, he believes that they still have the advantage because they know the pros and cons of every agent, including Harbor.
"We don't think it is going to give us a hard time in the coming matches," said termi.
Stax shared the same sentiment, saying their double controller strategy on Icebox will lead to teams copying their agent comps moving forward.
"If things work out very really well and things continue to go this way, we really think Harbor will be a good pick for Icebox and it will lead the pack in terms of the meta," said stax.
DRX's next match at VCT Lock In will be against fellow Pacific region team Talon Esports. The match is set to take place on February 20, 12:00 p.m. PST | 8:00 p.m. GMT | 5:00 p.m. BRT | February 20, 4:00 a.m. GMT+8.
Valorant fans can watch the matches live on Riot Games' official Twitch and YouTube channels.
READ MORE: Cloud9 Valorant's mCe doesn't hold back: 'Feels good to send them home'