Things haven't been great for Jeremy "Disguised Toast" Wang and Jaccob "yay" Whiteaker in their NA Challengers run.
The team has ended up at the bottom of Group A without a notch in the win column after three matches, leading to both Toast and yay issuing apologies.
---
---
Disguised Toast feels the weight of his decisions after NA challengers team goes 0-3
The team still has a chance of making it to the playoffs, but the odds aren't good.
Sitting at eighth in the overall VCL points table, Disguised still faces M80 and TSM for their final two matches. M80 currently holds the top spot in Group A, meaning yay and Co. are in for a rough road.
Knowing what could potentially be on the horizon and the results they have left in their wake, Disguised took to Twitter to apologize to fans of the squad, and share a bit of a heart-to-heart.
"I have always been pretty confident in my content but for the first time in a long while – I have been having a lot of doubts about my decision-making," he said.
He went on to say that he feels the weight of these losses, roster changes, and more due to being the one ultimately making the decisions. Decisions he said not only impact wins and losses, but also the "livelihoods of these young players who are trying to make a living pursuing their aspirations."
A bit of a look behind the curtains of what it's like to be in the position of an owner, many in the replies applauded his transparency.
He wasn't alone, either. Yay quote tweeted Toast's apology, stating that he was "genuinely sorry" to the fans as well.
He spoke admirably of Toast, stating that "he's been incredible as an org owner..he really does care more than any other I've seen. If anyone deserves success, he does."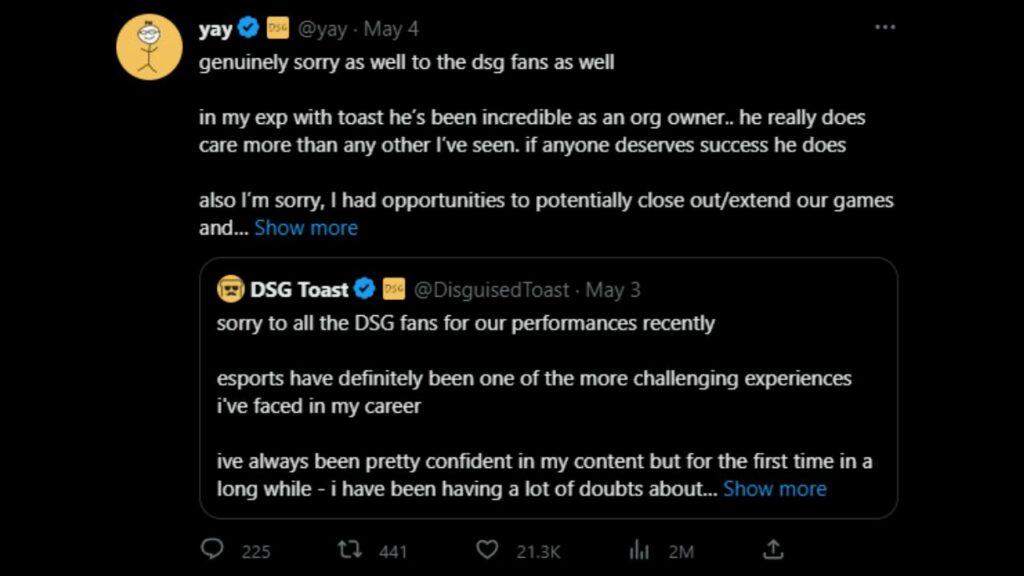 He would go on to take some of the blame, stating that he was given opportunities that could have changed the outcome of the match and simply didn't make the most of them.
The former OpTic star was expected to do great things in 2023, but his journey thus far has been unexpected.
He and the rest of the squad will get another chance on May 13 when the team faces the 2-0 M80 Esports for what could be their last chance to turn their season around.
READ MORE: Exclusive: Why Overwatch's DPS GOAT chose not to be a duelist in Valorant — T1 Carpe shares his truth