Alliance.Coven has completed the rebuild of its VCT Game Changers Valorant roster, after dropping two players and its coach during the offseason.
The organization signed Maria "6sonya" Istrate and Weronika "Speedwk" Dąbrowska, combining veteran experience and rookie talent. 6sonya was the captain of British esports organization Rix.GG Lightning last year, while Speedwk mostly played on university teams like the Portsmouth Paladins and Portsmouth Plonkers.
Coven adds a new coach in Daniel Cama "Yugami" Hidalgo as well, a former player for Spanish team m8 Esports.
---
---
Alliance Coven rebuild ahead of VCT Game Changers EMEA Series 2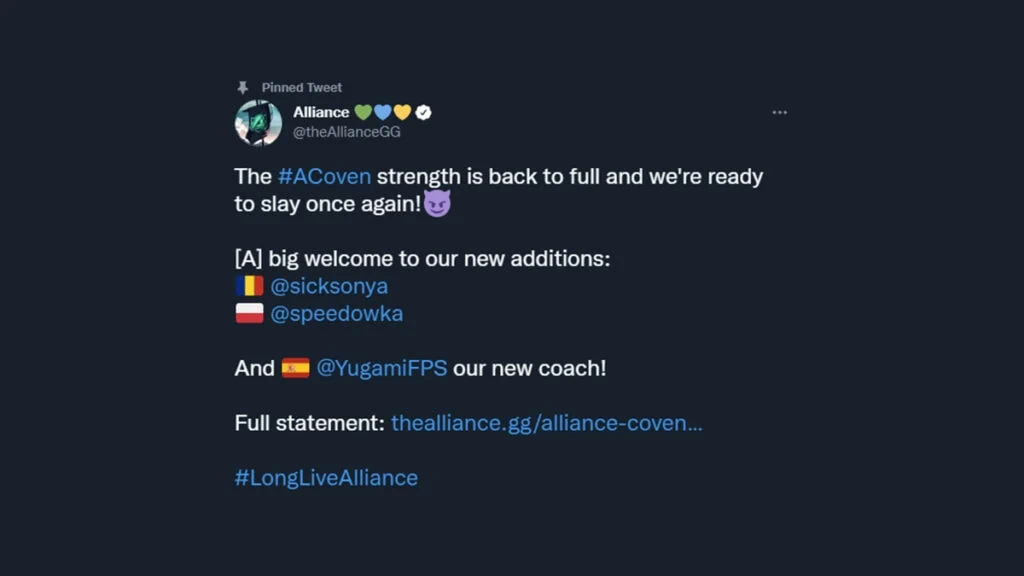 Coven parted ways with Lada "h6tedthemost" Kozhemyakina, Jade "Jade" Duffy, and Aymeric "Izzy" Ast in March. The roster changes come after disappointing results in Game Changers EMEA Series 1, where the team suffered an early lower bracket exit.
The organization cited the need to make adjustments to the team's overall playstyle and strategy. "When the group cannot agree on playstyles it is often better to part ways mutually on good terms," said Chief Strategy Officer Kelly Ong on the roster shuffle in March.
Alliance Coven Valorant roster
Dana "Danah" Almadhoun
Julie "Pinkalie" Lim
Laure "Xaline" Mateos
Maria "6sonya" Istrate
Weronica "Speedwk" Dąbrowska
Competing since 2020, 6sonya has already accumulated impressive results under her belt, including three victories in the women-only Girls' House EU Open tournament. With Rix.GG Lightning, she finished 2021's Game Changers EMEA Series 3 in 7th to 8th place.
Coven is set to compete in Game Changers EMEA Series 2 in late April.