Have you ever had such a good Teamfight Tactics synery that even a natural disaster wouldn't shake you?
This screenshot between Chinese players in a lobby showed one TFT player choosing to continue the match despite experiencing the earthquake in Sichuan yesterday. Twitter user CuewarsTaner from China posted the screenshot of the League of Legends client.
The reason they gave was because of the synergy he's achieved on his board.
The TFT player kickstarted the conversation by saying "There's an earthquake," which was met with question marks from fellow players in the lobby asking for more details.
---
---
TFT player scores strong synergy, refuses to budge despite earthquake in Sichuan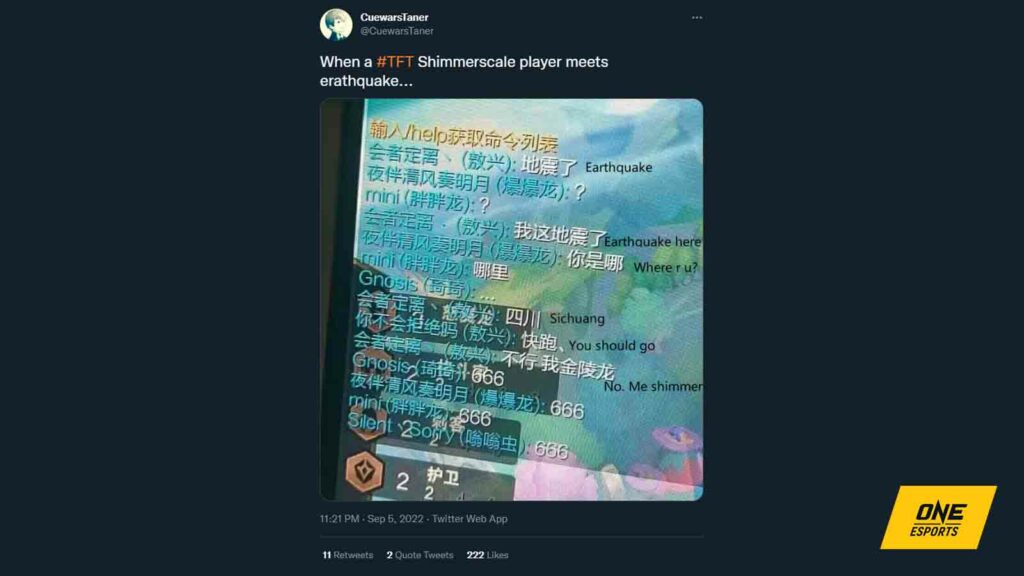 "There's an earthquake where I am," they clarified.
"Where are you?" two players asked, in which he replied "Sichuan".
A third player in the lobby then remarked, "You should go."
"I can't. I have Shimmerscale," replied the TFT player, which was met with respect and awe from the fellow players in the lobby.
Shimmerscale is a unique synergy in Set 7 that grants random Shimmerscale items each game, such as Crown of Champions, Draven's Axe, Goldmancer's Staff, and Needlessly Big Gem to name a few.
It is considered one of the most overpowered synergies right now, and one of the most fun for players to experience because of its unique yet random item drops, which could generate advantages in endgame boards.
At least 65 people have died since the 6.6-magnitude earthquake hit Sichuan yesterday on the southwestern part of China, and another 248 injured, according to CNN,
The United States Geological Survey assessed that the quake's epicenter was near Kangding, a city that has a population of about 100,000 people.
Sichuan is a landlocked province that's prone to earthquakes because of the presence of the Langmenshan Fault, which runs along the base of the Longmen Mountains.
View the full Twitter thread here.
READ MORE: DRX Kingen sends his team to Worlds 2022 with impeccable three-man Jax stun