With the Teamfight Tactics Galaxies set nearing to an end after a cosmic six months, Riot has given us an update on what's to come in the LoL-based auto battler.
In a TFT Dev Drop, developer T.J. "Riot Green Teej" Bourus shared some updates on the reception of Galaxies and dropped some interesting hints on the next theme.
With the positive response of the Galaxies set and its mid-set update, Riot will be sticking to its current format, releasing a major set every six months while releasing an extensive update in between. The next set will look similar in terms of its timeline, starting in September and ending in April with a mid-set update in January.
---
---
"Speaking of the next set in September, we're taking Pengu and his friends on a journey to distant lands where the strength of their spirits will blossom and their devotion to the gods will be tested," stated Green Teej. "They will run into some familiar friends of the past and encounter new enemies from far-off kingdoms, all in hopes to revel under the Blood Moon with the friend that they have chosen along the way."
With that significant hint by Green Teej, we can expect the next set to be focused on more mythical skin-lines such as Warring Kingdoms, Blood Moon, and Spirit Blossom. The video also flashed images of Kennen, Lulu, and Jinx who could possibly return with new skills and appearances.
To make things more clear for fans and fellow tacticians, Riot Games also released a roadmap showcasing what's next in a few months and 2021. The developers are looking to add more modes, new arenas, and even a spectator mode.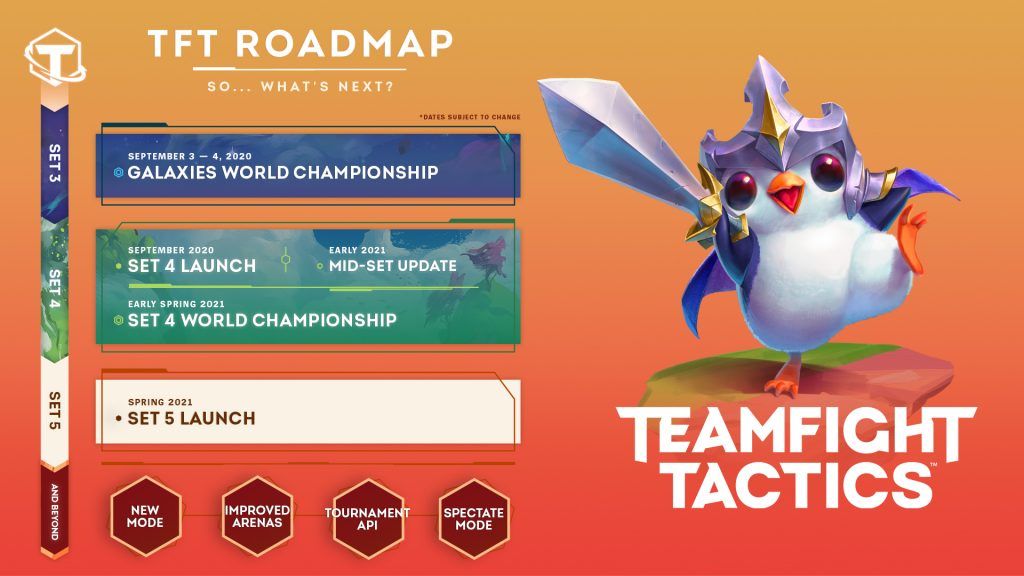 Teamfight Tactics' fourth set will be releasing sometime around September.
READ MORE: The biggest winners and losers of Teamfight Tactics 10.16