From August 18 to 20 in Riyadh, Saudi Arabia, intense battle royale action were on show at the PUBG Global Series 2 — but only one team can come out on top.
Hunger "hwinn" Winn, James "TGLTN" Giezen, Tristan "Shrimzy" Nowicki, Austin "M1ME" Scherff, represented Soniqs in strong performances across three days, and earned US$600,000 for their efforts — the lion's share of a US$2 million prize pool on offer from Krafton Inc.
---
---
Soniqs was the most consistent team from start to finish at PUBG Global Series 2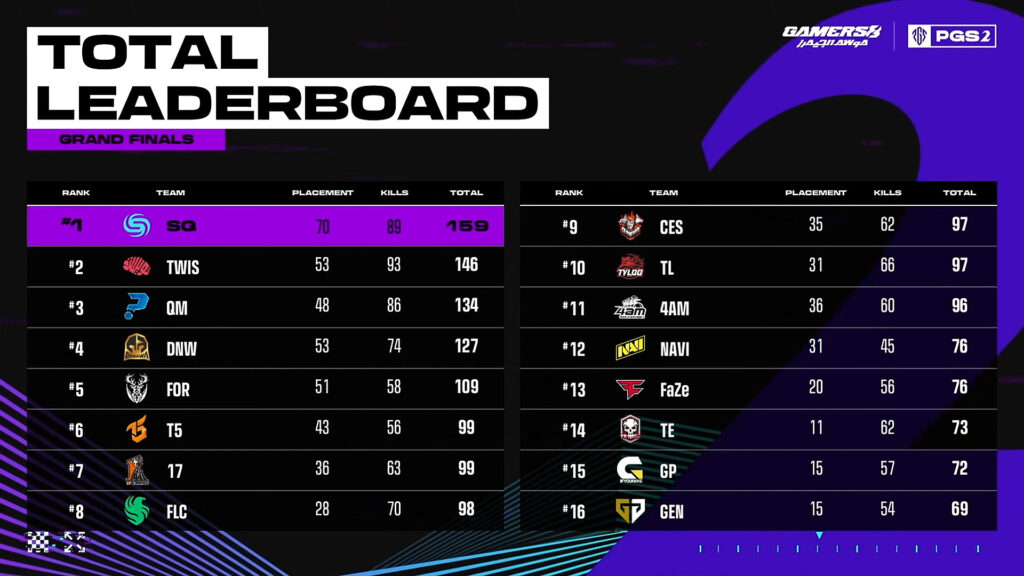 The North American squad earned three victories in four rounds out of 15 in the grand finals, more than any other team, and came second in the number of kills with 89. Their closest competitor, EMEA's Twisted Minds, had the most kills, but could not make up the placement score difference despite claiming the most kills with 93.
Soniqs' TGLTN also earned MVP — and a cool US$20,000 bonus — for his stellar performance in the finals, earning the most kills with 29 to lead his team to the championship.
The Global Series 2 is another step in the path of the PUBG Global Championship, to be held in Bangkok from November 28 to December 3. Though the prize pool has yet to be confirmed, the last PGC in 2022 featured more than US$3.3 million in prize money.
Teams earned PGS points with their placements at the Global Series 2, which qualifies them to PGC 2023. Champions Soniqs secured its spot, as did Twisted Minds, 17 Gaming, and Danawa Esports for their consistent performances across two PUBG Global Series.
Krafton also revealed more details on the next PUBG event, where patriotic pride will be at stake: PUBG Nations Cup 2023, where 16 nations bring their best players to the Sangnam Colosseum in Seoul, South Korea, from September 15 to 17. This will be the first tournament to introduce Vikendi as an official competitive map, plus the updated Miramar and Taego.
READ MORE: The best camera for streaming in 2023 — Webcams for going live on Twitch, YouTube