With the massive success of Baldur's Gate 3, choosing which API to use when loading up the Larian launcher is something people have a lot of questions over.
That's why in this article we'll be going over whether you should use Baldur's Gate 3 DirectX 11 or Vulkan API modes.
---
---
Baldur's Gate 3 DirectX 11 or Vulkan is a major question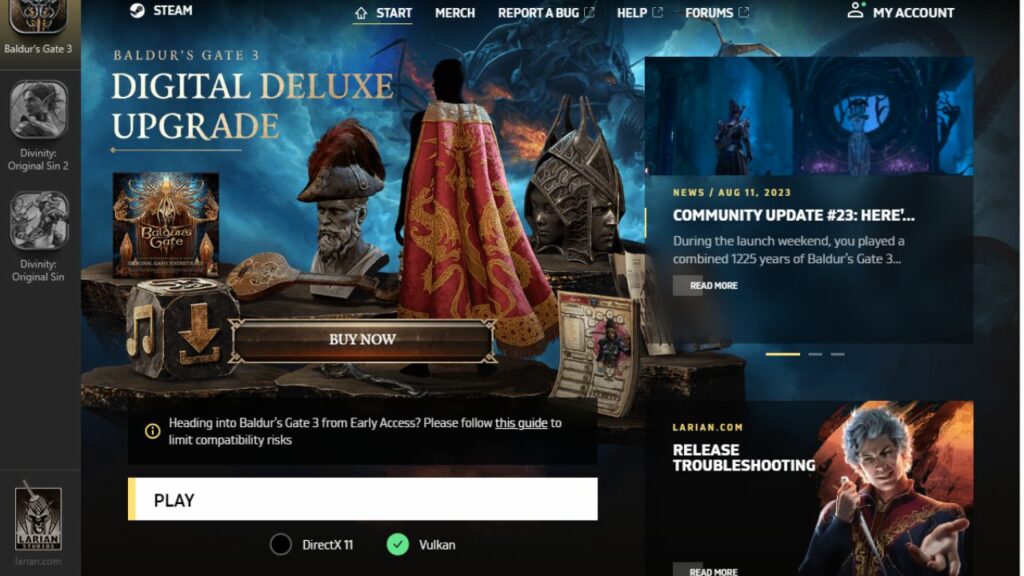 There's not necessarily a wrong answer when it comes to this question. If you choose either, your game should run. However, there are more optimal or stable options depending on your system specifications.
---
Should you use DirectX 11 in Baldur's Gate 3?
When it comes to BG3 and DirectX 11, it'll come down to mostly which brand of graphics card you have.
It's recommended that those using Nvidia GPUs should stick to running the tried and true DirectX 11. This will give you the best performance when it comes to smoothness and stability.
Regardless, NVIDIA still recommends using DLSS. You'll be able to access DLSS 2 if you're on a 30-series or 20-series card while DLSS 3 is what you'll be utilizing if you're rocking a new 40-series NVIDIA GPU.
---
Should you use Vulkan in Baldur's Gate 3?
Things are changed up a bit when it comes to AMD cards. For AMD GPUs you'll want to utilize the newer Vulkan API. While this is, admittedly, the less stable API, it is, however, the better option when it comes to stability.
The caveat here is if you're using a Steam Deck, you still want to use DirectX 11, despite the Steam Deck using an AMD APU. This is because Proton, the device's operation system, has issues with Vulkan as of this time.
This is something that could be fixed later down the road.
---
So whether you should run Baldur's Gate 3 DirectX 11 or Vulkan is ultimately going to be down to do you have any issues right now or do you just want to make sure you're picking the optimal choice.
I've been running my NVIDIA 3080 on Vulkan with only one crash, however, with this information I'll be making the swap over to DirectX 11 from here on out.
READ MORE: Four Baldur's Gate 3 settings that can change your experience