The legendary AD carry has taken his sharpshooting skills to Erangel!
Part of PUBG Mobile's latest collaboration with Riot Games' animated series "Arcane", the League of Legends pro-turned-content creator Yiliang "Doublelift" Peng locked horns with fellow LoL veteran Zachary "Sneaky" Scuderi at the PUBG Mobile Mirror World Duel.
Aside from exciting battle royale gunplay, the two former pros duked it out as League of Legends champions in the game's Mirror World mechanic.
Doublelift dropped into Erangel with LoL content creator Tyler "Tyler1" Steinkamp, as well as top PUBGM players Guillermo "Rolex" Jimenez and Zifan "Xifan" Wu of Nova Esports.
Team Doublelift's Xifan and Rolex grab a Winner Winner Chicken Dinner in game two
Securing a top three placement in game one, Team Doublelift entered game two with a thirst for first place.
The squad managed to reach the final circle as Rolex and Xifan closed in on a lone survivor. Though Rolex was knocked out by a frag grenade, he pinged the final enemy for Xifan to fire away and secure the WWCD.
After game two, DL and his crew took the lead on the leaderboard with 83 points, while Team Sneaky only had 56. PUBGM experts Rolex and Xifan were the squad's top fraggers, picking up 15 and 13 kills respectively.
---
---
The League of Legends player gets a nasty kill on Yassuo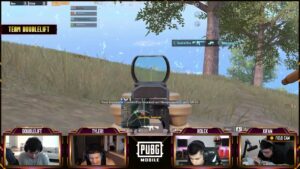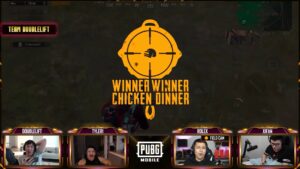 As the competition heated up, the two captains agreed to a third game with only their players on the map.
Team DL had full control of the final circle and was able to identify which direction Team Sneaky would be coming from. Taking a few shots from behind, Doublelift made a swift 180-degree turn in prone position and beamed through Moe "Yassuo" Abdalrhman with the M416.
Rolex closed out the last game in style, conquering a 1v3 situation with jump shots to claim their second WWCD. Reveling in the outplay, the content creator mentioned that it's been two years since he played professionally.
Doublelift pays respects to his teammates at the PUBG Mobile Mirror World Duel
After winning the PUBG Mobile Mirror World Duel, Doublelift had nothing but praise for PUBGM players Xifan and Rolex.
"I'm not going to lie. My teammates are a bunch of demons. Watching Rolex jump shooting on the phone is just crazy. This guy is a freak," said the League of Legends player in the post-match interview.
A streamer who primarily plays on PC, the team captain tipped his hat off to those who can dominate on the mobile platform.
"I'm so impressed at how good people are at this game. It's so hard. I feel like such a noob when I play, and these guys are making it seem so effortless," explained Doublelift.
To watch the entire event, you can check out the official PUBG Mobile Mirror World Duel VOD.
Follow ONE Esports on Facebook for more PUBG news, guides, and highlights.
READ MORE: Puma X Celeb wins the PUBG Mobile pandapro SEA Cup