A childhood anime is making a comeback, this time in the world of PUBG Mobile.
The battle royale game has added the lovely characters of Kyoto Animation's The Melancholy of Haruhi Suzumiya anime series as limited-edition skins.
Here's how you can get Haruhi Suzumiya skins in PUBG Mobile.
How to get PUBG Mobile x Haruhi Suzumiya skins, sets, and voice cards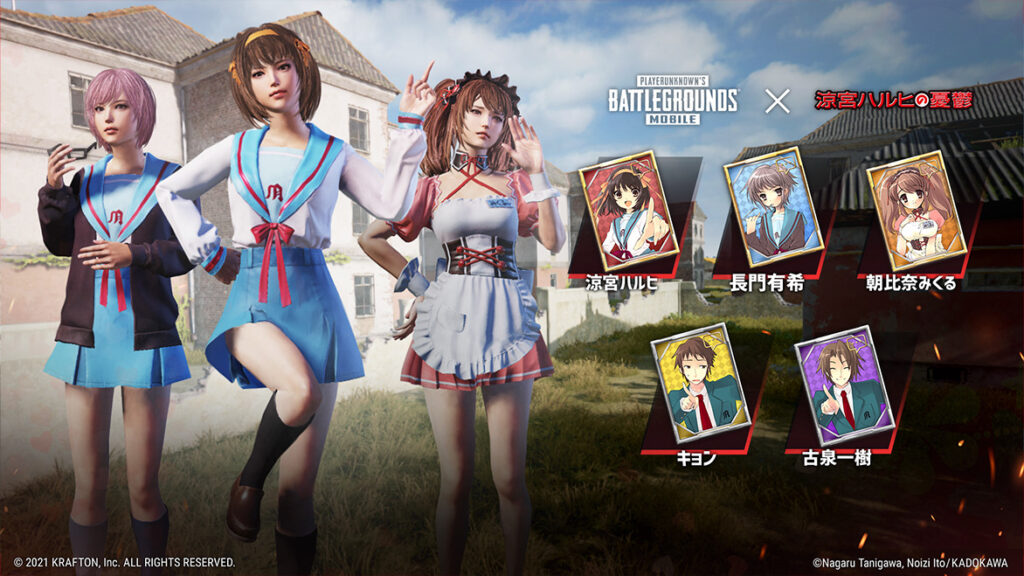 The collaboration will feature skin sets starring the girls of the SOS Brigade. Players can customize their characters with god-tier cosmetics like hair and costume sets fashioned after Nagato Yuki, Suzumiya Haruhi, and Asahina Mikuru.
You can get these items through the traveler crate. The crate can be obtained by playing Squad in Classic Mode.
Here is a video of the skins in action:
This PUBGM collaboration would not be complete without the iconic voice actors from the anime, such as Hirano Aya, Sugita Tomokazu, Chihara Minori, Gotou Yuuko, and Ono Daisuke.
Players will receive free voice cards of all the five main characters after logging in during the event.
Aside from in-game items, PUBG is also giving away genuine Haruhi merchandise. such as a Blu-Ray box and a manga set.
You can visit the official PUBGM collaboration website for more information.
---
---
Released back in 2006, The Melancholy of Haruhi Suzumiya series took over the anime world by storm. It was one of the first shows to introduce a spectacular animation with KyoAni at the helm. The mysterious series hooked fans with its colorful cast of aliens, espers, and time travelers.
At one point, the internet was bombarded with "Hare Hare Yukai" dance covers, based off the series ending song.
PUBGM x Haruhi Suzumiya anime release date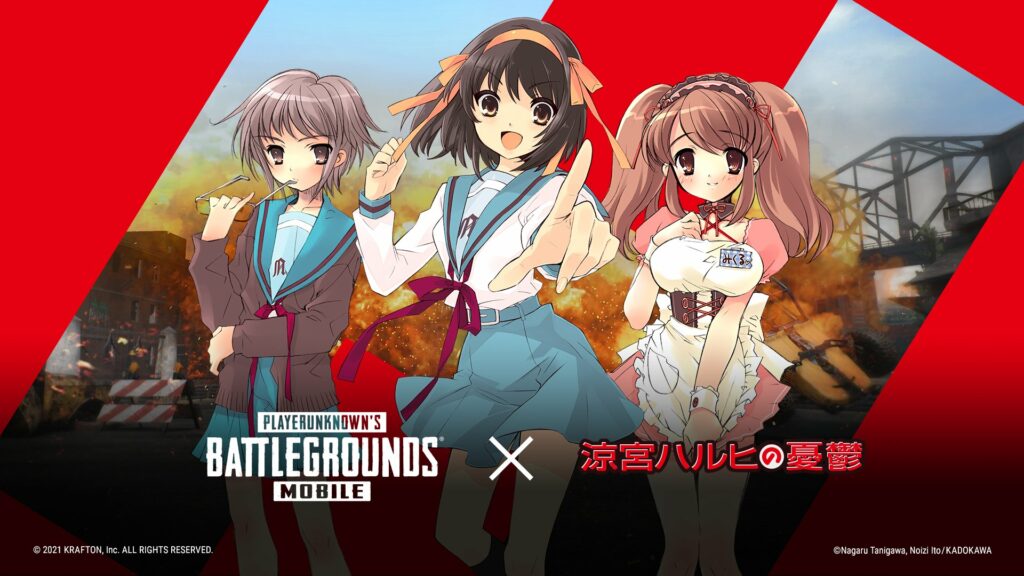 This special anime collaboration will run for three weeks from November 30 to December 21. The collab is only available for players in the Japan region.
Aside from Haruhi Suzumiya, PUBGM has also teamed up with other anime titles in the past such as Code Geass and Jujutsu Kaisen.
READ MORE: Team Spirit Miposhka lists TI10 player names in his very own Death Note