The NBA 2K League wrapped up the regular season on August 8 with Raptors Uprising making an unprecedented mark in the three-year-old league's history books.
The Toronto Raptors' esports affiliate finished with an unblemished 16-0 record, the first-ever regular season sweep in NBA 2K League history.
With their dominant regular season showing, Raptors Uprising easily clinched the top seed in the NBA 2K League playoffs, which is scheduled to begin on August 19.
Here's how the rest of the playoff seedings look after three months of regular season play:
Raptors Uprising GC (16-0)
Utah Jazz Gaming (14-2)
Warriors Gaming Squad (13-3)
Wizards District Gaming (13-3)
Kings Guard Gaming (11-5)
Bucks Gaming (10-6)
Mavs Gaming (10-6)
Hornets Venom GT (9-7)
NetsGC (8-8)
---
---
Before the playoffs start, the NBA 2K League will host "The Ticket," the third and final in-season tournament which will feature all of the teams that missed the top 9 playoff cut. The winner of the tournament will earn the 10th and final playoff spot.
The Ticket will follow a unique bracket format starting this season. The 10th-seeded team based on regular season rankings will play the role of the tournament's final "Raid Boss," awaiting the final challenger that the main bracket will thin out when matches begin on August 13.
The top 11th to 13th teams will also play as "Mini-Bosses" in this format, waiting in the second round of tournament play.
Take a better look at how The Ticket tournament is structured below: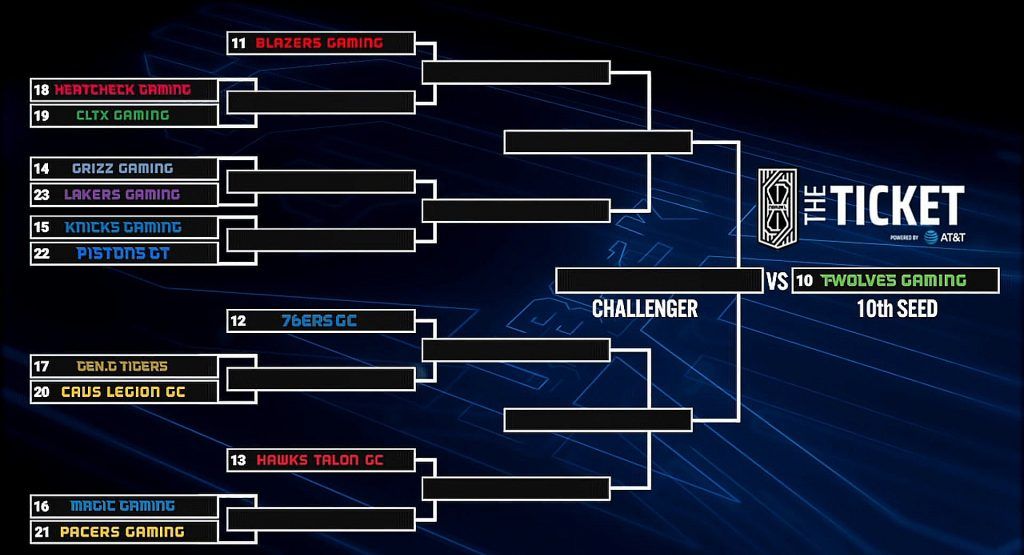 Defending champs T-Wolves Gaming dropped in the standings enough this season to fall into The Ticket's field of competition. But perhaps fittingly they clinched the 10th seed, making them the first-ever Raid Boss in the revamped tournament format. This means every other team that wants to claim that final playoff seat will have to go through them.
The NBA 2K League returns to action with The Ticket on August 13, 5 p.m. ET (August 14, 5 a.m. GMT+8). You can catch the action via livestream on Twitch and YouTube.
READ MORE: Here's our first peek at NBA 2K21 gameplay for current gen systems