2K is celebrating the life and legacy of the late Kobe Bryant with a special edition of NBA 2K21, dubbed as the Mamba Forever Edition.
The Los Angeles Lakers superstar is the third and final cover athlete officially announced for the upcoming iteration of the hit basketball video game franchise.
Earlier this week, 2K revealed Portland Trailblazers guard Damian Lillard and New Orleans Pelicans forward Zion Williamson as the game's Current Gen and Next Gen cover stars, representing the present and the future of NBA basketball.
With the Mamba Forever Edition, NBA 2K21 continues its tradition of offering a special Legend Edition that celebrates the legacy of NBA greats from the previous generation.
This one hits different though. On top of celebrating Bryant's Hall of Fame-worthy career, it's also a fitting commemoration for his life. Bryant died in a tragic helicopter accident in January, along with his daughter Gigi and seven others.
NBA 2K21 will have two Mamba Forever Edition covers — one each for the current gen and next gen versions of the game. For the PlayStation 4, Xbox One, Switch, and PC versions, Bryant is shown in the #8 jersey that he wore during the earlier part of his career. For the soon to be released PS5 and Xbox Series X, the five-time NBA champion is wearing his #24 jersey, shown in a poignant waving pose.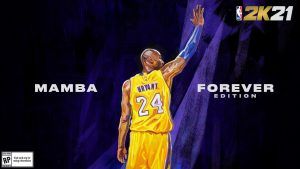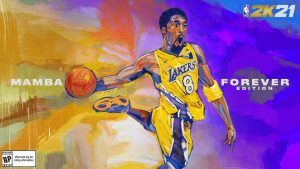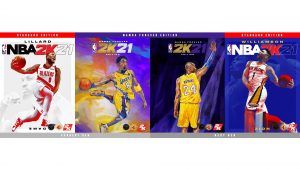 ---
---
In addition to completing NBA 2K21's roster of cover athletes, 2K has also launched the preorder period for the game. Along with it, the official pricing for the game's various versions were revealed:
NBA 2K21 for current gen platforms: US$60
NBA 2K21 for next gen platforms: US$70
NBA 2K21 Mamba Forever Edition for both current next gen platforms: US$100
Buying the Mamba Forever Edition will give players dual access to both current gen and next gen versions of the game. For PlayStation and Xbox players, this deal includes the standard edition game within the same console family, free of charge.
Preorder bonuses including Virtual Currency, MyTEAM Points, and other in-game items are available until September 3, 11:59 p.m. local time. See the detailed list of these bonus features on NBA 2K21's official preorder page.
Because NBA 2K21 is being released for two generations of gaming platforms, 2K is introducing new measures to bridge both versions of the game. These include MyTEAM Cross-Progression and a Shared VC Wallet that players can use as long as they're playing on the same console family. This means you can enjoy NBA 2K21 on your PS4 as soon as it launches, and still be able to enjoy your in-game progress whenever you decide to upgrade to the PS5, for example.
NBA 2K21 will launch for the PS4, Xbox One, Nintendo Switch, Windows PC, and Google Stadia on September 4, 2020. The game will be available as a launch title for the next gen PS5 and Xbox Series X consoles, which are expected to arrive during the holiday season.
READ MORE: Zion Williamson is NBA 2K21's Next Gen cover athlete