The ONE Esports MPL Invitational continues this weekend as we move into the Quarterfinals stage.
This weekend, the four MPL Champions — RRQ Hoshi, Bren Esports, Todak, and Burmese Ghouls — will all be playing for the first time.
While the teams are fighting for the winner's share of the US$100,000 prize pool, there's more than just prize money at stake here. For many of these teams, it's a chance at redemption, or a chance to prove themselves again.
These quarterfinals are personal.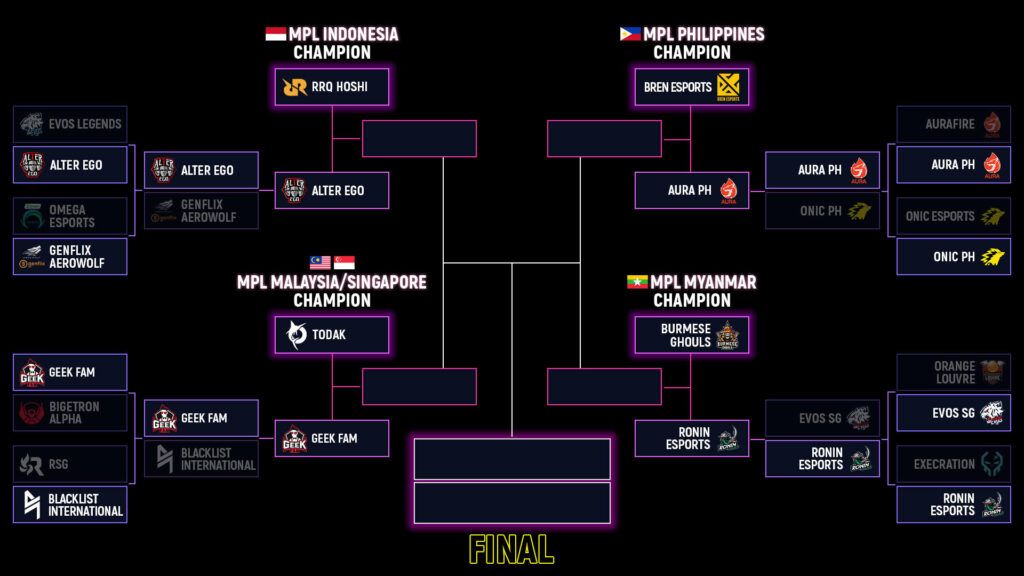 ---
RRQ Hoshi vs. Alter Ego — MPL ID S6 Grand Final Rematch
This all-Indonesian showdown will be a rematch of the MPL ID Grand Finals, which RRQ Hoshi won, 3-2, in a thrilling game five that came down to the wire.
While many fans will be in favor of the RRQ Kingdom, Alter Ego has all the momentum on their side after two dominant wins last weekend. Udil and the AE squad dominated EVOS Legends' Los Galacticos squad and Genflix Aerowolf, all without dropping a single game.
As for RRQ, they'll be looking to hypercarry, Alberttt, who was awarded the MPL S6 Playoffs MVP title for his stellar play, to once again carry the team to victory.
If Alter Ego can defeat RRQ Hoshi, they'll automatically become the favorites to win the tournament, but after coming so close at MPL S6, will they be able to finish the job this time?
---
Bren Esports vs. Aura PH – Battle of the MPL PH Champions
This match between the MPL PH S6 champions and the back-to-back MPL PH S4 and S5 champions is truly a rivalry for the ages.
Bren was an unstoppable force throughout MPL PH S6, only dropping one game to Omega Esports throughout the regular season. The team's near-perfect composition of veterans like captain Angelo Kyle "Pheww" Arcangel and young masters like Karl Gabriel "KarlTzy" Nepomuceno carried them to the title as they stopped Aura PH's chance of a 3-peat.
As back-to-back champions going into MPL PH S6, Aura PH were the favorites to defend their title, but after finishing second in the regular season, they were ousted in the playoffs by ONIC PH.
Now the team is determined to reclaim their throne as the kings of MPL PH.
---
---
Todak vs. Geek Fam ID — MY/SG's Last Hope vs. Geek Fam's young stars
MPL MY/SG S6 champions Todak will be clashing with young ID team Geek Fam, who have so far been one of the surprises of the tournament.
Fielding an almost entirely brand-new roster filled with young guns, Geek Fam ID surprised audiences when they eliminated one of the tournament favorites, Bigetron Alpha on the first day. While many could not believe the upset, the team then went on to sweep MPL PH's Blacklist International, proving that their success was not a fluke.
As for Todak, the MPL MY/SG champions are the last team representing their region left in the tournament. With every other region guaranteed at least one representative in Sunday's semifinals, Todak will be fighting not just for themselves, but for the pride of the entire MY/SG region.
---
Burmese Ghouls vs. Ronin Esports — MPL MM S5 Grand Final Rematch
This all Myanmar quarterfinal features a Grand Final rematch between Myanmar's MPL champions, Burmese Ghouls, and Ronin Esports.
Burmese Ghouls is Myanmar's most decorated squad, racking up four MPL MM championships in five seasons.
On the other hand, Ronin will be striving to redeem themselves after losing 0-2 to Burmese Ghouls in the MPL MM S5 Upper Bracket Final, and then 0-3 in the Grand Finals.
While Ronin does not have the star power of other teams in the tournament, their unorthodox drafting strategies bamboozled both PH's Execration and EVOS SG, and we won't be surprised if they have something special in store waiting for Burmese Ghouls as well.
READ MORE: Mobile Legends global power rankings: MPLI Edition Week 2