Updated on April 25, 1:27 p.m. (GMT+8): Added his age and cause of death.
Ivan Emmanuel "Navi" Gacho, RSG Ignite's head coach in the Mobile Legends: Bang Bang Development League Philippines (MDL PH), has died.
RSG Slate PH announced the sad news through a Facebook post on Monday, April 24. He was 24 years old.
"You have brought a light that shone brightly in our lives and hearts. We will be forever grateful for all the time spent together and thank you for the wonderful memories you left with us," the organization wrote.
"Sending our condolences to the family and loved ones of Coach Navi. The world has lost a truly special soul. Rest easy, our friend."
In a Facebook post, his brother Isidro Erickson L. Gacho III said Navi died due to fatal arrythmhia, an abnormal heartbeat rhythm where the heart beats too slow or too quickly.
Navi was a former professional player for Finesse Solid and Sterling Global Dragons in the MPL Philippines from Seasons 2 to 4, having played with now two-time world champion and ECHO star jungler Karl Gabriel "KarlTzy" Nepomuceno.
As a coach, he led RSG Ignite to a 5th-6th place finish in the inaugural season of MDL PH.
---
---
PH MLBB personalities paid their tribute to Navi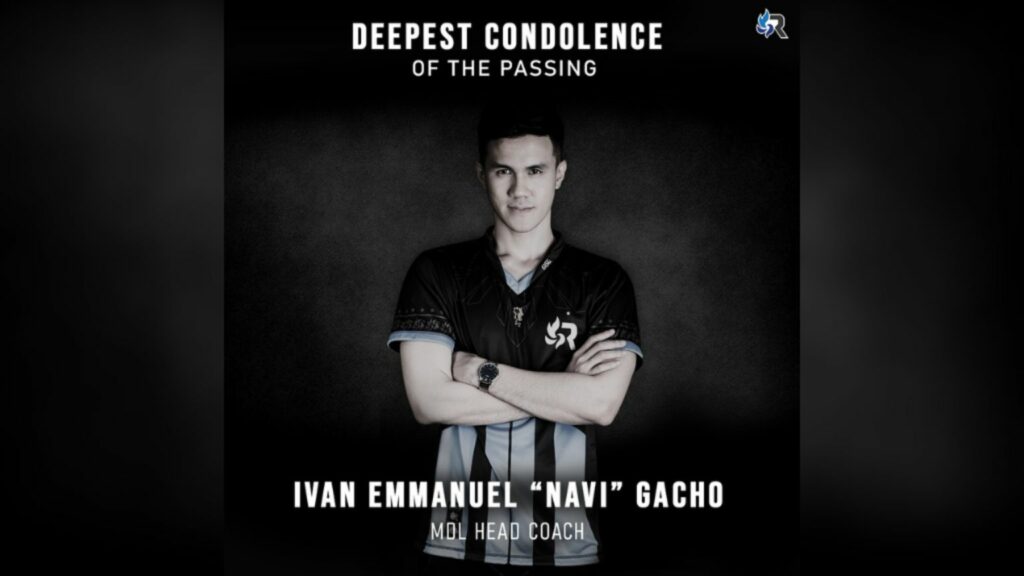 Numerous MLBB figures in the Philippines posted on social media to pay their respects to Navi. Some of them recalled their conversations and fond memories with him.
His former teammate in SGD Omega and current coach of HomeBois in MPL Malaysia, Steven "Dale" Vitug, recalled how he was planning to join him overseas.
"Rest easy, Van. You won't be stressed and you won't have to cry to me anymore. I'll miss you so much. Rest in peace," Dale wrote.
Rico "Levi" Esto and Adrian "Toshi" Bacallo, also former teammates, posted their condolences and remembered how great a friend he was to them.
"I can say that you have been my closest friend in the ML community. You are the most passionate person that I know," Levi wrote.
"I will never forget the time when we won the championship in Just ML because of you. Thank you for everything," Toshi wrote.
Blacklist International's inactive coach Kristoffer "BON CHAN" Ricaplaza shared their heart-to-heart talk about feeling burned out.
Blacklist International, ECHO, and MPL Philippines, as organizations, also sent their sympathies to the family and friends of the late coach.
READ MORE: Star-studded ECHO Proud is the first-ever MDL PH champion