Updated at March 30, 8:43 p.m. (GMT +8): Moonton has reached a verdict, with all the involved players banned for at least one year from all official MLBB tournaments.
MPL SG's Team OP, a competitor in Mobile Legends: Bang Bang Professional League Season 3 (MPL SG Season 3) removed three of its members from its roster yesterday.
Moonton has announced its investigating an incident involving Team OP, in which some of its players made discriminatory remarks during a livestream on March 28.
Moonton will investigate the incident involving two MPL teams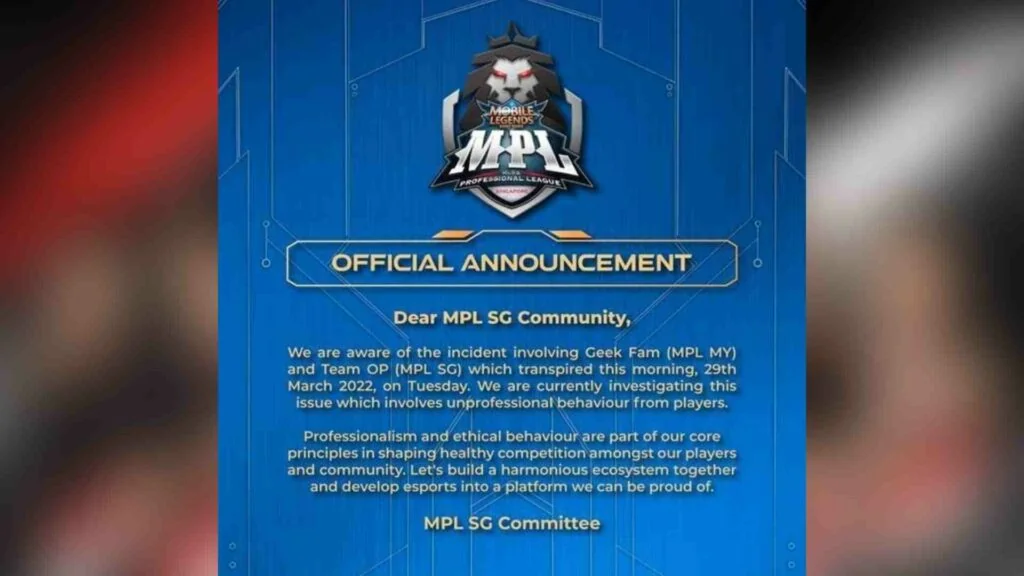 The incident happened during a ranked match between Team OP and Geek Fam MY members, which was broadcasted on Geek Fam player Nik "Dominus" Aqieff's livestream. 3 hours and 35 minutes into the stream, both teams exchanged words in the all chat.
Tensions escalated when OP's Wendall Sean "DarA" Tan, Jackie "PA" Lee, and Goh "Ryeb" Wei En made inappropriate comments about religion.
Even though a member of Geek Fam had warned all parties involved that they're on a livestream, Goh "Ryeb" Wei En added another remark before the chat went silent.
Moonton is looking into the livestream and is now conducting an investigation.
"Professionalism and ethical behavior are part of our core principles in shaping healthy competition amongst our players and community," they wrote. "Let's build a harmonious ecosystem together and develop esports into a platform we can be proud of."
---
---
Four members of Team OP have apologized to the Mobile Legends community and Geek Fam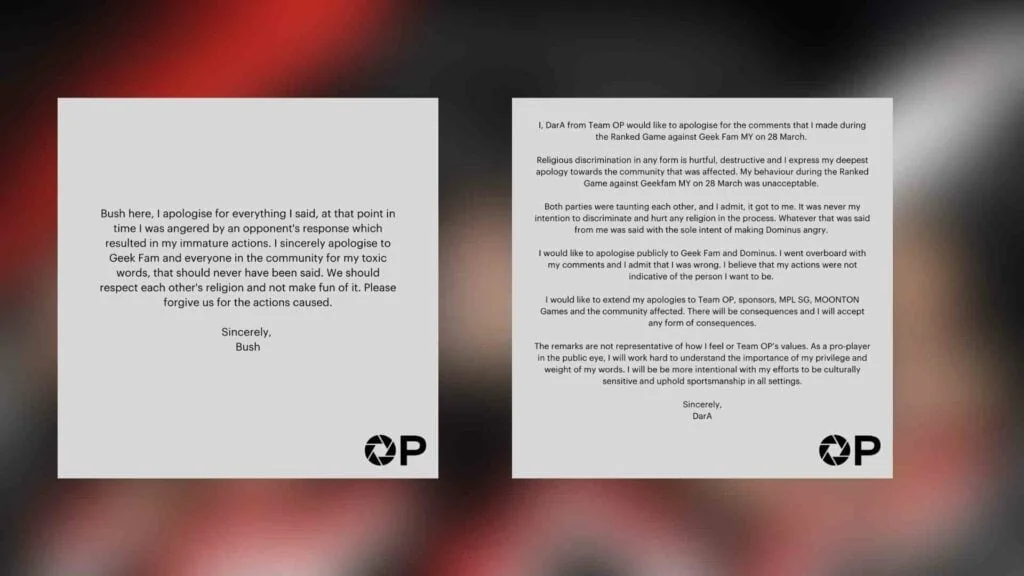 Team OP has also announced its own internal investigation, and have terminated the contract of PA, Ryeb, and DarA.
"We deeply regret that some of our players have engaged in unacceptable and inexcusable conduct during a ranked game and have fallen far short of the standards of conduct that we have set for them," the statement wrote.
Four of the players involved in the incident also released a written statement on Team OP's page, asking for forgiveness from the community and Geek Fam MY for any comments made during the livestream.
MPL SG Season 3 starts on Saturday, April 2.
READ MORE: Killing Spree or Demon Slayer emblem? KarlTzy and Alberttt weigh in