After eight weeks of intense MLBB competition, the Mobile Legends Pro League ID moves into the post-season with the Season 5 playoffs.
Just like the last two weeks of the MPL ID, the playoffs will proceed with a remote, online format, letting players and staff work from their respective homes and headquarters.
---
Teams
With the regular season wrapped up, the league's top six teams have qualified for the MPL ID S5 Playoffs:
1. RRQ Hoshi (11-3)
1. Bigetron Alpha (11-3)
3. EVOS Legends (9-5)
4. Alter Ego (7-7)
5. Onic (6-8)
6. Genflix Aerowolf (5-9)
7. Aura (4-10)
8. Geek Fam (3-11)
RRQ Hoshi enters the bracket as the season favorites. Despite finishing in second place against EVOS Legends in last year's Grand Finals, the team is looking stronger than ever with their new and young captain, Calvin "Vyn."
RRQ's multi-laner M "Lemon' Ikhsan has put in work throughout the season as the league's top damage dealer, doing an average of 4,067 DPM. Although rivals EVOS Legends are also present in the playoffs, we'll likely see RRQ stand their ground in a possible grudge match.
Bigetron Alpha is another big team heading into the playoffs. Tied with RRQ for Season 5's first place, BTR had a championship-tier presence and easily swept higher-tier teams throughout the weeks.
BTR's star side laner, Jabran "Branz" Wiloko, led the league in gold per minute with 876 GPM, showing that he's able to consistently snowball for his team's victory. With BTR being such an all-around squad, it'll take more than just a simple outplay to conquer them in a match-up.
Defending champions EVOS Legends are still a crucial factor in this year's playoffs. Although the team finished in third place for the season, their championship experience and star-studded line-up should easily bring them into the latter half of the bracket.
Muhammad "Wann" Ridwan and Ihsan "Luminaire" Kusudana led the league in kills with 5.7 KPG and assists with 8.5 APG respectively, EVOS Legends now have the opportunity to kick it into overdrive and defend their MPL throne.
---
---
Schedule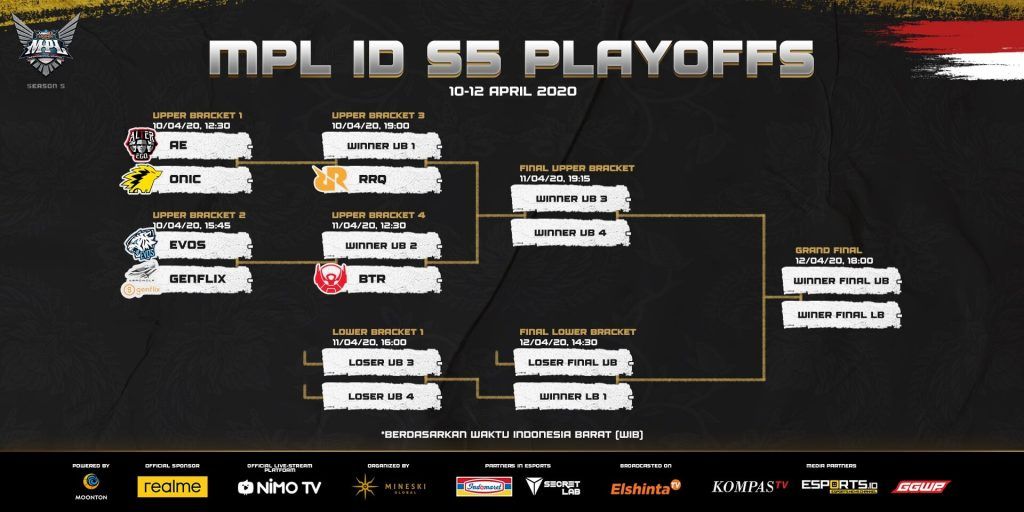 The playoff schedule will start this Friday with the first round of upper bracket matches. With RRQ and BTR being the top seeds, they will enter the playoffs in quarterfinals, facing the winners of round 1.
Here are the dates and times of each match:
Round 1
Upper Bracket 1 (April 10, 12:30 PM GMT+7)
Upper Bracket 2 (April 10, 3:45 PM GMT+7)
Quarterfinals
Upper Bracket 3 (April 10, 7 PM GMT+7)
Upper Bracket 4 (April 11, 12:30 PM GMT+7)
Lower Bracket 1 (April 11, 5 PM GMT+7)
Semifinals
Final Upper Bracket (April 11, 7:15 PM GMT+7)
Final Lower Bracket (April 12, 2:30 PM GMT+7)
Grand Final
Grand Final (April 12, 6 PM GMT+7)
You can watch the official live-stream on the Mobile Legends: Bang Bang YouTube channel.
READ MORE: MPL ID S5 Week 8 Recap: Bigetron Alpha and RRQ Hoshi are the kings of MPL ID