Many parents remain unconvinced about the potential benefits the esports industry can offer their children.
This sentiment was evident in the disqualification case of BloodThirstyKings (BTK), the top Mobile Legends: Bang Bang team in North America.
Despite winning the North America Challenger Tournament (NACT) Spring 2023 championship, beating Outplay 4-3 in the grand finals, BTK's qualification to the MLBB Southeast Asia Cup 2023 (MSC 2023), a prestigious international tournament, was ruled out because one of its players did not get consent from their parents.
---
---
BTK was disqualified from MSC 2023 after a player's parents did not allow him to participate in the tournament
"We regret to inform you that BTK will no longer be participating in MSC 2023, as they were unable to meet the basic requirements set in the tournament rules," the MSC Committee said in a statement released on Monday, May 22.
As per tournament rules, a team should maintain a minimum of seven members (five players, one substitute, and one coach) throughout the tournament, and players need to be the same as the team that qualified through a professional league (MPL) or local qualifier.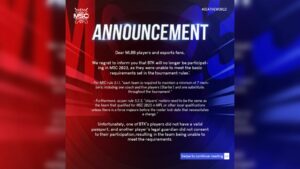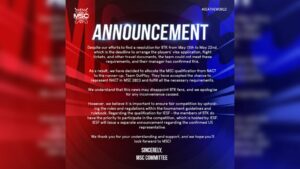 However, it turns out that the legal guardians of one BTK player did not consent to their participation in MSC 2023.
In a livestream prior to their disqualification, team captain and star jungler Michael "MobaZane" Cosgun revealed that the parents of their mid laner Yato didn't allow him to participate in the upcoming tournament.
MobaZane even jokingly said, "Outplay could not have beaten me. But you know who can? A Vietnamese mom."
---
---
MobaZane's former teammate Ian "FywdChickn" Hohl said during his livestream that Yato told his parents that the NACT Spring 2023 grand final held in Las Vegas was a school trip.
"Yato's mom's issue is that he was literally just playing video games, and he hid it from his parents the whole time," said FywdChickn.
FywdChickn, who has a Chinese mom, also touched on the stigma surrounding video games and esports among Asian parents, which he said MobaZane would not understand.
---
---
In addition to the issue of consent, the MSC committee also stated that another player on the team, 15-year-old EXP laner Tea, did not have a valid passport, thus, would not be able to travel from USA to Cambodia in Southeast Asia where the tournament will be held.
The organizers said they tried to find a resolution for BTK before the deadline. However, their team manager confirmed that they could not comply with the rules.
Outplay, headed by MobaZane's former The Valley teammates Jang "Hoon" Seong-hun, Peter "Basic" Lozano, and Oscar "SHARK" Vo, replaced BloodThirstyKings as representatives of NA for MSC 2023.
The team's qualification for the International Esports Federation World Esports Championship (IESF WEC) 2023 is also uncertain pending the official announcement from the organization.
Follow ONE Esports on Facebook for more Mobile Legends: Bang Bang and MPL updates.
READ MORE: The 3 best heroes to counter Martis in Mobile Legends