During Week 5 of the 2021 LCK Summer Split, T1 opened stunningly by beating league leaders Gen.G before falling to Nongshim RedForce.
Up against DWG KIA in Week 6, support Ryu "Keria" Min-seok on Thresh stepped up massively in game three to carry his team to a 2-1 victory over the reigning World Champions.
---
Led by Keria's Thresh, T1 were in full control of game against DWG KIA in the 2021 LCK Summer Split
After dropping game one, T1 bounced back with a hard fought 47-minute victory in game two to tie up the series 1-1.
In game three, they first-picked Viego after DWG KIA chose not to ban him, followed by Aphelios, who is typically paired with support Thresh. Deemed as one of the best bot pairings by pros, Keria had only played this champion twice so far in the 2021 LCK Summer Split, both of which ended in losses.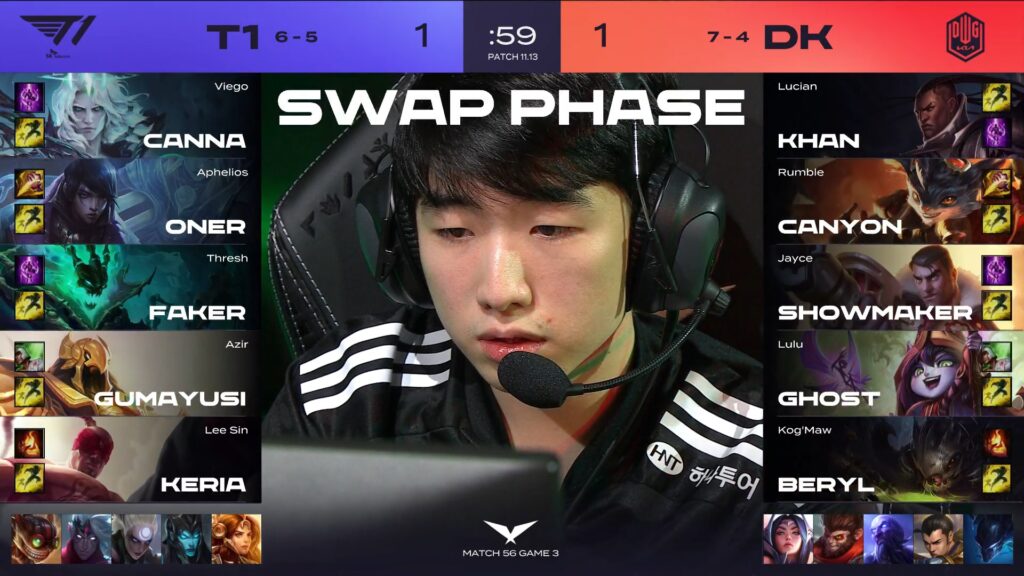 With everything on the line in game three, Keria opened with a deadly Death Sentence onto Cho "BeryL" Geon-hee's retreating Lulu on a pushed minion wave.
Second blood came quickly for T1, as Kim "Canna" Chang-dong's Viego outplayed Kim "Khan" Dong-ha's Jayce in a 1v1.
Constantly pushing in the wave at bot, Keria and AD carry Lee "Gumayusi" Min-hyeong were well in sync. Three minutes after reaping first blood, Keria found another opening with a perfect double Flay.
He then moved up to position behind Lulu to find a narrow clearing to throw a hook out onto Jang "Ghost" Yong-jun's Kog'Maw to secure a double kill for himself.
By mid game, T1 extended their gold lead to 4,000 and were up 10 kills to two. Out of those 10 kills, four were on Keria's Thresh. Carrying their momentum forward, they completed their reverse 2-1 win over DWG KIA in just 23 minutes.
---
---
T1 support Keria rushed Force of Nature and equipped the Predator rune
Expectedly, Keria was awarded Player of the Game (POG), his first MVP this season. During the post-game broadcast interview, he was asked about his unique choice of runes.
"I actually didn't like Predator, I've only used it once or twice in my entire career and solo queue. But last night I watched Nongshim RedForce's Kellin, and I copied it, to be honest, because I thought it was pretty good," replied Keria.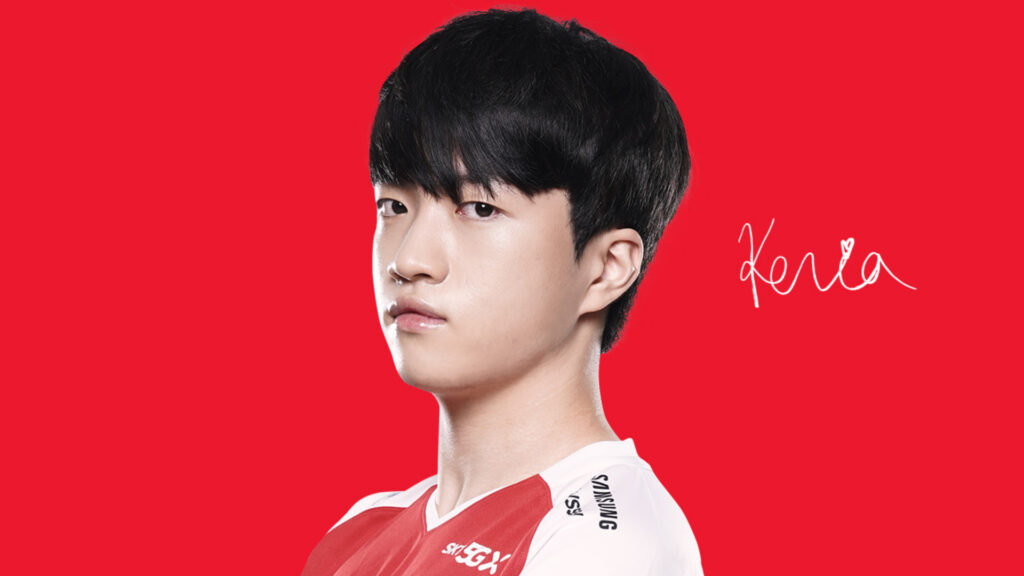 In addition, he also mentioned that Predator as a keystone rune works better against support mages.
Keria's Thresh runes against DWG KIA's bot lane of Kog'Maw and Lulu
Against DWG KIA, the T1 support equipped these primary Domination and secondary Resolve runes:
Predator
Cheap Shot
Zombie Ward
Relentless Hunter
Second Wind
Overgrowth
Adaptive Force
Magic Resist
It's also worth nothing that when it came to items, he did not buy Mythic item Locket of the Iron Solari like typical Thresh supports. Instead, utilizing the gold he got from early kills, Keria rushed Legendary tank item Force of Nature.
Force of Nature not only gives additional 350 health and 60 magic resist, but also 5% bonus movement speed. On top of that, it's passive, Absorb, grants even more stacked bonus movement speed and resistances upon taking ability damage.
Combined with Predator and Mobility Boots, Keria's Thresh was effectively zooming around the map, catching prey after prey.
For his amazing antics on Thresh, T1 content creator and analyst Nick "LS" De Cesare had nothing but praise for the 18 year old support. "Probably had one of the best Thresh performances this game that I can ever recall watching in recent years," wrote LS on Twitter.
With a 7-5 record, T1 are currently fourth in the 2021 LCK Summer Split standings, and will face Afreeca Freecs in Week 7 on July 22 live on Twitch.
READ MORE: Faker leads T1 to a stunning sweep over league leaders in 2021 LCK Summer